Shares of smart electric vehicle firm Xpeng (NASDAQ: XPEV) are rallying on Wednesday after the company announced it has set the record for the longest autonomous drive.
The Chinese EV company said the XPeng P7 fleet, which drove over 3,600+ km from Guangzhou to Beijing with 2,930 km highway driving under the control of the NGP (Navigation Guided Pilot), achieved an average of 0.71 human driver interventions per 100 km, setting a new benchmark for long-distance autonomous driving by mass production passenger vehicles.
The average success rate for lane changing and overtaking while under the NGP control was 94.41% during the 8-day expedition, starting from Guangzhou on 19 March and ending in Beijing on 26 March.

The average highway ramp entering and exiting success rate was 92.76%, and the average tunnel pass-through success rate was 94.95%.
According to Xpeng, the NGP delivered a stable performance in rainstorm conditions, passing through tunnels and highways in mountain areas during the 8-day expedition.
"The expedition has fully challenged the robustness and reliability of the NGP function. The results demonstrate that it is not only the strongest, but also the easiest to use autonomous driving function for production vehicles available in the market," said He Xiaopeng, Chairman and CEO of XPeng.
Xpeng Shares…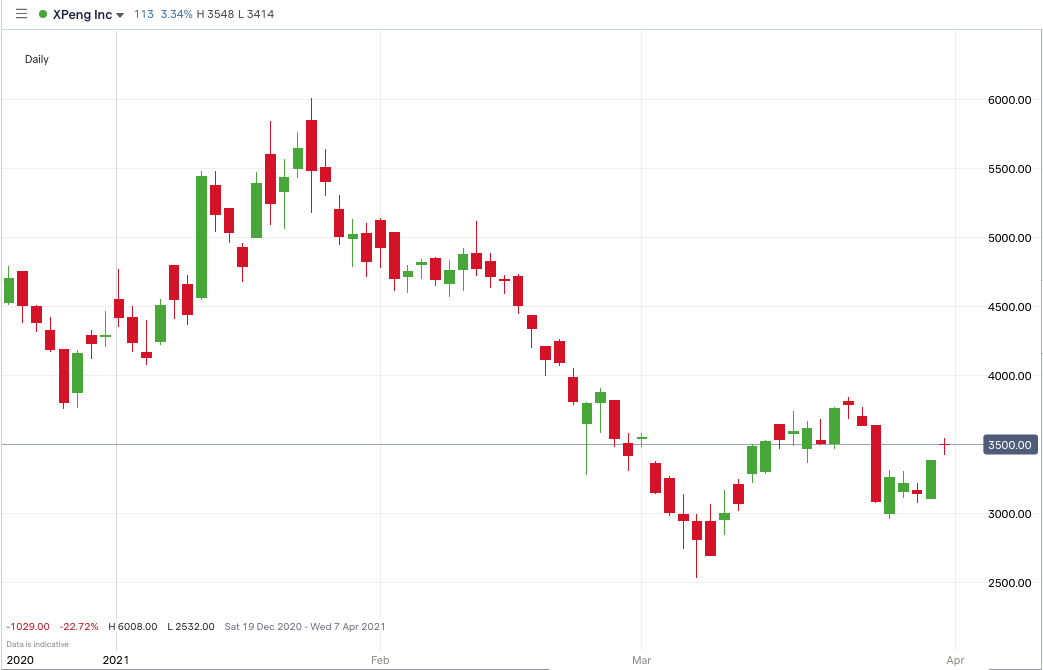 Xpeng's share price opened up Wednesday's session at $34.58. They are now trading 4% above Tuesday's close at $35.17.
Should You Invest in Xpeng Shares?
One of the most frequently asked questions we receive is, "what stocks are best to buy right now?" It's a wide-ranging question, but one that we have answered… Our AskTraders stock analysts regularly review the market and compile a list of which companies you should be adding to your portfolio, including short and longer-term positions. Here are the best stocks to buy right now