Key points:
Yu Group is reporting strong results in the energy distribution market
With what seems like everyone else going bust how are they doing this?
There are two major points to YU.'s success
Yu Group (LON: YU.) is achieving something unusual in today's energy market – they're making money as a utilities supplier. We've seen swathes of the people in this market go bust recently – Bulb Energy and so on – as the pincers closed on them. The prices they had to buy their energy at grew a great deal faster than the prices they could sell that same energy at. So, margins not just collapsed but went negative and companies failed. Yu Group is making money in this same marketplace. So, what's going on here?
As the YU. announcement this morning is: "Adjusted EBITDA, operational cashflow and net profitability has significantly exceeded management expectations, and the Board expects the strong performance to continue for the remainder of the financial year. As such the Board expects to deliver adjusted EBITDA in excess of £4.7m. Strong cash generation has continued" which all looks pretty good and is a good explanation of why the Yu Group shares are up 12.5% this morning.
But how come Yu can make money when all around others are going bust? The answer comes in two parts – two major parts that is – the first of which is that they're in a slightly different market from most of the others. The second is that they hedged their exposure. That second means they used financial markets as they are, arguably, supposed to be used – to shift risk.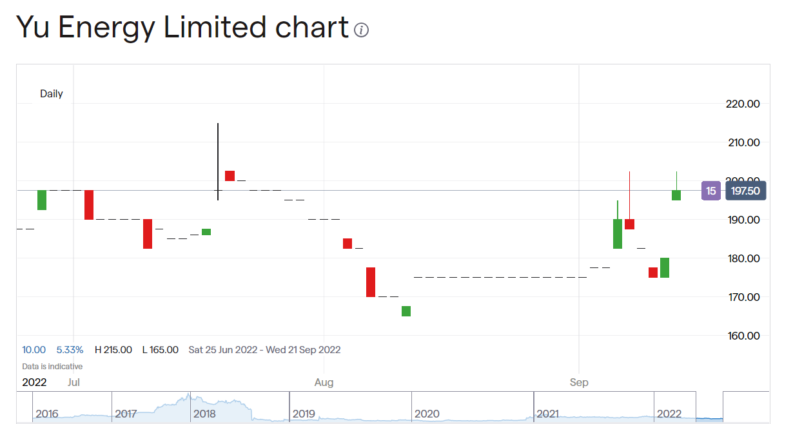 Also Read: The Best Energy Stocks To Buy When Energy Prices Rise
The problem the retail suppliers had is that wholesale prices soared – but what retail consumers paid was capped. This is what killed California's industry two decades back for exactly the same reason. Every unit of energy sold increased the loss and there was, once it had happened, no way out of this. Except that bankruptcy of that distributor and supplier. Yu Group avoided this by being in the commercial space – supplying businesses – where prices were not and are not capped. So, rising wholesale prices can be passed through to the customer base.
The other issue was using the futures and options markets to hedge exposure. This was possible for all companies to do but YU. seem to be one of the few that did this in volume – volume compared to throughput that is. So, the losses from those energy prices soaring are not falling on Yu shareholders, but upon speculators in those futures and options markets. They're on the wrong side of that risk shifting, Yu the right.
All of which is why, with retail suppliers falling by the wayside left, right and centre, Yu Group is reporting excellent results. For us as traders though, there's another issue here. How long are those hedges going to last? It's not possible to hedge forever, after all. Nor is it cost free to hedge. So we cannot be certain that this state of affairs is going to last forever.