Key points:
88 Energy has announced half year results
88E combined this with an AUD $10 million capital raise
Future valuations are going to depend upon finding exploitable oil
88 Energy (LON: 88E) shares have dropped 10% on their results and a capital raise. The big issue for us now is what happens next to 88E? In the short term that will – as is usual with capital raises – depend upon how securely the new shares are tucked away. In the longer it will depend upon how well the capital raise is spent. We should therefore think possibly differently about short and long term influences here.

88 Energy is placing up to AUD $10 million of shares at an equivalent price of 0.5189 pence, an 18% discount to the prevailing. That's not a terrible discount for a capital raise and the shares remain – just – above that level after the announcement. But clearly the share price is going to suffer from the announcement for why be willing to pay 0.63 pence when they can be had at just under 0.52? It's what happens next which is important.
Some of those new shares will end up tucked away in the portfolio of long term investors. Some will be in the hands of traders looking for a quick turn or margin. This is just what always does happen with a new issue. So, there is likely to be weakness in the 88 Energy share price in this short term. Any substantial move upwards will be greeted with some portion of the short term holders selling to make their turn. It's only when those loose shares are placed with long term holders that a decent and sustained rise can happen. Again, this is just normal with capital raises.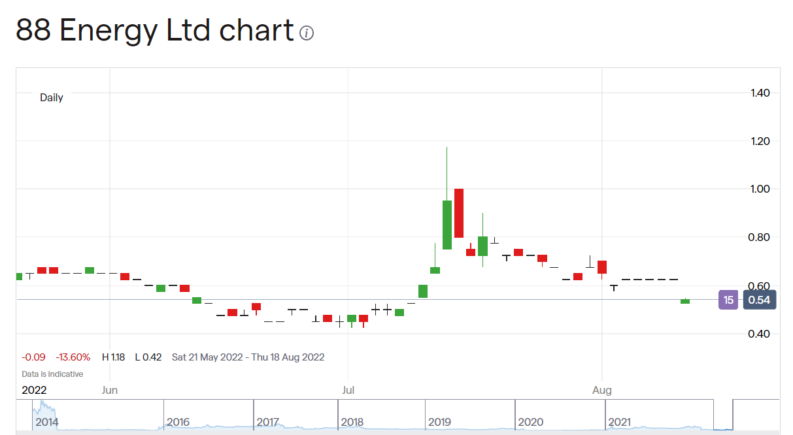 Also Read: The Best Oil Stocks to Buy Right Now
As to what 88 Energy is going to use the AUD $10 million for, well, that's to explore more, drill more wells and so on. A fairly usual activity for an oil exploration company and one that, without producing assets, must be financed by new capital. This is of course a risky activity because even with modern exploration techniques not every well drilled does contain oil. Which is exactly what happened to the Merlin 2 well which 88E reported on back in March. Entirely dry, subsequently plugged and no value to be gained from it. That's what collapsed the 88 Energy share price from 2.00 or about down to 0.70. There's been a subsequent drift down and now that other step with this capital raise.
There are other projects on the books, the Icewine drilling for example, which in the East part now has a maiden prospective resource estimate. If that actually comes through then there would be a gratifying increase in the 88E valuation but as with Merlin 1 and 2, they don't always. There are also varied other prospects, the Yukon leases, Umlat, Peregrine and so on. All of them subject to that very same risk as Merlin. Whatever the indications there's simply no proof of oil until drilling and that sometimes reveals none of any usable quantity.
88 Energy is, whatever else we might say about it, to be valued on the potential value of those different oil prospects. A significant upwards revaluation is likely to depend upon actually drilling exploitable oil – a risky option.