Key points:
Zentek stock soared 150%+ after being upgraded to the Nasdaq market.
In addition, the company's shares were upgraded from the OTC markets.
Investors cheered the move, as evidenced by today's premarket rally.
The Zentek Ltd (NASDAQ: ZTEK) stock price soared 150%+ as investors bought its shares after being uplisted to the Nasdaq Capital Market (Nasdaq) on March 22, 2022.

The company has announced that its application for listing on the Nasdaq had been approved on March 7, 2022, but the shares were not available for trading.
Zentek had 60 days to make its shares available on the Nasdaq exchange starting March 4, 2022, and inventors were happy to see its shares start trading on the Nasdaq exchange yesterday.
The company produces a host of products based on nanoparticles, such as its patent-pending ZenGUARD™-coated surgical masks that have proven highly effective against fungi, viruses and bacteria.
Zentek also has the exclusive rights to manufacture and market a COVID-19 test that uses saliva samples instead of a nasal swab to test for COVID-19 antigens. The test is more user-friendly than nasal swabs; hence, it could become more popular.
The company is also working on a patent-pending graphene-based formulation that could be used to treat human-contracted pathogens and manage infectious diseases. For example, the drug can treat common respiratory tract infections.
Given that Zentek is a Canadian company, its stock will continue to be traded on the Toronto Stock Exchange (TSX).
Greg Fenton, Zentek's CEO, commented: "We believe the move to Nasdaq will be pivotal in generating additional interest and awareness in the U.S. investment community and is reflective of our transition to a global technology company focused on disruptive intellectual property in the areas of healthcare and sustainability. We anticipate this listing will improve the visibility of our stock, enhance trading liquidity in our shares, and provide us with greater exposure to institutional investors."
Investors were excited to trade Zenetek shares that are now readily available on the Nasdaq exchange instead of the previous over-the-counter (OTC) market. However, those who missed today's rally should wait for a pullback before jumping in.
*This is not investment advice. Always do your due diligence before making investment decisions.
Zentek stock price.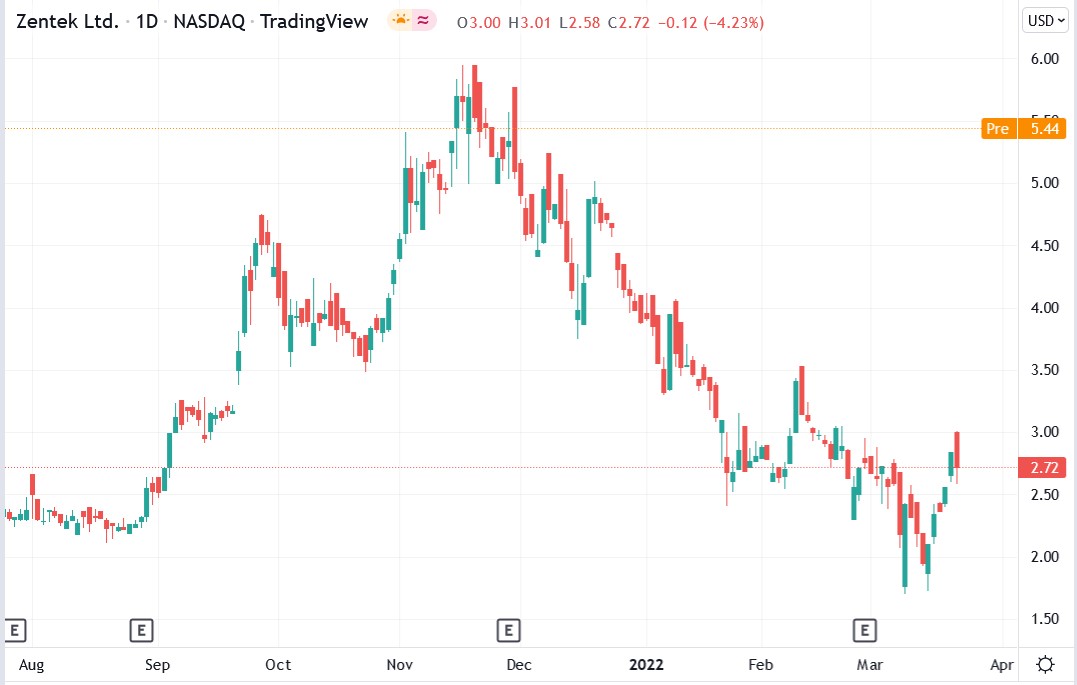 The Zentek stock price soared 150%+ to trade at $7.02, rising from Tuesday's closing price of $2.72.