This 24Option review covers all the features of this, one of the best, cryptocurrency broker firms. Make an informed decision for all your trades with this broker through this 24Option trading platform review. With its UK office in London and the Cypriot trader's headquarters in Cyprus, it trades in cryptocurrency and CFDs. It stopped trading binary options in 2017.
The company is regulated by CySEC in the EU. It offers services to traders across the EU. Traders from US, China, Japan, etc. are not allowed to trade on the EU site. Founded in 2010, 24option is an award-winning online broker.
Highlights
Established in 2010
Regulated by CySEC
Services for EU traders
Has won many awards
7.
of 18 Crypto Broker
24Option

Go to Broker
Risk warning: Capital can be lost. Terms and conditions apply.
Headquarters and regulation
Cyprus (CySEC)
Tradable crypto currencies
Bitcoin, Ethereum, Ripple, Litecoin, Dash
Number of crypto currencies
5
Trading platform
MT4, Broker-owned Software
Demo account
Yes, unlimited
Services & additional benefits
Live
Hotline
E-mail
Economic Calendar
E-Book
Videos
Courses/Seminars
1. Trading Offer
1) Crypto Trading Offer: How 24Option Adds up
This review of 24Option studied the two different trading platforms this brokerage firm offers. 24option offers clients the Scipio trading platform for CFD trades on numerous underlying assets. Investors also access trading through the MetaTrader 4 platform. Close to 40 currency pairs, 100+ shares, 22 indices and 17 commodities are offered by this leading cryptocurrency broker. Comparison shows that this is a leading crypto broker, as there are full sized as well as mini CFDs offered on virtual currencies like Litecoin, Ethereum, Bitcoin or Dash. Hitting close to 89% for selected options and option types, it also offers rebates.
40
Other currency pairs
Number
The trading platform is an augmented version of the highly popular system by Israeli company Tech Financials. With a wide number of underlying assets, it offers impressive payouts. A broad range of asset choices, competitive pay-off rates, and educational as well as training material, make this a respected cryptocurrency broker. While CySEC is the regulator, the broker has met compliance standards across the UK and EU countries. This broker is exceptional for experienced traders. Trading activities involve a broad spectrum of financial instruments. The size of the trade can be increased through leverage. However, despite free trading signals, the cost of the trade is higher than average for this broker.
Scipio trading platform and MT4 option
Offers 22 indices, 17 commodities, 100 stocks and 40 currency pairs
Broker meets compliance standards across UK and EU as well
Go to Broker
Risk warning: Capital can be lost. Terms and conditions apply.
2. Costs
2) Crypto trading costs: Commission, fees and Leverage
There are no commissions, or deposit or financing fees charged by 24option. However, this 24option review found that fees depend on withdrawal methods used. If a wire-transfer is used, for example, a flat fee of USD 30 is charged. Other methods like debit cards or Skrill require fees of 2 to 3.5%.
The spread starts as low as 1.5 pips. For forex traders, this review of 24option found it is possible to gain profits from spreads. For traders, the profit depends on the tool being used. For larger forex pairs, fixed spreads can range from 1.5 to 0.011 pips. Top accounts may feature spreads that are tighter. The account manager or resource centre can point you in the right direction. There are some tools where spreads carry larger risk-reward chances.
The 24option broker site announces that leverages start at 1:2. The maximum leverage for this 24option broker is 1:30. For advanced brokers, the high forex leverage offers value. For new traders, high leverage also means greater risk. However, some brokers provide leverage levels of even as high as 1:30 such as CMC markets. All in all, the broker comparison shows that 24option do not believe in turning trading into a risky proposition.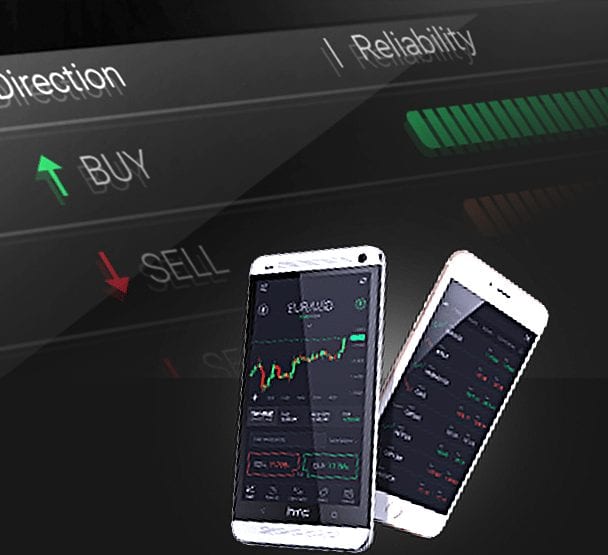 No fees for financing or deposit; Withdrawal fees vary depending on transaction mode/payment method used
Spreads start from 1.5 pips
Leverage ranges from 1:2 to 1:30
Go to Broker
Risk warning: Capital can be lost. Terms and conditions apply.
3. Account
3) Accounts: Basic, Silver, Gold, and Platinum
This 24option trading platform review found that each account type for this broker comes with its own benefits:
Basic accounts: These accounts include dedicated account managers, seminar and webinar access, briefs on financial markets and daily movements. Minimum deposit is $500. Payout rates can be as high as 82%.
Silver accounts: These improve on the basic one. There are additional benefits such as risk management explanations, technical as well as fundamental and sentiment analysis. One-to-one tutorials are also provided. Max lot trading and zero maintenance fees add to the value of this account. Account type needs $2000 for operations. First withdrawal is free.
The Gold Account: This comes with all the above benefits and one to one trading for proficiency in the MT4, research tool Trading Central and free withdrawals. Trading activity must be high; it requires a deposit of $25,000.
Platinum account holders have all the benefits plus some more features. Added benefits are competitive spreads. This account type is for advanced traders. $50,000 must be deposited for this account's activation.
This 24option review found that Islamic or free-swap accounts a are also available. The proprietary platform as well as MT4, one-click trading and mobile trading are available for all account types. Demo accounts can also be opened.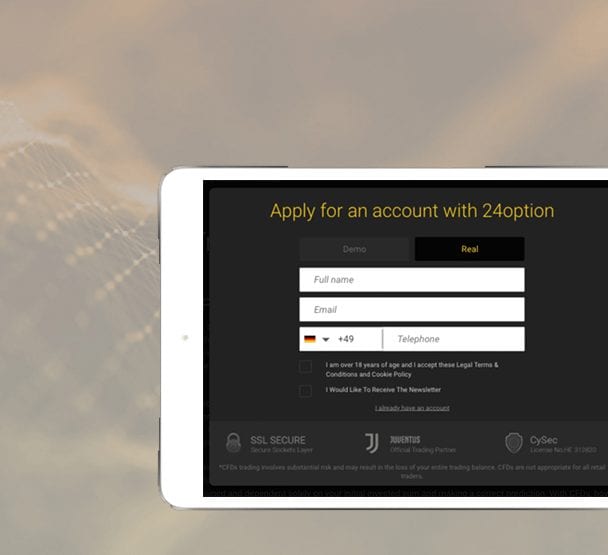 4 trading accounts – basic, silver, gold and platinum
Each comes with additional benefits
Base account selection on factors like risk tolerance
Go to Broker
Risk warning: Capital can be lost. Terms and conditions apply.
4. Platform
4) Crypto Trading Platforms and Mobile Trading: Scipio and MT4
This 24Option review also holds that the brokerage house offers cutting-edge and innovative platforms. This includes Scipio and MT4.
MT4
One of the most advanced forex trading platforms, Comes with full charting tools, resources, real-time trading and instant execution of orders, Can be downloaded onto devices for quick trading on the move, Compatible with Windows, Firefox, IE, Safari, Chrome. Works with Android and iOS devices
Scipio
This is an all-inclusive proprietary trading platform, Trade forex, CFDs, cryptos and commodity options from a single platform, Web platform ensures the 24option cryptocurrency trading is greatly facilitated, Traders can apply orders to online trades like stop-loss and take profits for some accounts.
Charts can be viewed in various time-frames with different chart types (can switch between candlesticks and ohlc charts) and indicators.
For traders using mobile devices, 24option has provided mobile trading apps. Is 24option a good broker when it comes to site and platform optimisation? Undoubtedly so, because their apps make platform workable on iOS and Android devices. MT4 has a mobile version which offers functionality on the move. Live streaming rates, placing orders and staying ahead of open and trading history positions is easy. Proficient, modern and advanced algorithms are also in place. Instant access to trading options is a bonus.
2 trading platforms – MT4 and Scipio
MT4 offers benefits like easy downloadability, comprehensive charting, and compatibility
Mobile trading is also possible
Go to Broker
Risk warning: Capital can be lost. Terms and conditions apply.
5. Usability
5) Usability of the website: Free from clutter, yet packed with information
This broker's website is well designed and multilingual with support for over 13 languages. It's two platforms have attractive, easy to use designs. While the interface is user-friendly, the site itself is informative yet free from too much clutter. Analytical tools are also available and information is presented through graphs and technical indicators. Back-testing, expert advisors, social trading and custom indicators are all available on the MT4 platform, making the trading functionality of this site for the platform users high. In comparison, the proprietary platform comes with some charting functionality and research tools. But it does offer cryptocurrency, commodity, indices and forex trades from a single platform.
However, the platform is primitive by comparison, when it comes to analytical tools, trading support functionality or development apps. Smooth mobile integration makes it easy to switch from PC to smartphone. Educational resources like how-to videos are above average. But zero spread betting, and no actionable research besides an economic calendar and the Trading Central tool are major let-downs. The Scipio trading app is browser-based and limited in functionality. Trading signal service may be included, but there is no additional analysis. Scrolling is cumbersome. The site also does not support advanced entry orders. Neither is there any price alert functionality.
Multilingual website with support for 22 languages
MT4 comes with advanced features like EA and social trading
Scipio is primitive in comparison to MT4
Go to Broker
Risk warning: Capital can be lost. Terms and conditions apply.
6. Support
6) Customer Support: Helpful and efficient
The customer care at 24Option is excellent. Multilingual support, live chat, and email, as well as freephone/toll-free numbers, make reaching out easy. The contact form is a quick way to get a response and is powered by Zendesk. Email is a convenient way to attach screenshots, files, and folders for all your queries. Social media functionality is also available, with support available through Google Plus, LinkedIn, and Twitter.
An entire section on the site is dedicated to education – there are economic news headlines, research tools and analytics like Trading Central and an economic calendar. Instructional videos are available and the proprietary trading platform has been translated into over 22 languages.
Customer care is available 24/5. Trading Central further provides insights such as historical data and third-party market analysis. Customer support hours are limited to European market hours. support hours are variable for the EU site. The FAQ section of the site is also extremely non-helpful. Support service levels increase with higher deposit amounts though. Onsite help is not available.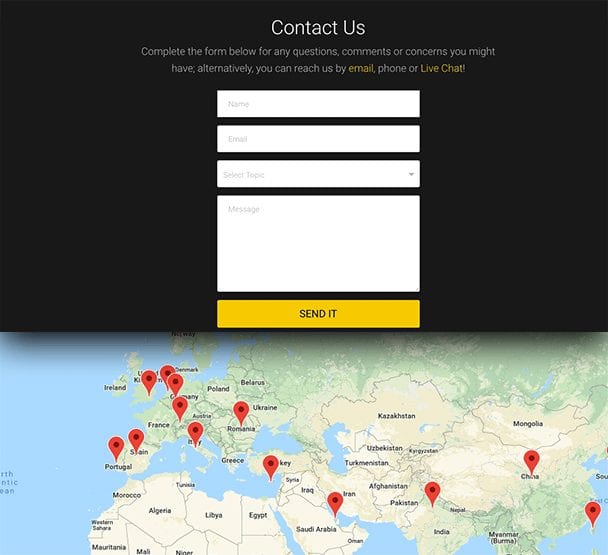 Live chat, email, toll-free numbers and contact forms are some of the ways to connect with customer care
Multilingual support in over 13 languages
Easy to understand, though slightly above average educational resources; limited FAQ section
Go to Broker
Risk warning: Capital can be lost. Terms and conditions apply.
7. Payment
7) Methods of payment: e-wallets, credit and debit cards
To open a live account with this broker, a $500 minimum deposit is required, with a minimum trade of $24. Initial deposits to fund the live account can be through major credit and debit cards, e-wallets like Skrill, Neteller, PaySafe, WebMoney, and Sofort. A notable exception is Paypal.
Bank wire transfers are permitted. Deposits can be made in Japanese Yen, EURO and UK Pound for the international site. For electronic payments, minimum of £500 and for bank wire transfers, a minimum of £1000 for bank wire transfers is a must. With regulated brokers like these, withdrawals need to be verified.
For Basic, Silver, and Gold accounts, withdrawal fees are charged, although the Gold account holder is entitled to one free withdrawal per month. Funding the account is easy and hassle-free. However, withdrawals are another issue altogether.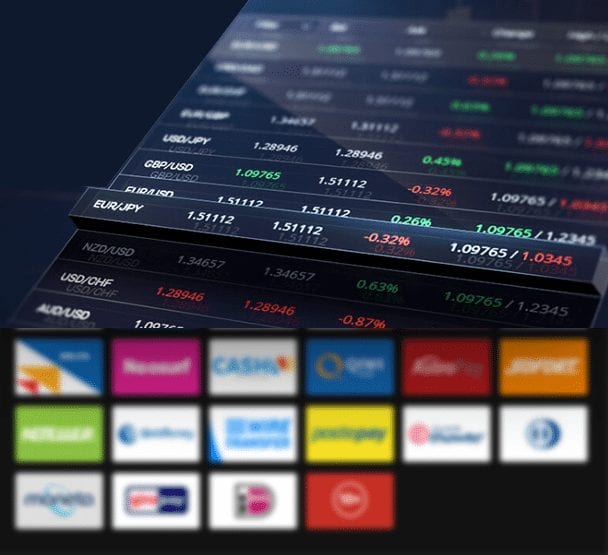 For opening a live account, minimum deposit is £500. For other accounts, the amount is higher – £1000 for Silver, £25,000 for Gold and £50,000 for Platinum.
Deposits can be made in yen, euros or pounds for the international site as the base currencies
Withdrawals need to be verified, withdrawals for only the platinum account are free of charge
Go to Broker
Risk warning: Capital can be lost. Terms and conditions apply.
8. Offers
8) Additional Offers: 24option is big on features including education and news
Interesting promos and monthly competitions are also held. This includes access tickets for football matches through company sponsors. Payouts reach 89%, while the High-Yield options approach 400% or more. From time to time, the 24option team offers interesting and attractive gifts and promotional offers. Numerous noncash bonuses are offered such as iPads or Macs through the technology bonus if a certain amount of money is deposited.
Those making a deposit of USD 500 or more get a chance to win tickets to Juventus matches. However, terms and conditions also apply. You also have the benefits of personal coaching, free trading signals, higher trading limits, email alerts and SMS notifications, and custom trading platform depending on the account you hold. For those wondering, is 24option legit, the answer is yes.
Additional features are developed and built in so account holders can become better traders. Cash and noncash bonuses are also on offer at the global site. While minimum trade is higher than usual at USD 24, it goes all the way up to USD 15000 for international users.
Interesting promotions include match tickets to Juventus games
Technology bonus means attractive gifts like iPad and MacBooks
Higher the deposit, greater the rewards
Go to Broker
Risk warning: Capital can be lost. Terms and conditions apply.
9. Regulation
9) Regulation and deposit protection: 24Option is Secure
An entire section of 24Option is dedicated to legal rules and regulations. So, for those of you thinking, is 24Option legit, this should provide enough reassurance. The EU site is regulated by CySEC while the non-EU site is regulated by IFSC. International users can also access this broker site which is a big plus point. Considering it was one of the first binary options brokers to be recognised by CySEC, this brokerage house has come a long way since then.
CySEC
Regulatory Authority
This 24option review also found support for negative balance protection, on the broker's site. It is, therefore, not possible to lose more than deposited in the account. However, there is no slippage protection. Under the CySEC investor compensation funds, a shortfall of funds up to EUR 20,000 must be compensated by the EU division of 24option.
Additionally, account funds held by the broker are in segregated accounts, so investors can handle periods of market instability. Outside of the EU, 24option is owned by Richfield Capital Limited, regulated by IFSC in Belize Guatemala. Its Cyprus office is controlled by Rodeler Limited which offers services in Switzerland and EU (except Belgium). Non-EU traders are served by the Belize office.
Regulated by CySEC in Cyprus and IFSC in Belize
EU traders under CySEC regulations
Under CySEC's ICF fund, traders can claim up to 20,000 EUR compensation in case of company bankruptcy.Non-EU traders come under Belize's IFSC code
Go to Broker
Risk warning: Capital can be lost. Terms and conditions apply.
10. Awards
10) Awards: A Critical Appraisal
This brokerage firm has won prestigious awards apart from several sponsorships and partnerships. It is also an official partner of Italian football team Juventus FC. Apart from this, it has partnered peer review sites like FBO/Fair Binary Options. They won the 2014 Prestigious Forex Magnates Award, at the London, UK Summit. They also received awards at this ceremony the year before that. The 2014 Operators EGR award was also conferred on this site. This brokerage firm was also honoured with an award by FBO for the best payouts in 2014.
Apart from its sports partners and peer supported review affiliates, the company also promotes transparency every since it received penalties for violation of MiFID II regulations. Since then, 24option has come a long way, discarding the Binary Trading business and moving on to cryptos, CFDs, shares, commodities plus indices and forex trading. How far it has succeeded in overcoming its regulatory hurdles, however, remain to be seen. On this score, the review finds this cryptocurrency broker to lack stability.
Winner of prestigious awards in the UK and through partner FBO in 2013, 2014
Penalised for MIFID II regulation violation
Only limited to cryptos, CFDs, commodities, indices, forex, and shares.
Go to Broker
Risk warning: Capital can be lost. Terms and conditions apply.
Conclusion: 24Option Offers Limited Options!
Historically 24option as its name suggests was a broker offering solely binary options trading. When local regulators begun to take a hard line on binary options over the last year or two, many brokers stopped offering this type of trading. 24ioption was one broker that transitioned into offering other trading vehicles including cryptocurrencies.
No bonuses or promos are on offer with 24option as they are CySEC regulated, low leverages fall in line with FCA and CySEC regulations. The Scipio trading platform which is the company's proprietary trading platform is good but it cannot match MT4 when it comes to charting analysis, insights and real-time updates. Luckily 24option also offers the MetaTrader 4 platform too.
This broker now specialises only in CFDs, shares, commodities, currencies, and indices. Customer service has telephone support but only for the international site. While its trading platform has been converted to 22 languages, it's hardly a credit considering the Scipio platform comes with primitive analytics and tools. Promotional incentives are offered only if you deposit more money with the broker. While the educational resources are great for novices, they offer no value addition to the professional or advanced trader.
The demonstration trading account is easy to set up
Segregated accounts, investor compensation fund and multiple jurisdiction licensing
40 Major and Minor as well as Exotic and Cryptocurrency pairs
Fully licensed and regulated by CYSEC and IFSC in Cyrus and Belize respectively
High leverage at 1:30 for MT4 platform traders
Leverage limited to 1:2 for Bitcoins
No cash bonuses for EU site because of CySEC regulations
No localized telephone support for EU site
Limited utility of Scipio trading platform; limited research and analytics tools
Test result
Broker

Go to Broker
Risk warning: Capital can be lost. Terms and conditions apply.