Ethical investing is one of the big investment opportunities of the moment. The ever-increasing popularity of financial products that have a social conscience reflects societal changes at the individual, corporate and governmental level. The trend appears to be one that is here to stay.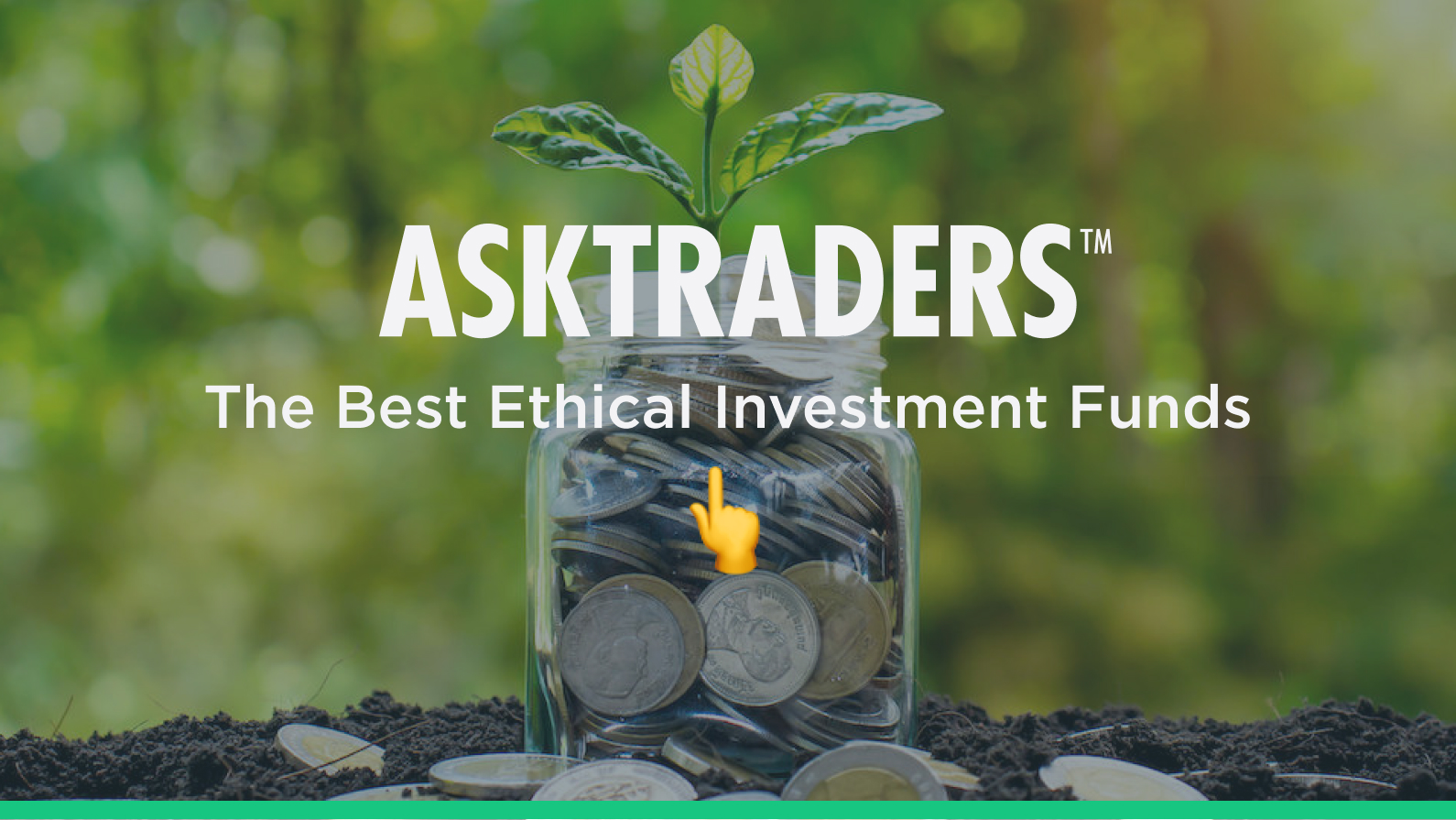 For many, investing is no longer just about making a financial return. This has resulted in new user-friendly ethical investments coming into the market – the possible irony being that because they capture the current zeitgeist, they are in demand, and as a result are also posting impressive performance returns.
Read on as we cover the following topics:
What Is an Ethical Investment Fund?
Funds allow investors to gain exposure to a sector with the click of one button. By booking one trade, it's possible to take positions in a basket of different stocks.
Ethical funds operate in line with other fund products – it's just that the stocks they hold have been determined by the fund manager to fit certain criteria.
It's also important to consider the different types of funds available. Traditional mutual funds, such as pension funds and investment trusts, are often actively managed. This means that staff at an investment company proactively consider the different stocks available and hand-pick those that they think will generate above-average returns. However, this 'added-value' means that they charge higher fees.
At the other end of the fund spectrum are exchange-traded funds (ETFs). These don't have month-end dealing dates and can be bought or sold at any time. They also have live price feeds, which make it easier to track their performance in real time.
Another advantage of investing in ETFs is that they are an exceptionally cost-effective way to get exposure to a sector. They track an index, such as the Beyond Investing US Vegan Climate Index (VEGAN), so are passively managed. The investment manager will simply adjust the holdings in the basket if there is a change to what stocks are constituent members of the index itself. They're aiming to mirror, not beat, the market.
The hands-off approach of ETF managers and the growth of the sector have resulted in trading costs being slashed. If you choose a good broker, it will provide transparent reporting of the operating expense ratio (OER), which details what the annual costs would be to hold a position.
The industry average OER for a stock ETF is estimated by Forbes to be 0.18%. This means that for every $1,000 invested, only $1.8 would go to the fund manager in terms of annual fees. Those low trading costs and the ease of trading mean that it's easier to adjust your portfolio.
The good news for investors is that the ethical fund sector has something for everyone. The less good news is that the criteria used to determine whether a fund is 'ethical' can confuse rather than clarify the situation. The ethical investments sector covers a wide range of issues, from corporate governance to renewable energy. This can make it difficult to run direct comparisons.
The two main industry benchmarks used to shed light on how ethical a firm is are environmental, social, and corporate governance (ESG) and corporate social responsibility (CSR). We've considered the protocols of both schemes, and other independent organisations, to help us draw up a list of the best ethical funds to buy now.
The Five Best Ethical Investment Funds to Buy Now
As outlined, the neat functionality and low costs associated with ETFs make them an obvious choice for those looking to invest in ethical funds.
Market coverage is also an important consideration, and again that is also taken care of. The ETF sector has boomed in recent years, which has resulted in the range of products expanding to accommodate every ethical concern that an investor might have.
After careful consideration of the different criteria used to gauge ethical investments, AskTraders has compiled a list of the best ETF ethical investment funds in the market. The list covers the whole spectrum of ethical investing, and all the funds have a compelling reason for you to invest in them now:
iShares Global Clean Energy ETF (NASDAQ:ICLN)
iShares ESG Aware MSCI EAFE ETF (NASDAQ:ESGD)
WisdomTree Emerging Markets ex-State-Owned Enterprises Fund (NYSE:XSOE)
Vanguard ESG Global All Cap UCITS ETF (V3AM)
Lyxor Global Gender Equality (DR) UCITS ETF (LON:ELLE)
iShares Global Clean Energy ETF (NASDAQ:ICLN)
The iShares Global Clean Energy ETF tracks the S&P Global Clean Energy Index, which is made up of stocks of approximately 100 companies. To gain entry into the index, companies must demonstrate that they have a focus on clean energy production, equipment and technologies.
The current holdings show a distinct weighting towards wind and solar energy. This not only confirms the ETF's green energy credentials, but also steers it towards two high-growth sectors.
If you're new to ethical investing but are already sold on the idea, then this ETF allows you to gain diversified exposure to some of the biggest names in the industry, including Vestas Wind Systems (OTC:VWDRY), Enphase Energy (NASDAQ:ENPH), Consolidated Edison (NYSE:ED), and Orsted (OTC:DOGE.F).
Investors who buy the iShares Global Clean Energy ETF will incur a relatively low OER of 0.40%. Considering the behind-the-scenes work carried out by the fund manager, that's a low price to pay to take positions in a basket of global clean energy firms.
iShares ESG Aware MSCI EAFE ETF (NASDAQ:ESGD)
While the ICLN ETF targets a new industry, the iShares ESG Aware MSCI EAFE ETF invests in the most ethical firms from more traditional sectors. This means that investors can feel that they're still making a difference but can diversify their risk.
The index that this ETF tracks is made up of large and mid-cap developed market stocks, excluding those listed in the US and Canada. They all have positive ESG characteristics.
Other stocks that are screened out and ineligible for inclusion include those from the controversial weapons, oil sands extraction, small arms, thermal coal and tobacco sectors.
The top 10 holdings of the ESGD ETF typically include trusted household names such as ASML Holding (ASKL), AstraZeneca PLC (AZN) and Toyota Motor Corp (7203). These might not necessarily be names associated with bringing about ground-breaking changes, but they have been screened by the team at iShares/BlackRock to ensure that they meet the required criteria.
Reflecting that most of the stocks held in the ETF are more mainstream, the OER of the ESGD ETF is a very competitive 0.20%.
WisdomTree Emerging Markets ex-State-Owned Enterprises Fund (NYSE:XSOE)
Ethical concerns extend beyond ecological concerns and a desire to not invest in tobacco companies. For some, the way that businesses can be used as tools of dubious governments is a barrier to investment.
The WisdomTree Emerging Markets ex-State-Owned Enterprises Fund resolves that issue by excluding stocks that don't meet certain criteria relating to ownership – Saudi Aramco and Russia-owned Rosneft being two prominent examples of firms that some investors want to avoid.
The rest of the portfolio is weighted towards stocks of companies with strong links to emerging markets. However, investors can take comfort from gaining exposure to growth economies while also backing 'cleaner' companies.
The top 10 holdings currently include ICICI Bank Ltd, Reliance Industries Ltd, Meituan Dianping-Class B (3690 HK), and Al Rajhi Bank RJHI AB. Reflecting the additional trading costs associated with emerging markets, the OER of the XSOE ETF is 0.32%. This still represents just a $3.20 charge on a $1,000 holding, so is far from being a deal-breaker, especially considering the nature of the stocks involved.
Vanguard ESG Global All Cap UCITS ETF (V3AM)
As outlined, ETF investing is incredibly cost effective, but if you want an ethical fund with rock-bottom fees, then Vanguard's V3AM could be for you. The OCF of 0.24% means that for every $1,000 invested the annual charge will be just $2.4.
In other respects, the V3AM fund falls in line with other ESG orientated funds. It is made up of stocks of more than 5,000 large and midsize firms. The selection process screening out those which are involved in operations which include alcohol, adult entertainment, tobacco, weapons, fossil fuels or gambling. It also considers certain labour, human rights, environmental, and anti-corruption standards, as defined by the UN Global Compact Principles.
Not surprisingly the V3AM is proving popular with ethically minded investors. Despite only being listed in March 2021 it has grown to have a median market capitalisation of £60.5m. The minimum one off payment into the fund is set at £500 but monthly direct debits of £100 are an option for those looking to make regular contributions.
Lyxor Global Gender Equality (DR) UCITS ETF (LON:ELLE)
The Lyxor Global Gender Equality (DR) UCITS ETF tracks the Solactive Equileap Global Gender Equality Net Total Return Index. This index is made up of up to 150 global companies that score highly for gender equality according to the 19 criteria defined by Equileap, an independent gender equality research organisation.
Companies involved in the following sectors are also excluded: weapons, gambling and tobacco, and those on the Norwegian Ethics Council list.
Investing in the ELLE ETF is a move that supports campaigns for equal pay. It is also a move that can be financially rewarding. A study by S&P Global Market Intelligence found that public companies with female CEOs and CFOs were more profitable and had a stronger stock price performance compared to companies with men in those positions.
How to Buy Ethical Investment Funds
Ethical funds are popular with beginners and can be the first investment product that someone buys. This is because they bring people into the market by offering a route around the conception that financial markets and capitalism are inherently troublesome on an ethical level.
After submitting some personal details to create an account, it's a simple case of wiring cash, finding the ETF on the trading dashboard, entering the amount you want to buy, and clicking 'confirm deal'.
Some brokers are better set up to support ETF traders, and IG, for example, offers its clients the opportunity to trade up to 5,400 ETF markets. Not all are ethically focused, but with such a large number available, there is every chance to build a portfolio that makes a difference and offers the chance of capital returns.
Ethical Investing – How to Avoid Funds Engaged in 'Greenwashing'
Surging levels of interest in ethical investing have created an issue with regard to the topic of 'greenwashing' – that is when corporations mislead investors about how ethical their product really is. The fact that there are different ranking systems, which apply different criteria, leaves room for unscrupulous firms to play the system.
It's currently a problem that individual investors are left to resolve themselves. One way to carry out due diligence on firms can be done by accessing data such as their CSR reports.
It's also worth going with instinct. It might be possible that ExxonMobil ranks more highly than Tesla in terms of staff development, but is investing in a petro-chemical giant really a more ethical choice?
Regulators are also taking steps to tackle investment industry greenwashing. In mid-2022, the FCA announced plans to introduce consumer-friendly labels on ethical funds. Its statement highlights concern about even high-profile investment managers crossing the line – the question being how far those reforms go to simplify matters or whether the introduction of another ranking system confuses matters further.
Final Thoughts
Opening an account that supports ethical fund investing takes minutes to do and is completed online. The brokers in this list have been reviewed by AskTraders to ensure that they offer competitive T&Cs and additional support services such as research or news alerts. They are also regulated by highly rated financial authorities, so must comply with client care protocols.
Ethical investment funds offer a chance to balance your principles and your financial aims. Stellar gains from some ethical funds mark the sector out as one you need to consider, even if financial returns aren't your only priority.
People Who Read This Also Viewed: