Some of the smartest guys in the markets have just taken a large stake in British Airways. Hedge Fund, Marshall Wace, has a strong track record, which is why they have grown to be one of the biggest alternative investment houses in the world.
The good news is that following their lead is easy to do. Taking the same position and hoping airline stocks will take off, is as easy as clicking a button. This review will show you how to buy British Airways shares.
Overview of British Airways
The traditional model for airlines to be 'national carriers' has been shaken up in recent years. To investors, this meant that even before COVID-19, there was a chance that assets were being mispriced.
The firm known today as British Airways (BA) has a corporate history dating back to 1919 when Aircraft Transport and Travel Limited (AT&T), a forerunner company of today's BA, launched the world's first daily international scheduled air service.
As global travel trends have changed, so has BA. The aircraft and staff are part of a larger company: International Consolidated Airlines Group S.A. (LSE:IAG), which also includes the carriers such as Iberia and Aer Lingus. Between them, the airlines in the group make up one of the world's largest airline groups. IAG has 573 aircraft and flies approximately 118mn passengers to 279 destinations each year.
IAG Shares: The Basics
Given the international nature of IAG, it's not surprising to find that the firm is incorporated in Spain, but listed on two different stock exchanges — the LSE in UK and the Madrid stock exchange.
This makes the stock a constituent member of the flagship equity indices of both countries, the FTSE 100 and Spanish IBEX 35 index.
The price of shares on the two different exchanges trade in line with each other. The shares are essentially different from each other, but represent a claim of ownership on the same underlying asset, IAG. There is some added interest by the fact that one listing is in pounds sterling and the other in euro.
IAG (London listed shares) Monthly Candle Chart 2011–2020
Source: IG
The 10-year price chart for the London-listed IAG captures the entire life-history of IAG shares. The firm was founded in 2011 when BA and Iberia merged. The COVID-19 pandemic has dragged the share price down to 2011 levels.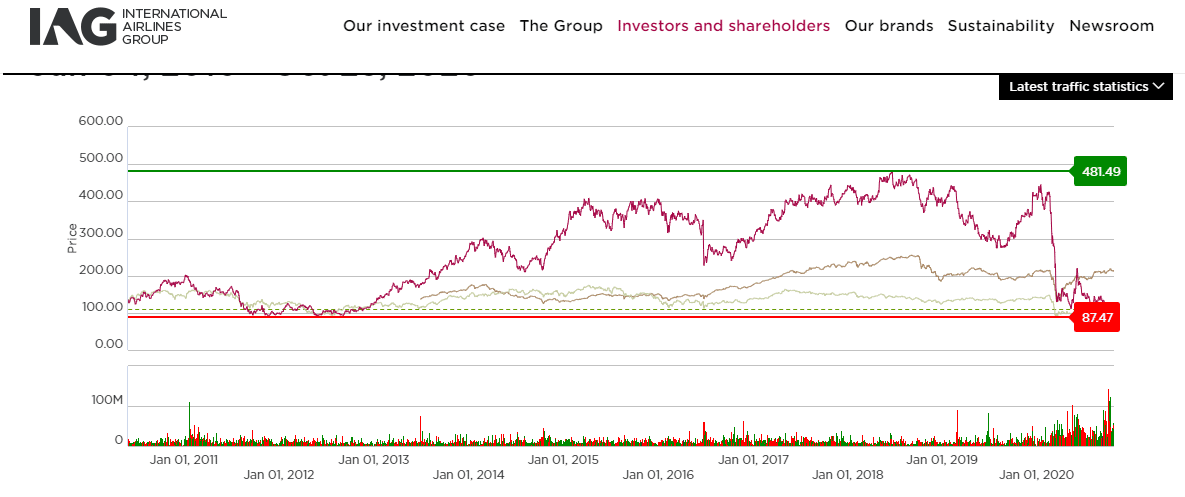 Source: IAG
Introducing the broader share indices, the IBEX 35 and FTSE 100 shows how IAG has given up the gains it made against the rest of the members of the index. This is not as much of an issue as it could be because the recent share price fall has brought IAG in line with – rather than underperforming – the flagship indices.
IAG Company profile – Madrid-listed shares
Source: Market Watch
IAG Company profile – London listed shares
Source: Market Watch
The complexities of the COVID situation have significant consequences for IAG and the airline sector.
Back in September, the Shares Magazine headline read:
"Why IAG shares are down 30% this morning and why you shouldn't be concerned"
Source: Shares Magazine
Marshall Wace certainly wasn't concerned. According to the most recent disclosures, the hedge fund now owns approximately 3% of IAG. The airline industry may take years to recover, but the bargain-basement prices are attracting investors.
There has also been a change in terms of management. Alex Cruz has stood down as CEO, replaced by Sean Doyle of the Aer Lingus division of the group.
There are long-term challenges to consider. According to senior portfolio manager at Syz Private Banking, Said Tazi, airline stocks have fallen "probably for good reasons".
Source: FR24News.com
He added: "Let's not forget that even in normal times most airlines have not performed well relative to the market. The economics of the sector are not attractive: tough competition, high capex, strong unions and of course volatility in oil prices."
Source: FR24News.com
Steps To Buy IAG Shares
It is, of course, possible to use online brokers to short-sell IAG in CFD format. That would mean you'd make a profit if the share price falls, and lose money if it goes up. Whether you think the IAG share price will go up or down, entering into trades is as easy as clicking a button.
Research IAG Shares
No-one can be certain about what direction the IAG share price will go. But you can tilt the scales in your favour by being as fully prepared as possible. Good brokers have extensive libraries of video and written materials, which can help you get the best out of your trading.
Some brokers, such as FXTM, also include a service where in-house or third-party software (such as Trading Signals) identifies trading opportunities in the market and shares them with clients.
Granular-level information is also freely available. The IAG financial statements can be accessed online. The most recent trading report can be found here.
Find a Broker
There are a lot of good brokers in the market. Finding one that suits your preference is made easier by the availability of demo accounts, which allow you to test the service by trading virtual funds.
One key point to remember is the need to use a broker regulated by a tier-1 regulator, such as the Financial Conduct Authority (FCA).
Open & Fund an Account
Once you've chosen a broker, there is some online form-filling to complete. This is to ensure the broker complies with 'client protection' rules. Working through the contact info can take a few minutes, but is designed with your interests in mind.
The process of funding your account also takes next to no time to complete. Brokers offer a variety of payment methods. The fastest involve bank transfers or debit/credit card transfers and take no longer than making a payment to complete some online shopping.
Once the funds are confirmed, you're ready to go.
Set Order Types
The process of booking a trade is very simple. The trading platform will offer markets in all sorts of assets and once you select the one for IAG shares, you're likely to see a monitor like the one below.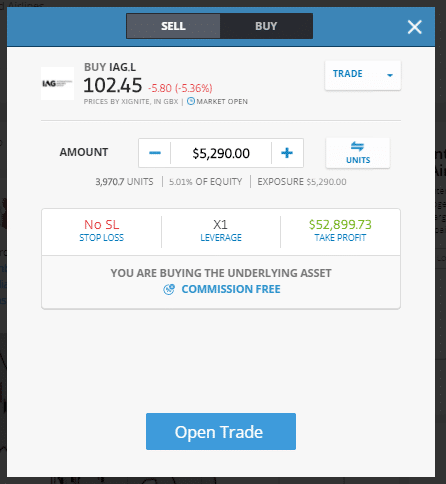 Source: eToro
With this broker, IAG, it's just a case of entering the amount you want to trade. Then the direction of the trade, 'buy' or 'sell'. Then if you want to, adjust the order to include a 'stop-loss' and / or 'take profit' limit on your instruction. These help you manage the risks associated with price moving against you, or in a particularly volatile manner.
Select and Buy IAG Shares
Another user-friendly feature of the eToro interface is the breakdown given to you at the time of trade. You'll notice that this transaction will be commission-free. If there were any financing charges associated with the trade, these would be mentioned here as well.
As this trade is not using leverage, there are no other fees involved and clicking 'Open Trade' will see $5,290 of IAG shares credited to your portfolio. There will be a corresponding deduction form your cash balance.

Source: eToro
Once you decided to close the trade out, this process will be reversed and the profit / loss will be calculated according to how price has moved in the intervening period.
Best Brokers to Buy IAG Shares:
eToro:
68% of retail CFD accounts lose money
Take a look
If you're ready to buy IAG shares, you'll need to use a broker that is FCA regulated, has low trading commissions and a reliable trading platform. Finding one can be an arduous and daunting task, which is why we've hand-picked favourites that tick all of these boxes to help you get started.
Choosing a broker is a personal choice, but if you'd like to consider the thoughts of some reviews by expert traders, then that can be done here.
Fees When Buying IAG Stock
The entry and exit price level will be your major concern, but other fees need to be factored in as well.
The longer the anticipated holding period, the more likely you're going to find it more cost-effective to hold the position as shares. Shorter-term strategies would more likely benefit from being carried out using CFDs. A rough estimate is that if you're holding an equity for more than 4–6 weeks, the numbers start to favour a buy-and-hold style share transaction. A report to help you make that decision can be found here.
| | | | |
| --- | --- | --- | --- |
| | eToro | Plus 500 | Markets.com |
| Inactivity Fee | Yes | Yes | Yes |
| Inactivity Fee details | $10 per month. After 12 months | $10 per month. After 3 months | $10 per month. After 3 months |
| FX Conversion | Yes – on non-base currency trades | Yes – on non-base currency trades | Yes – on non-base currency trades |
| Fund withdrawal fees | Yes – $5 | Applied on some payment methods | Yes – $5–$100 |
| Trading commissions | Included in spread | Included in spread | Included in spread |
| Overnight Financing | Yes, on CFDs | Yes, on CFDs | Yes, on CFDs |
Your account's base currency may not be in GBP. If that's the case, then a purchase of UK-listed AIG, which is priced in GBP would need to be converted into the base currency. This introduces another frictional cost that you may be able to avoid by doing some research on which broker to use.
Summary
Some of the biggest players in the market have jumped in to buy IAG shares. The low share price has proved too hard for them to resist.
The good news is that if you want to do the same, the process of buying IAG shares is very straightforward. Knowing when, or if, to buy, is a harder question to answer. But if your mind is made up, the functionality of good modern online broker sites makes the mechanics of dealing as simple as clicking a button.
People who read this also read: