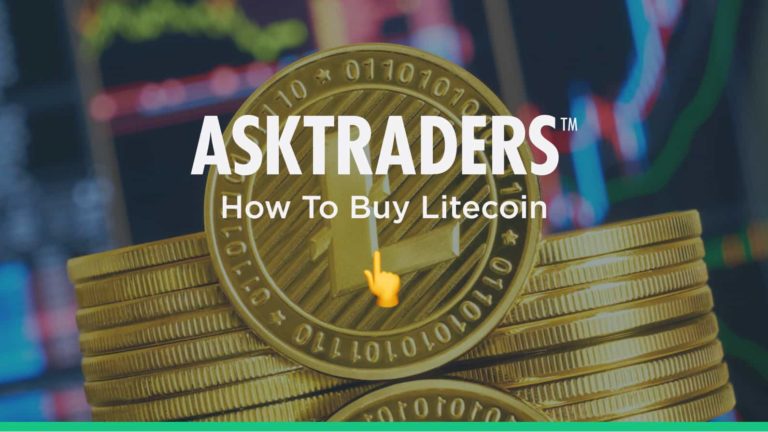 Litecoin's market capitalisation of $3.9bn is a clear sign of interest. The crypto's niche is as an established name with faster processing times than bitcoin. Straddling the bridge between being a trusted store of value and an effective means of exchange means it has a shot at being 'the' crypto, which makes it to the top of the pile. This review looks at why and how to buy Litecoin, exploring the following:
What is Litecoin?
How has Litecoin traded since 2011?
What's special about Litecoin?
Tips for trading Litecoin
How do I buy Litecoin?
Final Thoughts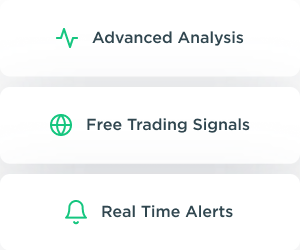 What is Litecoin
There are thousands of cryptocurrencies in the market. Each holds the promise of becoming the global currency of the future.
More recent entrants to the space rely on groundbreaking technology to catch up on coins that already have an established reputation. Litecoin (LTC) is something of a half-way-house.
Most brokers offer free research on Litecoin, which comes in video, webinar and written form. You can find out more about litecoin by visiting social trading sites and online groups. Cryptos have certainly caused a stir and there are lots of places to find others willing to share their thoughts on where price might go next.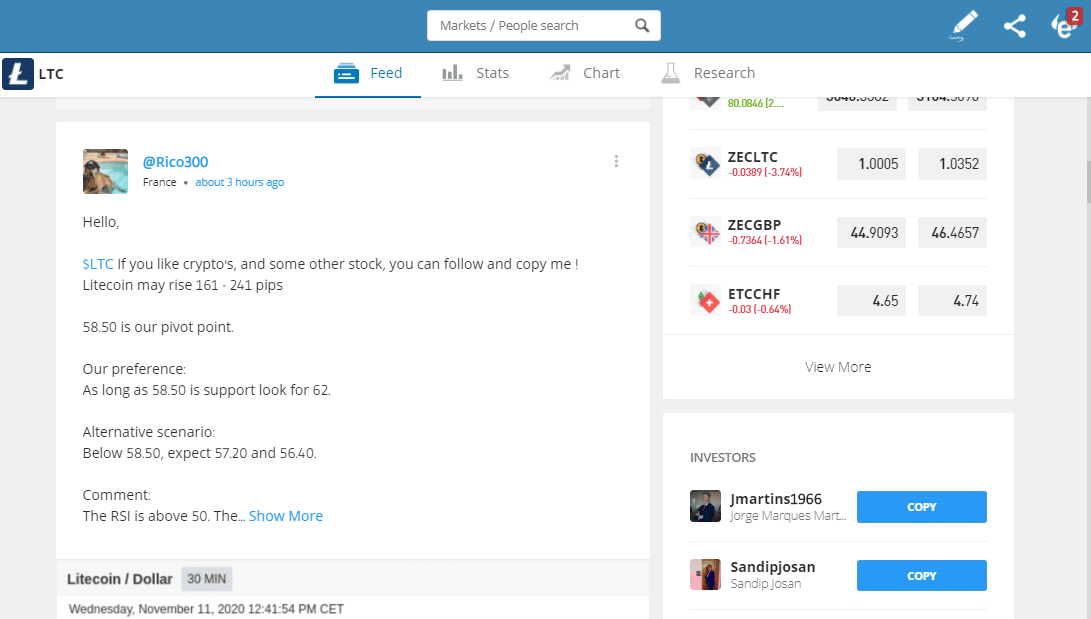 Source: eToro
Like bitcoin, litecoin was created to provide a decentralised peer-to-peer transaction system. It uses blockchain technology to allow individuals to make payments or transactions anywhere in the world.
As a result of the protocols involved, there is a degree of security, which comes from using a shared ledger. Transactions also incur relatively low fees. As a result, litecoin has become a preferred method for sending crypto to and from exchanges.
How has litecoin traded?
Nick-named, 'the silver to bitcoin's gold', litecoin is popular in the world of cryptocurrencies and has a price history relatively in line with that of BTC.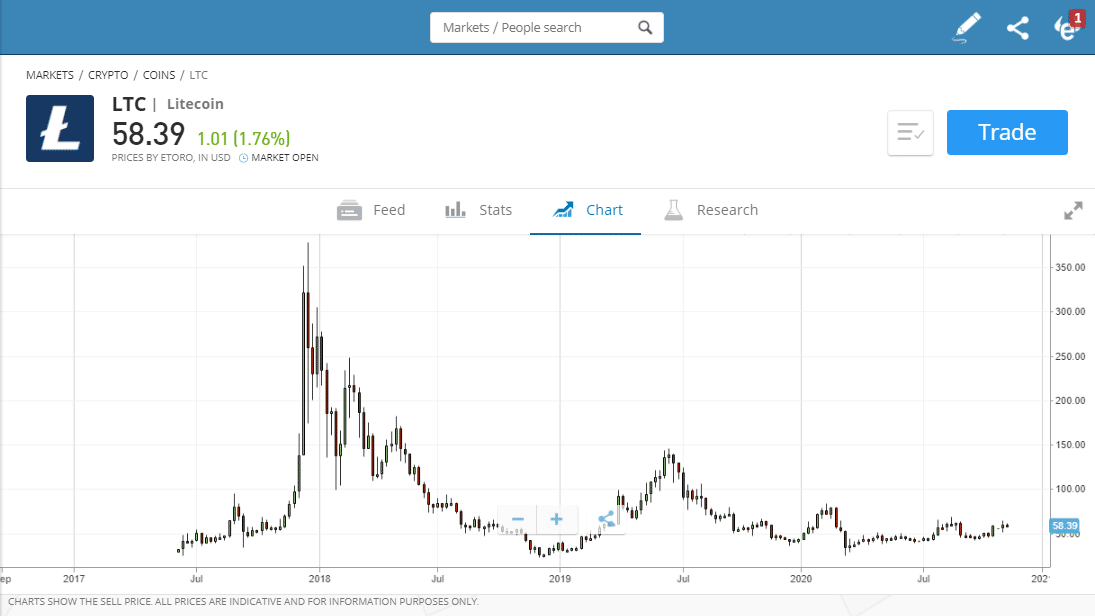 Litecoin has been around long enough to have experienced three main bull markets.
In 2013, prices increased by a multiple of 10 in the space of a few days.
Then in March 2017, litecoin started its second bull market. This one saw the price of LTC move from $3 to $50 by July 2017. It then went on to touch $80 in September 2017.
In 2019, Litecoin started a third bull run. This time price climbed as high as $145 (June 2019) before falling back to $50 as the year-end approached
Such moves are typical for cryptos. The spike and crash of 2019 was a sector-wide phenomenon, but one of the price falls was Litecoin-specific and is something any potential buyer should be aware of.
The Mt Gox scandal of 2014 hit all early-stage cryptos hard, including litecoin. The Tokyo based Mt Gox exchange was at one time processing 70% of all BTC transactions but in 2014 reported it had lost 744,408 of its account holders' bitcoins and 100,000 of its own.
This shook the principles of decentralised accounting to their core. The fact that the US Department of Homeland Security got involved says a lot about how bad things got for old-time cryptos.
What's special about litecoin?
A lot of the appeal of litecoin comes down to its ability to be effectively used.
Faster – The Litecoin network on average processes one block every 2.5 minutes. This compares well to Bitcoin's 10 minutes and allows litecoin to confirm transactions approximately four times as fast.
Cheaper – Then there are cost-benefits. As of September 13, 2018, sending any quantity of litecoin cost less than $0.05 compared to a $0.56 charge for sending Bitcoin.
Litecoin is similar to bitcoin in that it has a halving. The last LTC halving took place in May 2020, around the time that BTC processed its own.
The theories about price rallies following a halving appear to be coming good. If LTC does follow BTC (in the same way silver follows but lags gold) then LTC could be about to experience another bull-run.
Our article found here goes into greater detail on the long-term price predictions for litecoin.
Tips for trading litecoin?
One important aspect to keep in mind is that crypto trading has picked up a reputation for scams and scammers. There are ways to keep yourself protected. Navigating the landscape and finding a safe broker is possible, it's just a case of keeping your guard up, at all times.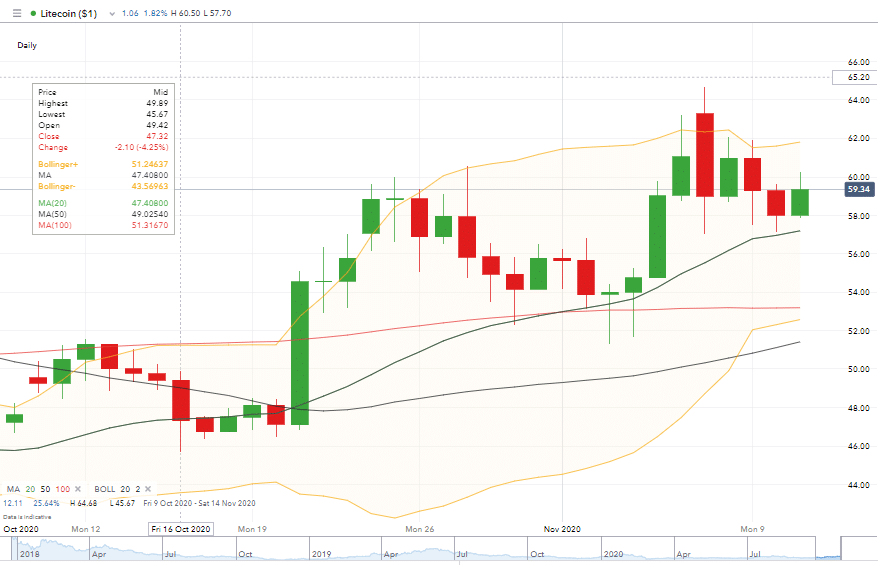 Source: IG
Given the need for applying common sense, it's worth drawing on the knowledge of others. Our Top-5 list of crypto brokers offers names that cover the spectrum of brokers available.
The broker IQ Option has a strong crypto focus. Broker Plus500 offers 14 crypto markets, including Litecoin, but also covers thousands of markets in other asset groups. Crypto, metals and forex are all able to be traded from the same account.
Crypto trading is risky. The price moves can be substantial and rapid. Even if you find a trade going your way, the risk is that emotions might come into play and cloud your judgement.
One way of practising your approach is to use a demo account at any of the good brokers. Not only can you get to grips with the day-to-day movements of litecoin. You can also get familiar with the pros and cons of different brokers. Demo accounts use virtual funds so the trading is risk-free.
Market risk is one thing, and most people who go into trading do so in the knowledge that they could lose their stake. The risk of coming across a scam broker is another matter. Whatever course you take towards trading litecoin, it is essential you use a broker that is regulated by a tier-1 authority.
Names to look out for include:
The Financial Conduct Authority (FCA)
The Australian Securities and Investments Commission (ASIC)
The Cyprus Securities and Exchange Commission (CySEC).
How to buy litecoin?
If you do want to trade Litecoin, then it's simply a case of signing up with a broker. If you are already set up with a demo account, then you are half-way to taking the next step.
It's a good sign if your broker starts asking questions about your investment objectives and trading experience. There aren't necessarily any right or wrong answers, the broker is just trying to categorise you. They do this to comply with the KYC (Know Your Client) rules set by regulators.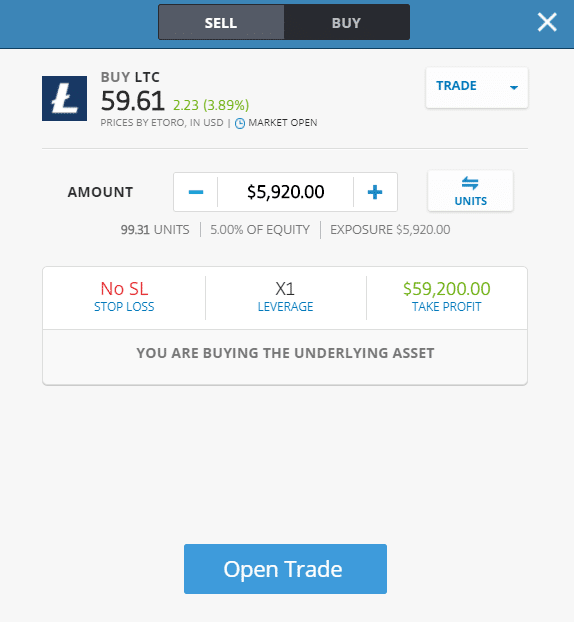 Source: eToro
Once you've funded your broker account, you'll be in a position to buy Litecoin. You are not obliged to, and being patient to pick an optimal trade entry point is always a good idea.
The mechanics of buying litecoin involve navigating across the trading dashboard to the litecoin market. Then, enter the trade details, such as the amount to trade and whether you want to buy or sell.
Two additional features you might want to consider are the risk management tools, stop-losses and take-profit orders. These are instructions to automatically close out a position if price moves to a certain level.
This helps traders juggle their investing and other commitments. Knowing that you are ready to sell at any time can give some comfort. It is also possible to follow the markets and your trading positions on mobile devices. Many brokers offer free apps so you can trade on the go.
Final thoughts
You can buy litecoin from nearly anywhere in the world. The regulatory protection will be determined by your domicile. So if you are buying litecoin, UK based, and are using a broker that is regulated by the FCA, then that is the authority that will provide you with cover. Protection is based on citizenship and regulatory licenses, not by the nature of the product you are trading.
People who read this also read: