As anybody who has ever tried to trade the markets will attest to, it is not an easy task. Trading can be incredibly difficult for beginners who are not familiar with the markets since they struggle with crucial trading aspects.
It is not uncommon for most traders to incur massive losses at the start of their careers.
Some traders may also encounter major challenges with their brokers, including long withdrawal processing periods, complicated trading platforms, and trade execution, among others.
If you are in this position and want to close your trading account, keep reading since we will guide you on how to close or delete your IQ Option account and recommend to you other brokers who might be a better fit.
Ready? Let's get started.
How To Delete Your IQ Option Account
In the past, most brokers including IQ Option, required you to contact their customer services team in order to close your account. Nowadays, they have automated the entire process as outlined below.
1. Login via the IQ Option website or desktop app
Choose the 'personal data' option from the dropdown menu at the top right corner of the screen.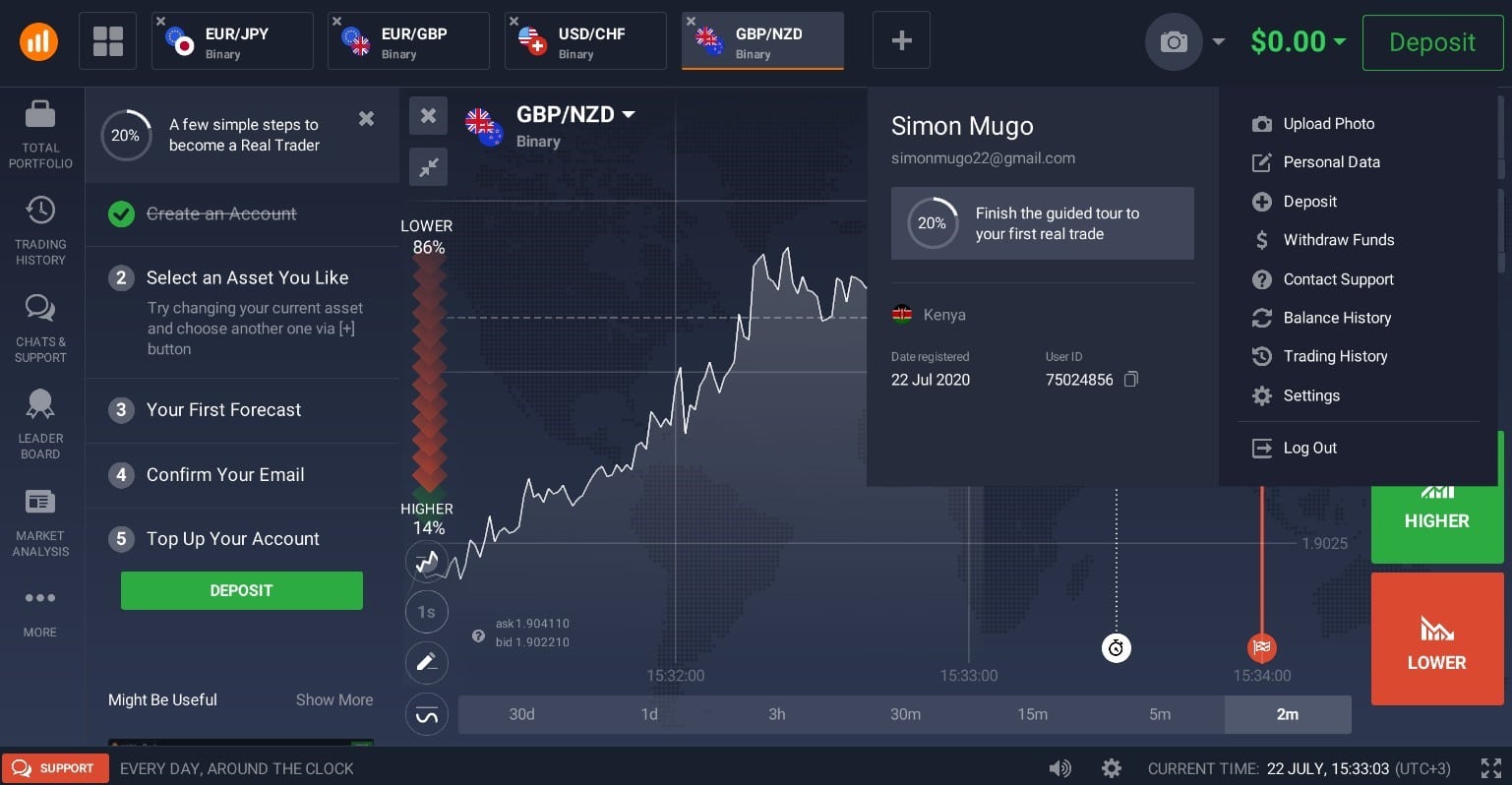 2. You will be redirected to the website where you will see the account settings tab on the left menu. Click on it and scroll to the bottom.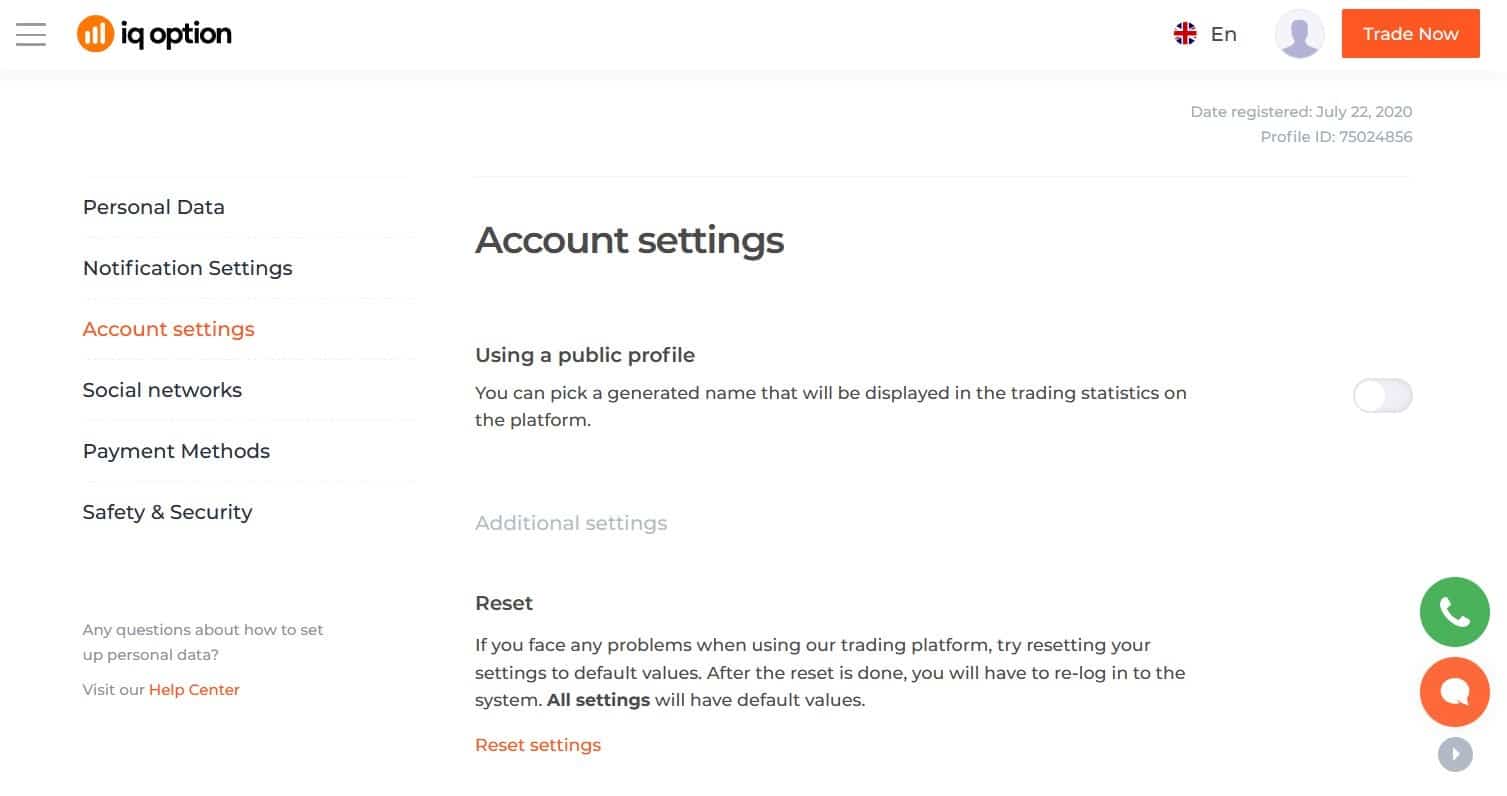 3. You'll find the deletion of account and personal data options near the bottom.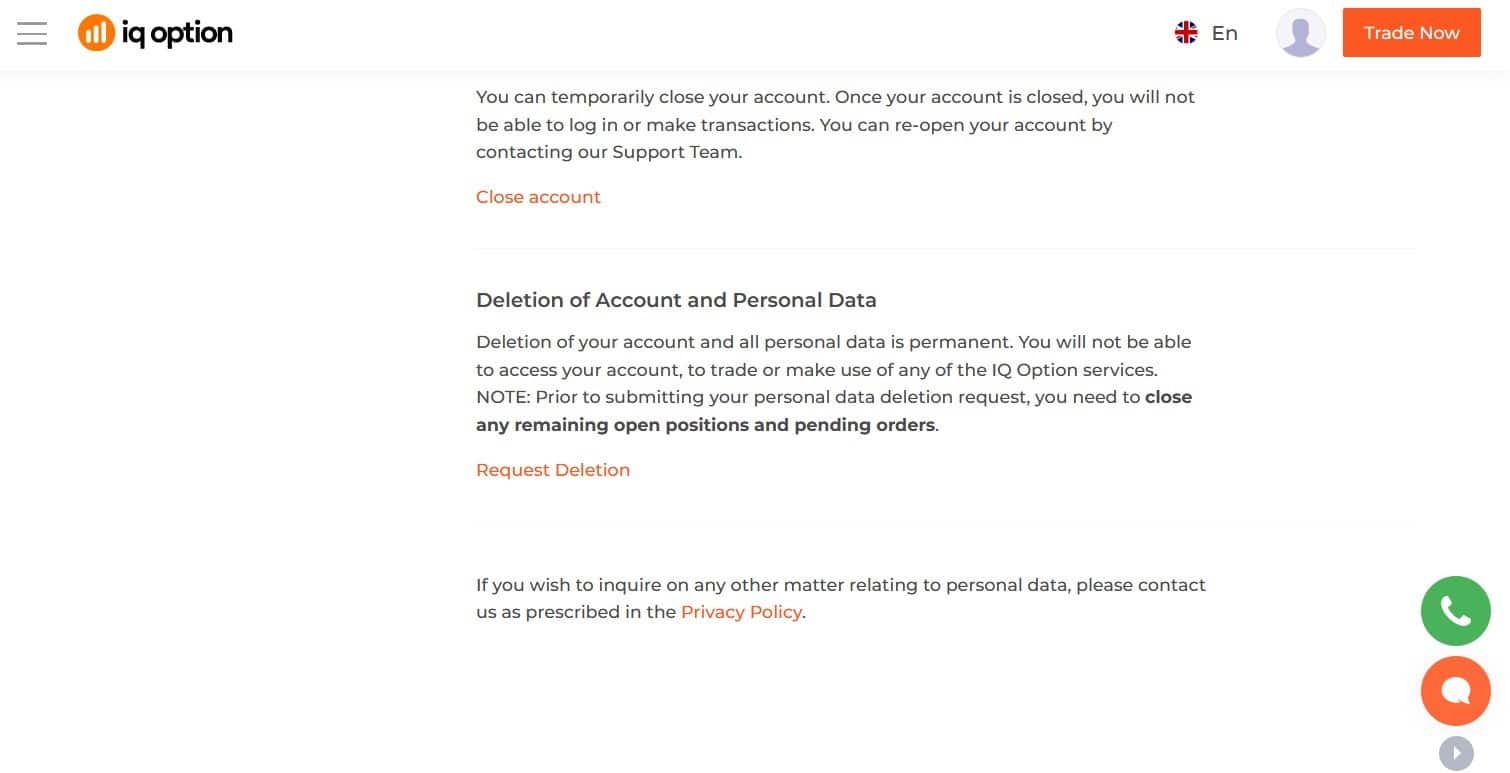 4. Click the request deletion button. The warning below will pop up and you can confirm your decision.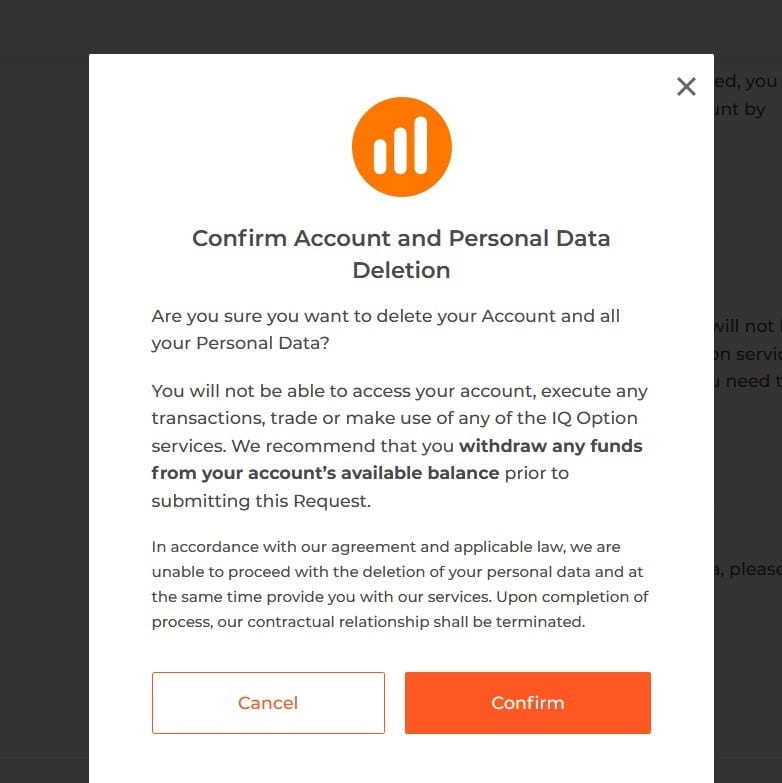 5. Confirm your account deletion request and you will get a final warning at this stage. Just ignore it if you have not changed your mind.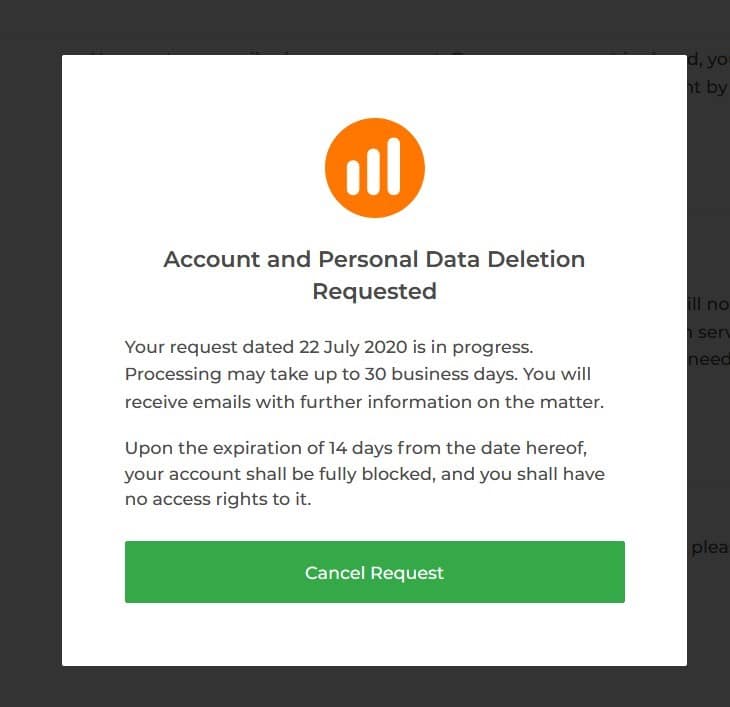 You will notice that the above warning says that the broker will process your request in 30 business days, which in our opinion is a bit too long. However, this gives you a chance to change your mind and reactivate your account any time within those 30 days.
Why might you want to delete your IQ Option Account?
Most traders who want to delete their IQ option accounts do so because they don't want to trade anymore. Usually, it's because they have made huge losses and have decided to take a break from trading. In other cases, you might discover that you don't have the time to learn how to trade the markets successfully, as this usually takes time.
Sometimes, you might want to close and delete your IQ Option account because the broker does not offer a financial instrument that you wish to trade.
You might want to trade a specific stock or an exotic pair that is not available at IQ Option. There are many tradable instruments across the globe, and no broker offers all of them.
Other common complaints that we encounter include issues with the execution of trades, where some brokers might be slow to execute trades leading to slippage. Some brokers also take too long to process deposit and withdrawal requests, which might inconvenience many traders.
We believe that every broker should quickly execute your trades at your desired price levels while processing your withdrawal and deposit requests fast. We usually encourage traders to speak with the broker first when they encounter such issues.
However, if the same issues keep arising, it is okay to switch brokers.
Who Can You Trade With Instead?
Choosing your next broker will largely depend on why you decided to delete your IQ Option account. If you closed the account because of significant losses, you could choose to open and trade on a demo account as you rebuild your trading skills and confidence.
Trading on a demo account will allow you to learn more about trading the markets successfully putting your hard-earned money at risk.
Our favourite broker for trading Forex is Pepperstone, which offers a free 30-day demo account. A demo account is an excellent way to grow your trading skills and rebuild your trading confidence without risking your cash.
If you are closing your account because you are too busy to trade, then copy trading might be the best choice for you. It is also known as social trading where you automatically copy the exact trades made by expert traders and profit from their trades.
Copy Trading allows both beginners and busy professionals to profit from the markets without spending hours analysing the markets and placing trades every day. The best broker for copy or social trading is eToro and you can get started with a free demo account.
If you want to find a broker with the exact financial instruments that IQ Option does not offer, you should consider all your options. At AskTraders, we've ranked the best broker across many categories, including forex, stocks, and cryptocurrencies, to help you choose.
People who read this also viewed: