The Ukraine-Russia conflict has raised many questions for investors, with the wider market experiencing a price slide due to heightened geopolitical risk. That, coupled with the inflationary pressures bearing down on the global economy, has resulted in investors who held assets in the region being particularly badly hit.
Some investors are interpreting recent events as a paradigm shift to a period of greater instability and believe it could be an excellent time to consider how to navigate the new financial landscape. AskTraders has carried out a technical and fundamental analysis on stocks which could offer alternatives to Russian stocks in your portfolio. In some cases, they are direct substitutes. In others, there's a degree of lateral thinking to pick up on the new trends which are forming.
Read on for our list of alternatives to Russian stocks.
Russian Stock Gazprom (OGZPY) – Alternative Stock Shell (SHEL) – Natural Gas Sector
Gazprom is not only the largest exporter of gas in Russia but also in the world. With 40% of Europe's gas coming from Russia and that supply under threat, there is obvious potential for an alternative firm to step in and fill a massive gap. Shell looks to be a prime contender for the role. The company can trace its history back to 1907, so it offers a degree of security in an uncertain world. It also captures the zeitgeist in terms of energy firms taking a more progressive approach to the increasingly important topic of ethical investing and has outlined plans to be carbon neutral by 2050.
Shell PLC – Daily Price Chart January 2022 – May 2022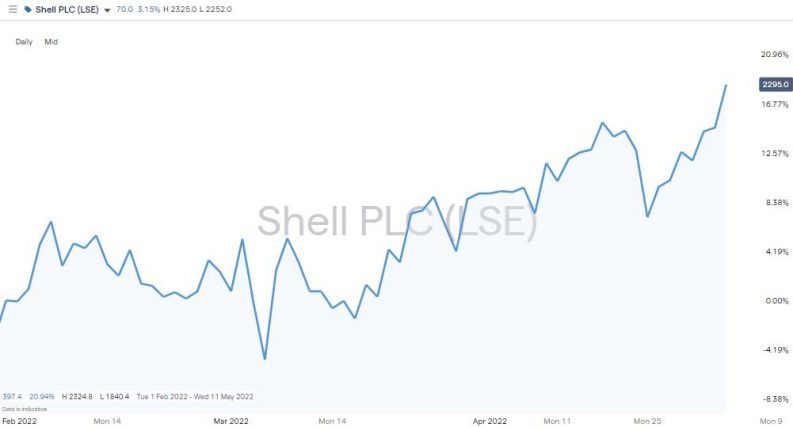 Source: IG
Shell's eco-credentials make them the best of a bad bunch in terms of ESG criteria and will attract investors who use those metrics when deciding on what stock to buy, but the big appeal currently is the bottom line. Like other oil and gas firms, Shell has, in the last 12 months, been pumping out record profits as the price of gas and oil surged.
Shell has recently initiated a significant dividend and stock buyback program. It has also finally re-organised its corporate structure and based itself in the UK for tax purposes. The management team look well-positioned to make the best of the current boom in commodity prices.
Finding an alternative to Russian stocks is one thing but giving up on the gas sector entirely would appear to be a foolhardy move with energy prices at current levels. The one potential downside is the threat of a 'windfall' tax on profits, but that is a sign of the healthy position the firm is in and a much lower-grade risk than investing in any of the Russian gas giants such as Gazprom.
Russian Stock PJSC Lukoil Oil Company (LKOH) – Alternative Stock ExxonMobil Corp (XON) – Oil Sector
Russia is the world's largest oil producer and has a track record of exporting 4.75m barrels a day. Approximately three-quarters of that supply goes to EU countries, with Germany, Netherlands and Poland being primary beneficiaries.
The second-largest oil producer in Russia is PJSC Lukoil Oil Company which was initially government-controlled but is now Russia's largest company not controlled by the state. It is a major player in the international oil market, which makes Exxon Mobil a good alternative. Exxon is the world's second-largest oil company by market capitalisation, and its fully integrated business operations span the globe.
If any firm is in a position to fill the considerable gap in oil supplies caused by the Ukraine conflict, it's Exxon. It has the world's largest refining operations and a balance sheet of a size that will enable it to expand into new markets.
Exxon Mobil Corp – Daily Price Chart – May 2018 – May 2022
Source: IG
The SMAs on the Daily Price Chart form a bullish pattern, and the break above the previous price high of $89.78, which was recorded in September 2018, means there are few technical resistance levels which might stall further upward movement. Momentum based strategies which identify price breakouts look the best way to tap into the potential of Exxon Mobil having an even stronger position in the global oil industry.
Russian Stock Nornickel (MNOD) – Alternative Stock Vale (VALE) – Nickel Sector
The role that Russia plays in the nickel market can't be understated. It is the world's third-largest producer, with only Indonesia and the Philippines mining more of the metal. Global nickel supplies were already tight at the start of 2022 due to below-average stockpile levels, but the Ukraine-Russia conflict tipped the market over the edge.
In early March, the London Metal Exchange (LME) took the unprecedented step of halting trading in nickel and cancelling half a day's contracts due to the price spiralling out of control. The metal shot up in value by 193% in less than two trading sessions.
Nickel – 1 Hour Price Chart – 11th Feb 2022 – 6th May 2022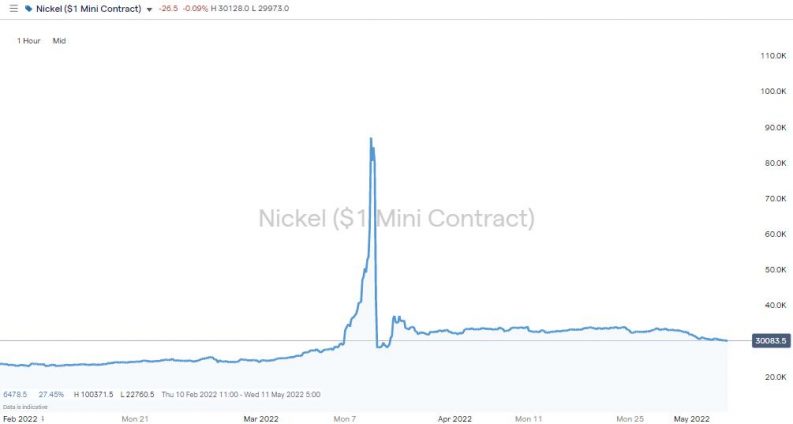 Source: IG
The largest nickel-producing company in Russia and the world is Nornickel, also known as Norilsk Nickel. However, the firm appears poorly positioned to benefit from the high prices in the nickel market. International competitors who could develop market share include Glencore, Vale and BHP, the second, third, and fourth biggest nickel suppliers after Nornickel.
Our pick of the Russian nickel stock alternatives is Brazil-based Vale, which due to investor interest, is widely available to trade in ADR form at good online brokers. Vale has an $87bn market cap and therefore has the capacity to step in to meet demand in the nickel market. It is also one of the world's largest iron ore producers, a market that has, in a similar way to nickel, been impacted by events in Ukraine.
Vale shareholders will vouch for the stock is a rollercoaster ride, but its willingness to overshoot to the downside represents a chance to buy pullbacks. Following a strategy that aims to maximise returns on high-beta stocks could offer the opportunity to pick Vale up at times when it is undervalued. Investors could then sit back and wait for the realignment of the nickel and iron ore markets to come to fruition.
Vale SA ADR – 1 Hour Price Chart – May 2018 – May 2022
Source: IG
How to Trade Alternatives to Russian Stocks Online
Once you've completed your research and identified your opportunity to make money from trading, there are four easy steps to follow to turn that idea into a reality.
1. Find a Broker
Rule number one of successful investing is ensuring you set up with a reliable broker regulated by a Tier-1 financial authority. This shortlist of trusted brokers includes firms bound to comply with stringent client care regulations and who also offer impressive T&Cs.
The online platforms are designed to support beginners but have a range of powerful software tools that can be drawn on to help plan a strategy. Finding the best fit is important, so trying out several brokers using the free Demo accounts is a good idea. Demo accounts take moments to set up and offer new users a chance to kick the tyres of the different platforms.
If you're running short-term and speculative strategies, then CFDs could be a good option as they allow clients to sell short and use leverage. Any strategy that involves holding positions for weeks or months is more cost-effective if booked to a share dealing account. Engaging in more analysis of the difference between CFDs and shares can directly impact your trading bottom line, but the good news is that the best brokers offer both forms of trading.
2. Open & Fund an Account
Signing up for an account is done online and takes a few minutes. It's a straightforward process and can be completed from a desktop or handheld device, which is handy for those looking to trade on the go. After providing basic ID, you'll be able to wire funds to your new trading account. If you're keen to start trading, a credit and debit card might be the best option because transfers are usually instant.
Do check the T&Cs to avoid unnecessary costs. Admin fees relating to payments can be in the region of $5. Some brokers don't charge them, and there are workarounds at others, such as using a different payment agent.
Instruction to Buy 220 Shares of Vale
Source: IG
3. Set Order Types
Whatever your strategy, it is worth considering using the risk management tools brokers provide, such as stop-loss, take-profit and limit orders. These are instructions built into your account to buy or sell at pre-determined price levels automatically. They help ensure a bad trade doesn't blow up your whole account and allow you to lock in profits if price goes your way.
Some investors decline the offer to use automated orders to manage their portfolio. This avoids the risk of being kicked out of positions during a momentary price fall or flash crash. Those strategies manage risk differently, such as trading in small sizes and portfolio diversification.
4. Select & Buy Shares
Booking a trade involves navigating through the trading dashboard to the dealing page for each stock and entering the number of shares you want to buy. Then click 'Place Deal' to exchange an amount of cash for a stock position which will go up and down in value in line with the market price. When the time comes to sell and crystalise your trading returns, the process of converting your stock back to cash is simply reversed.
Final Thoughts
Hydrocarbons have traditionally accounted for about three-quarters of Russian exports, so it's little surprise that the oil and gas sectors have been the most impacted by events in Ukraine. The commodity sector is also experiencing a significant realignment due to recent events.
Firms that look set to fill some of the gaps left by sanctions and other supply-side issues have a rare opportunity to expand market share on a massive scale, and some of that new business can be expected to stick.
Whether you're new to trading or an experienced investor, navigating to this list of trusted brokers will put you in the best position to start trading what could be a significant and long-lasting trend. Rule 1 of successful investing is to trade in the same direction as the rest of the market. Rule 2 is to do so with a regulated broker that offers the support and user-friendly functionality to help you optimise your returns.