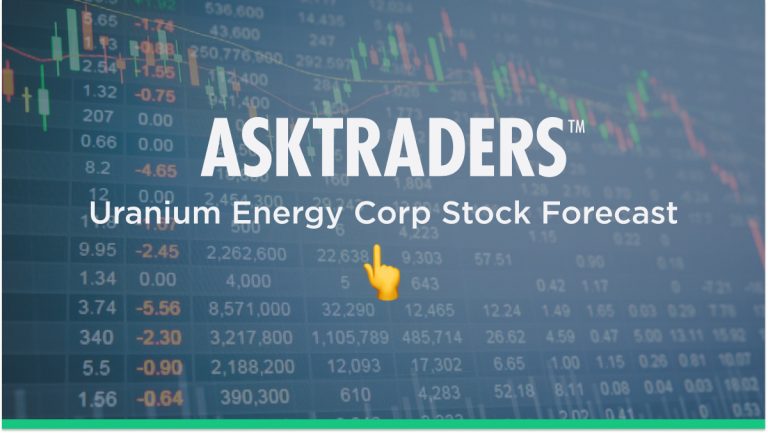 Any Uranium Energy Corp stock prediction has to start with a big disclaimer. Prices are highly volatile due to the market being subject to a range of technical and fundamental factors. The extreme risk-return ratio means the market attracts short-term speculators as well as buy-and-hold investors. That has caused the UEC stock price to go on extended bull runs, for example, the 162% price surge between the 23rd of August and the 8th of November 2021, or to drop by 22.14% in the space of one week as happened after the 15th of November 2021.

Uranium Energy Corp can be seen as a buy or a sell and indeed both depending on which investment time horizons are being used. The one certainty is that UEC offers something for everyone.
Uranium Energy Corp (UEC) Share Price 2015 -2021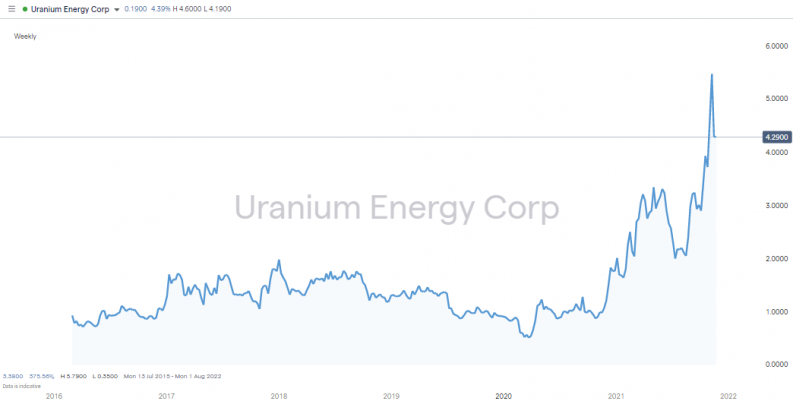 Source: IG
Who is Uranium Energy Corp (NYSE:UEC)?
Founded in 2003, Uranium Energy Corp has its head office in Corpus Christi, Texas. Its stock is listed on the New York Stock Exchange under ticker UEC, and it has a market cap in the region of $1bn.
Uranium Energy Corp Fundamentals

Source: IG
Uranium Energy Corp has a streamlined business model. Its core operations are US based and very much about getting uranium out of the ground and to where it is needed. The hub-and-spoke operations in South Texas centre around the fully-licensed Hobson Processing Facility, which is central to the Palangana, Burke Hollow and Goliad ISR projects. It also boasts the largest permitted, pre-construction ISR uranium project in the U.S., in Wyoming. The firm's operations are primed to take advantage of any short-term spikes in uranium prices
Nuclear energy divides public and political opinion, which means demand for Uranium Energy Corp products can be volatile. As a result, the firm's Net Income and Cash from Operations charts mirror the fluctuating fortunes of the industry as a whole.
Uranium Energy Corp Balance Sheet

Source: IG
The company's management team is made up of experienced industry experts. Amir Adnani, who holds the positions of President, CEO and Director of Uranium Energy Corp, has been a key player in the firm's growth. He currently holds approximately $14m of UEC stock and has never sold any of his position.
Adnani has a vested interest in the UEC stock price rising, which is often good news for retail investors. The rest of the management team also have many decades of hands-on experience in the key facets of uranium exploration, development, and mining. Insider trading reports show they have upped their stakes in the firm in the last six months.
Highlights from the nine-month financial results up to the 30th of April 2021 include:
Uranium Energy Corp.net loss increased 28% to $13m
Basic Earnings per Share excluding Extraordinary Items remained flat at -$0.06.
Where Will The Uranium Energy Corp Stock Price Be in 3 Months?
UEC stock price volatility is at the high end of the range. This has resulted in the stock becoming a favourite among day traders who run speculative short-term strategies. Their involvement in the market just adds to those volatility levels and creates a lot of 'noise' around the stock.
After the recent surge in the price of uranium, there is a chance that the stock is overbought on a short-term basis. As stocks can be sold short as well as bought long, many have approached the market with an open mind and asked the question – Uranium Energy Corp stock, buy or sell?
Short-Term Technicals
Those looking to use RSI to identify shorting opportunities would do well to consider how many false signals that metric has provided over the last 12 months. There have been four instances where Daily RSI has breached 70, but none were followed by significant falls in the UEC stock price. That reflects the ability of day traders to keep on buying even though traditional metrics suggest they shouldn't.
Uranium Energy Corp (UEC) Share Price 2015 -2021 – RSI 70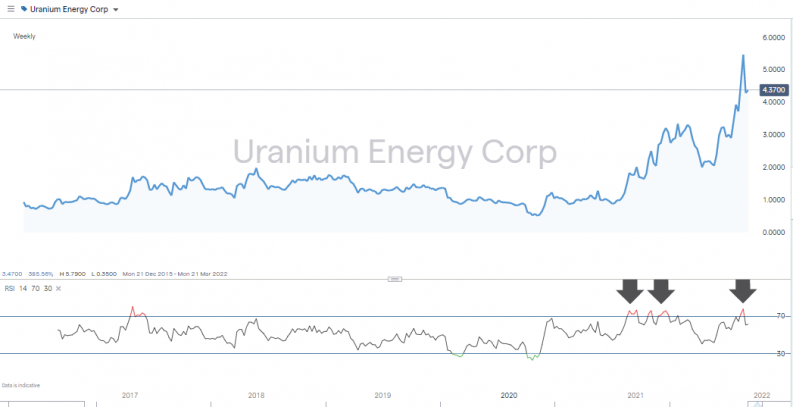 Source: IG
Adjusting the RSI parameters to highlight times when it breached the 75 level would have been more productive for traders. The three shorting opportunities triggered in the summer of 2021 ultimately fell victim to the groundswell of buying pressure but did at least identify short term weakness in the UEC stock price. The prudent use of stop-losses could have resulted in those trades at least breaking even.
The most recent breach of the 75 RSI level on the 8th of November was accompanied by a fall in the price of UEC, which is still in progress. In the week between the 8th and the 15th of November, UEC stock fell in value by more than 21%.
Uranium Energy Corp (UEC) Share Price 2020 -2021 – RSI 75
Source: IG
Returns of that scale mean that institutional investors and hedge funds are actively short selling in the market. The list of firms that have currently bet against the UEC share price details names of prestigious hedge funds, including Jane Street Group LLC, Citadel Advisors LLC, Wolverine Trading LLC, HAP Trading LLC, and Pathstone Family Office LLC.
As of October the 29th, investors have sold 19,100,000 shares of UEC short
Uranium Energy saw a minor increase in short interest during October. The 19,100,000 shares shorted as of the 29th of October was an increase of 0.2% from the previous total of 19,070,000 shares in September.
The short interest ratio, also known as the 'days to cover ratio' for UEC, is currently 2.0. The ratio is calculated by dividing the number of shares of a stock sold short divided by its average trading volume. A short interest ratio ranging between 1 and 4 generally indicates strong positive sentiment about a stock.
Source: MarketBeat
One investor's shorting opportunity is another one's dip-buying opportunity, and there is little reason to discount the UEC stock price bouncing from its recent sell-off. The swing-low $3.53 on the 29th of October could be a key price level in determining whether the recent bull run continues or breaks down. As long as that price support holds, the recent correction can still be interpreted as part of a bullish pattern of higher highs and higher lows.
Uranium Energy Corp (UEC) Share Price 2021 – Swing Low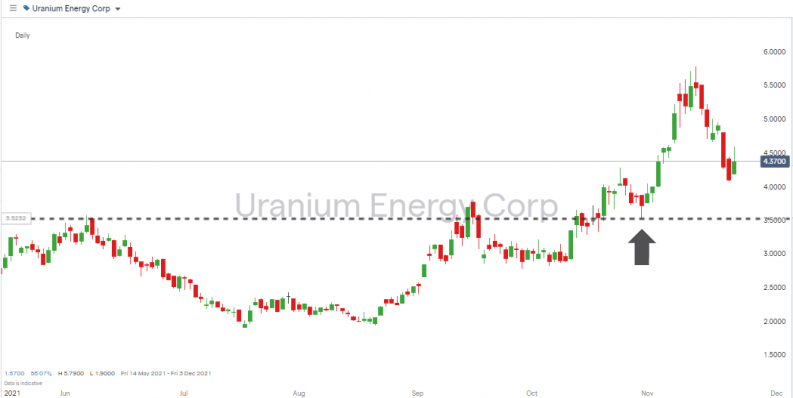 Source: IG
Short-Term Fundamentals
To establish the short-term prospects for UEC, it is essential to look at what fundamental factors could trigger a price move. As with other commodity markets, short-term price moves in the uranium market are driven mainly by demand factors. A change in policies relating to carbon emissions can be released at any time, but the market's supply side takes months and years to adapt. Exploration and extraction of uranium is a multi-year project with little certainty over actual resource levels until mining begins.
Global economic growth and the price of other energy stocks also come into play. Geopolitical risk events, such as Middle Eastern or Russian threats about oil and gas supplies, can send prices in those markets through the roof. That then increases the attractiveness of US-based energy sources such as the uranium reserves of Uranium Energy Corp.
Economic production levels can be influenced by fiscal policy measures like US President Joe Biden's $1trn infrastructure package. This multi-year project was signed off on the 15th of November and is sure to increase the demand for electricity in the US.
Monetary policy announcements, particularly those made by the US Federal Reserve, can also stimulate or stifle the demand for energy. In its November FOMC meeting, the Federal Reserve signalled interest rate rises may be put off until June 2022. This announcement is good news for manufacturers looking to take advantage of low rates to scale up new business projects.
The US Federal Reserve's FOMC committee is due to meet and decide rates policy on the 14th–15th December and the 25th–26th January 2022. Interim 'guidance' in the form of comments to the press can also be expected.
Where Will The Uranium Energy Corp Stock Price Be in 1 Year?
Uranium Energy Corp stock predictions for the next 12 months involve incorporating more factors relating directly to the firm's actions and prospects. There is potential for the firm to expand production if the uranium price justifies bringing less efficient mines online.
UEC is unhedged, with no contracts at pre-set prices, which means it is the uranium mining firm most highly leveraged to uranium's price. The Company is ready to re-start in-situ recovery (ISR) production from its licensed and operational facilities in South Texas and to start ISR production in Wyoming with even a modest move in the price of uranium.
The production-ready extra capacity of four million pounds U3O8 per year is more than is currently produced in the US in total, and there is also a substantial pipeline of additional projects. In its own words, "UEC is the next-generation producer, ready to provide low-cost, low-capital fuel for the country's large electricity-generating nuclear fleet" (Source: UEC).
Price of Uranium in the Spot Market
The price of uranium in the spot market is also something to monitor as retail investors don't have any easy ways of buying the metal itself. Therefore, gaining exposure to the nuclear power sector involves buying uranium mining stocks such as UEC or fund products such as the Sprott Physical Uranium Trust Fund. That fund was launched in July and buys the metal on behalf of investors.
When investors buy into the Sprott fund, its managers need to go into the spot market to buy a position in uranium. If they don't, the fund will be exposed to the risk of price continuing to rise and not having the asset to sell at a later date.
Interest in the fund has been such that by the 22nd of November, it had amassed almost 40m pounds of physical uranium compared to a much smaller position of 18.3m pounds on the 31st of July. Demand from retail investors who want to be part of the nuclear power story may differ from the demand from industrial customers who use the metal to create electricity. However, it still drives the price for uranium higher.
On 23rd November, the Sprott Physical Uranium Trust Fund made an amended filing with the regulatory authority to seek approval to issue units worth up to an eye-watering $3.5bn during the 25 months commencing 10th August 2021. In short, the managers of the Sprott fund are seeing so much demand from investors for uranium that it is looking to obtain approval to buy a further $2.2bn of the metal and a lot of that buying activity is likely to take place in the coming year.
UEC Company Results
The firm released its Q3 earnings results on Tuesday, October the 26th. The highlights included:
Strengthening of the firm's balance sheet- $235.4m of cash and liquid assets were comprised of $96.4m in cash, $82.3m in equity holdings and $56.7m in physical inventories. Reduced debt from $18m to $10m under the company's current credit facility.
Healthy profit margins- An expanded physical portfolio of US warehoused uranium ('Physical Portfolio') to 4.1m pounds, resulting in an average cost of $32 per pound with various delivery dates up to and including December 2025.
Pipeline of new supply- Since January 2021, UEC has completed 126 resource delineation holes and 43 additional monitor wells at Burke Hollow Project's initial Production Area, the latest and largest in-situ recovery (ISR) wellfield being developed in the US.
Sources: Uraniumenergy.com
Uranium Energy Corp Broker Ratings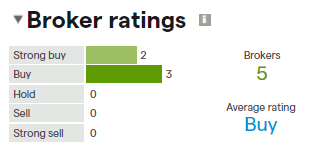 Source: IG
Uranium Energy Corp is not the largest firm in the uranium mining sector, but it is large enough to merit being covered by five analysts from institutional investors. The average rating for the firm is 'Buy', with two analysts tipping the stock as a 'Strong Buy'. It may be smaller than some of its peer group; however, its close correlation to uranium prices and self-adopted approach as an insurgent stock mean UEC is a uranium miner catching much attention.
Data from CNN reports that UEC stock forecasts by industry experts for the next 12 months have a median share price target of $6.40. That is above current price levels, and the high end of the range of one-year forecasts is a target price of $7.00, with the low estimate coming in at $5.50.
Uranium Energy Corp (UEC) Share Price 2020 – 2021 – Weekly SMAs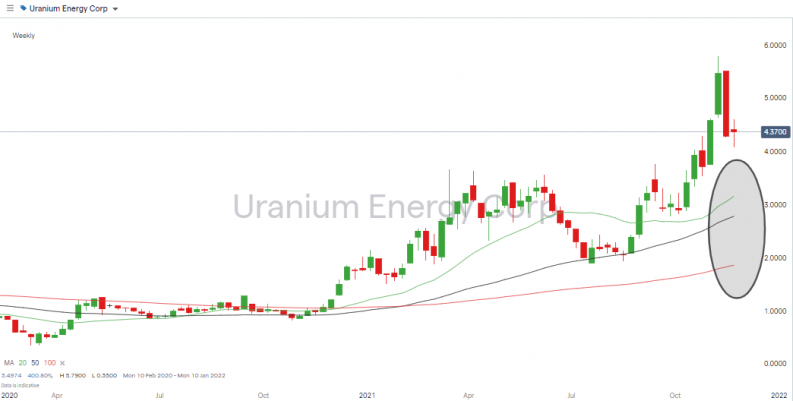 Source: IG
Technical support for the UEC share price comes in around $3.15, $2.78 and $1.86, which are the current Weekly 20, 50 and 100 SMA levels. Even the strongest bull markets can be associated with periods where price falls back to fundamental support at these levels. Further price consolidation could last weeks or months, which means dip-buyers may be able to enter into long positions at even lower price levels.
Where Will The Uranium Energy Corp Stock Price Be in 5 Years?
Any Uranium Energy Corp stock forecast for 2025 will be based mainly around the price of uranium. The firm's stock price is closely correlated to the price of the metal it mines and of which it has substantial extra reserves. The uranium spot price had increased by approximately 46% between the end of June and the 29th of October. Thanks to a neat accounting process, price moves in the metal can be followed by an exponential move in the price of a mining company's shares.
Like most mining firms, the Uranium Energy Corp cost base involves a large percentage of fixed rather than variable costs. Capital investment on exploration projects and the setting up of the infrastructure required to extract minerals means a large portion of costs are front-loaded. Once a new mine is opened, the ongoing running costs can be small in comparison to the cost of getting the operation set up in the first place. That means a slight increase in the price of uranium on the open market can lead to a more significant percentage increase in Uranium Energy Corp profit margins.
UEC's latest financial report states that its average cost of mining uranium is $32 per pound. If uranium prices in the spot market are $40 per pound and increase by 10% to $44, then the increase in the UEC profit margin will be substantially greater than 10% = (44-32 / 40-32) = (12/8) = 50%
Macro Trends
Momentum in the non-carbon electricity generation sector is building, and November's COP26 summit or world leaders pledged to phase out the use of coal. To bring more nuclear power online, politicians are warming to the idea of nuclear reactors being smaller. These Small Modular Reactors, which are typically a third of the size of traditional plants, offer an opportunity to expand the use of nuclear power at a faster rate than previously possible.
Uranium Energy Corp and Sustainability
Corporate and Social Responsibility (CSR) is an increasingly important issue for all mining firms. Uranium Energy Corp might be in the fortunate position of playing a part in reducing global CO2 levels. However, it still has to consider how it interacts with communities and the environment.
There is still a stigma associated with nuclear power, and firms that tick the box in terms of being good for the environment can expect increased investor interest. Pension funds and other institutional investors, in particular, consider ethical issues a granular detail before making an investment decision.
Nuclear may not be the best 'green' fuel option, but it is more predictable than solar and wind. With few viable alternatives, it could be that the investment community decides uranium mining stocks' low-carbon status is more important than the hazardous by-products associated with the industry.
Uranium Energy Corp's CSR ranking at CSR Hub is 37% and below the industry average, which leaves room for improvement. The October update to investors highlighted the firm's willingness to address the issue of its underperformance in terms of ESG; if successful, that could open the door to more 'big ticket' investing by large institutional funds.
As the Uranium Energy Corp website states, the firm has "launched formal development of an Environmental, Social and Governance ("ESG") program to build on the Company's robust safety, health, and environmental protection systems in place while identifying new sustainability initiatives for enhancement".
Source: UEC
Who Owns UEC stock?
Several high-profile institutional investors own uranium Energy Corp stock. The list of significant shareholders includes State Street Corp (9.6%), BlackRock Inc. (5.75%), Exchange Traded Concepts LLC (3.39%), Geode Capital Management LLC (1.76%), Morgan Stanley (0.74%), Bank of New York Mellon Corp (0.26%) and Marshall Wace LLP (0.23%).
These firms carry out extensive due diligence before investing in companies, so their willingness to invest in the firm offers some comfort to retail investors. They also have long-term investment horizons, and the presence of high-profile investment banks and BlackRock, the world's largest investment company, doesn't guarantee immediate returns. It could be they are in positions for the long haul, so individual investors may also need a buy-and-hold approach to optimise their returns.
Is Uranium Energy Corp a Good Buy?
With markets in uranium hard to access, buying or selling Uranium Energy Corp offers investors an indirect way to take a view on the prospects of the nuclear industry as a whole. UEC is one of the firms which is most highly leveraged to the spot price of uranium and as pure a play on the sector as is possible.
Short term price drivers will be essentially demand-based, and these can include shock events such as political announcements. Another Fukushima style accident could drive the stock price down towards levels from which it might never recover.
There are, however, few viable, reliable, and predictable alternatives to carbon-based fuels on the market. Nuclear power isn't the first pick for ethical investors, but it is increasingly seen as the 'least bad' non-recyclable source of electric power.
The only thing which can be guaranteed about investing in Uranium Energy Corp is that it would be a roller coaster ride. The extent to which it is a hot topic in the day trading community adds to short-term price volatility, but that does mean it is a potential target for those running short-term or long-term strategies or a combination of both.