Established in the year 1996, Oanda is the most respected forex brokerage firm according to market trends in the trading and forex industry in the present date. The Oanda Forex trading firm based in Toronto, Canada, has offices spread out in Japan, UK, Singapore, Australia and the USA. The firm adheres to a set of regulatory inspections and supervision in all of its office administration. Oanda offers trading across many different trading instruments including Forex and Global Indices. The company is regulated across 6 jurisdictions.
Highlights
It was established in the year 1996
Headquarters based at Toronto, Canada
Won "Best Mobile Platform"
U.S clients can only do forex trading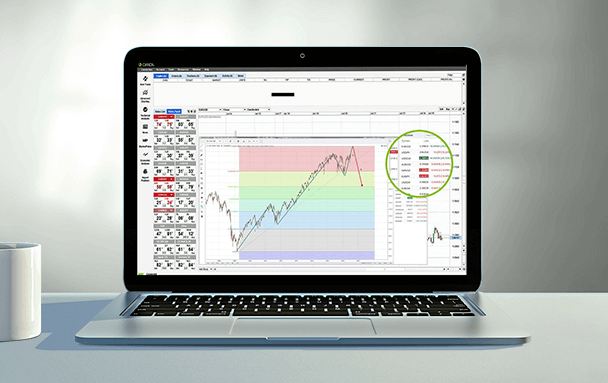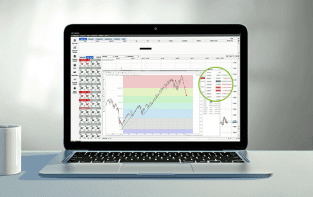 Go to Forex.com
Risk warning: Capital can be lost. Terms and conditions apply.
Headquarters and regulation
New York, USA (CFTC)
Fees and Spread
Spread only
Demo account
Yes, unlimited time
Trade Offering
60 Currencies
Services & additional benefits
Live
Hotline
E-mail
Economic Calendar
E-Book
Videos
Courses/Seminars
1. Trading Offer
1.) Forex Trading Offer: Trading With A Reputed and Award Winning Broker
Oanda has solutions for all kinds of currency pairings that are the most difficult to find. The Oanda Forex broker firm offers not less than 60 major and minor pairs apart from the exotic currency pairs to make a choice from, along with precious metals' CFDs, bonds, and commodities.
Oanda offers its users, two different account types- a standard account and the demo account for amateurs to practice trading.
Also, to hold on to its position of being the best forex broker, Oanda has come up with two options as trading platforms- the web-based family version, known as "fxTrade", and the web-based, extremely exclusive version of Metatrader4.
Each of the platforms separately supports their own personalised mobile platform protocol.
However, the spread offerings are comparatively higher than other forex brokers.
The online tab on the firm's custom website provides details on all of the priceless assets offered.
Tradable:
EUR/USD
USD/JPY
GBP/USD
USD/CHF
AUD/USD
NZD/USD
USD/CAD
Oanda initiates leveraging at 50:1 for all the major currency pairs and 20:1 for all the exotics pairs.
However, leveraging of CFDs might vary according to the changing market trend.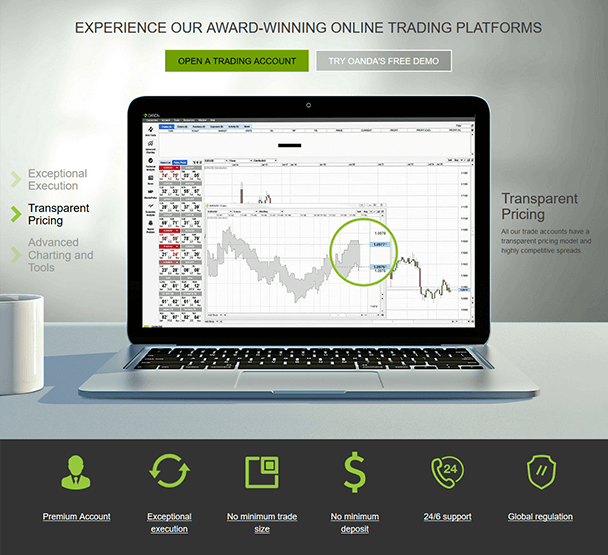 Offers trade on 60 currency pairs.
The firm has a popular web development platform known as Metatrader4.
the company offers two different accounts types.
Go to Forex.com
Risk warning: Capital can be lost. Terms and conditions apply.
2. Costs
2.) Forex Trading Costs: All About Funding, Withdrawal, and Trading Fee
The US clients of Oanda have been granted the access to commission pricing and core spreads which is unavailable in EU. Oanda's quality trade execution is clearly visible in the moderate amount of spread fees.
Forex broker comparison made by us revealed a difference of 0.3 pips in between bids and asks for the similar eurodollar crosses.
Concluding from the Broker Comparison – Forex Comparison, Oanda is the most competitive broker service provider against a 20,000 USD trade.
Including the commission and the spread of the trade, the overall deal with Oanda is 2.1 USD.
Over Broker comparison, Oanda offers its customers the best forex retail trading experience.
Below mentioned is a list of the non-trading fees:
Oanda charges no Account fee.
If the account stays inactive for 2 years or more, 10 EUR is charged per month after 2 years.
The financing rate totally depends on the product that is traded. There is no extra deposit charge or a custody fee.
Oanda does charge 15EUR for every wire transfer made.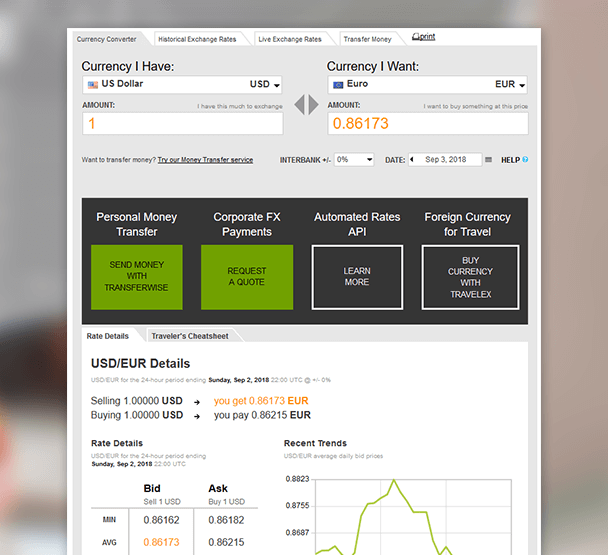 Oanda account holders are not charged any kind of Account fee, deposit fee or custody fee.
Oanda is the most competitive broker service provider for huge deposits.
Inactivity of the account might lead to extra charges.
Go to Forex.com
Risk warning: Capital can be lost. Terms and conditions apply.
3. Account
3.) Accounts: Which Account Type To Choose With Oanda
As mentioned in the Oanda Forex Trading – Review 2018, the firm offers fast, digitised and no minimum balance accounts to its customers.
The Oanda Forex broker firm operates from 80 countries or more excluding South Korea, New Zealand, and India. Prerequisites of opening an account are very few- no minimum funding for Standard accounts and a minimum funding of $50,000 or its equivalent for the Premium account.
Premium account-
The premium account comes with no re-quotes or trade commissions and spread only pricing. Also, the account allows its users for an unlimited transfer via free wire along with all transfer related cost deductions. Registration into this account gets the customers analysis and trade support from the industry experts.
The account making process lasts not more than 10 minutes.
An easy online sign-up is required for a unique username and password duet. While opening an account the officials of the firm ask for the customer's total income estimation. Identity verification is the most important step prior to account creation.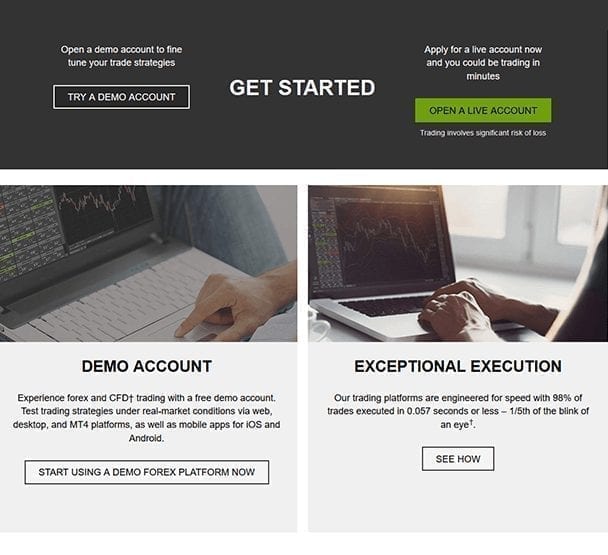 Customers from over 80 countries can create their accounts.
Identity verification is the most crucial part of opening an account.
The firm offers fast and digitalised accounts.
Go to Forex.com
Risk warning: Capital can be lost. Terms and conditions apply.
4. Platform
4.) Forex Trading Platforms & Mobile Trading: Convenient and Efficient Software
Oanda Forex trading platform is not only user-friendly but is also equipped with an easy learning platform. The login processes are easy to understand and go through. The two-step safe login into the web trade platform increases customer identity security.
The customisable workspace of Oanda Forex broker allows the best levels in customisation of the web platform
The different functions can be surfed through, on a drop-down menu named as the 'Product search function'.
Another feature added to the web platform is the chart tool. The chart tool is accompanied by chart customisation options and 60 or more indicators to choose from, to build a modified chart of the tradings.
The Oanda mobile layout can be viewed on any Android or iOS device. The mobile platform of the Oanda Forex Trading firm offers similar functions as that of any of the web trader apps. However, the mobile application lacks the advanced search function.
In addition to the benefits offered, the mobile application sends confirmation notifications and price alert messages to its customer.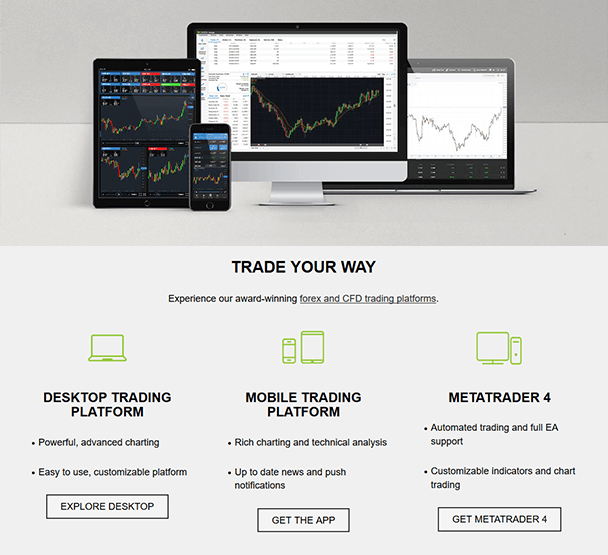 User-friendly with an easy to learn platform features.
Two-step login required to ensure customer security.
Easy website customisation allowed.
Go to Forex.com
Risk warning: Capital can be lost. Terms and conditions apply.
5. Usability
5.) Usability of the Website: Is Oanda an Efficient Website
Oanda Forex group has its very own team for research, news, and articles and for its own analytical tools as well. Although their website their website is old and basic, the core material is displayed bold and clear. The articles written on the website have a low community interaction.
The website owned by the firm offers Oanda forex tools for analysis that has been developed by the engineers of the firm itself.
As mentioned in Oanda Forex Trading – Review 2018, the website conducts webinars some of which are recorded while the others are live. The 'Premium Webinar Series' is available only for the live account users of the firm. The premium pack covers expert topics that talk a lot about trading and broker rules.
The firm's website also contains Macroeconomic and forex news. The users who have logged into the educational pack can watch technical analysis videos every day and learn more about the economic calendar. The website has a separate section built for Oanda developer portal.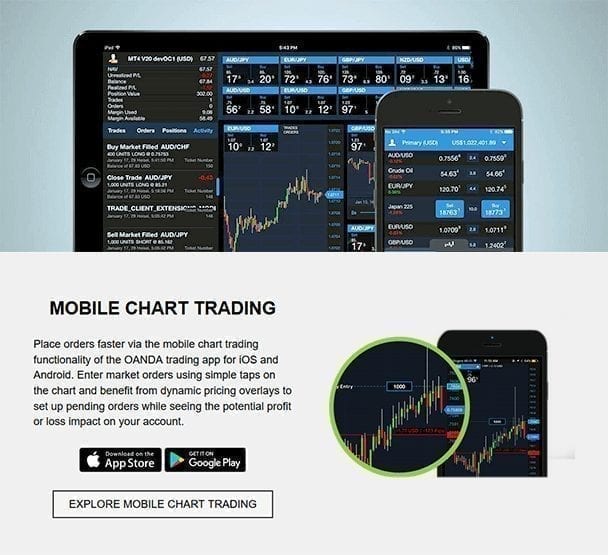 Oanda has its own team for research, articles, analytical tools and news.
The educational material available on the 'Premium Webinar Series' is available for its users.
The website has a developer portal.
Go to Forex.com
Risk warning: Capital can be lost. Terms and conditions apply.
6. Support
6.) Customer Support: How Supportive Are Oanda Customer Representatives
The Oanda Forex trading firm hosts all type of support channels. However, the response time is very slow and sometimes ends up with irrelevant answers and unsatisfied customer.
The Oanda Forex broker team of experts is available for 24 hours every day, however, the response time of solutions is very long.
The firm offers its customers a live chat facility and e-mail support.
The e-mail support reached via an online form helps to learn about the problem in details. However, the replies of the e-mails can take as long as 3 economic days.
Another drawback in the Oanda support team is the call support. The portal asks the customers to pre-assign a calling time before any queries being asked. Even after assigning the calling time, most of the time is occupied in the sales and advertising of the forex group.
Overall, in spite of the availability of all means of customer support, customer satisfaction bar lies very low because of its slow and irrelevant nature. Sometimes, the major drawback becomes the sales and advertising that pushes users to open an account without liable reasons.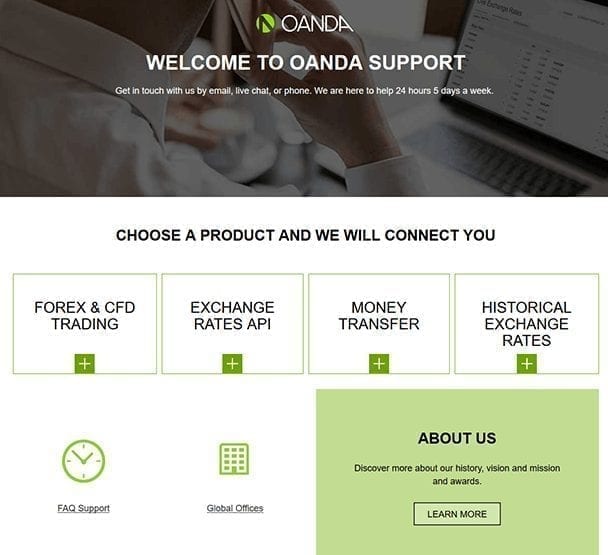 24 hours customer support service available.
Online chat support along with telephone and e-mail support system is also available.
Slow and irrelevant responses.
Go to Forex.com
Risk warning: Capital can be lost. Terms and conditions apply.
7. Payment
7.) Methods of Payment: How Do You Pay and Withdraw on Oanda
Oanda offers clients the opportunity to make one credit or debit card withdrawal every month completely free of charge!
Funding options
You can fund your Oanda trading account through three methods – credit card, debit card or bank wire transfer. However, each method is different. If you use credit or debit cards, then your account will be immediately credited. However, with bank wire transfers, your account might be credited on or before 5 business days.
Withdrawal options
Making bank-based withdrawals entail a $20 fee irrespective of withdrawal amounts. However, you can avoid this by using a registered card or PayPal. You can make one card-based withdrawal free of charge each month.
Third-party transactions to Oanda are only accepted if they are already mentioned in your account. If any other parties are making the transfer, then you will need to create a joint account with them to get approved.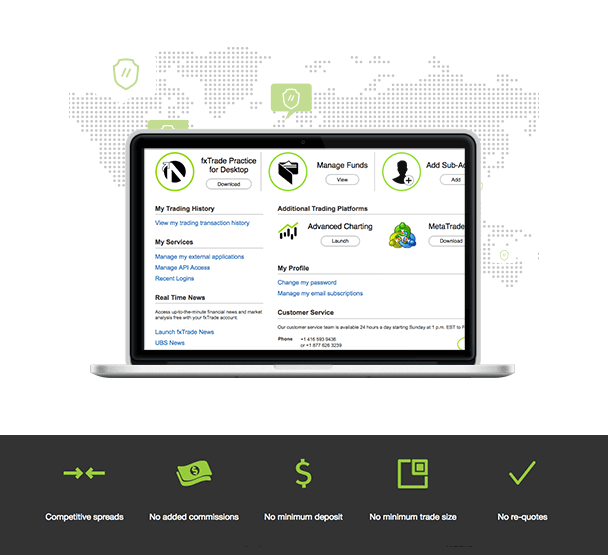 Oanda only allows withdrawals through the same method used when making the deposit. This is done for security purposes.
Oanda will not be charging any money for credit transactions to your account. However, geo-specific PayPal charges may apply.
Limits on deposits made in your Oanda account are subject to US calendar months based on Universal Time Coordinated or UTC.
Go to Forex.com
Risk warning: Capital can be lost. Terms and conditions apply.
8. Offers
8.) Additional Offers: Bonuses, Promotions and More
Oanda does not offer any bonus on deposits. This means it does not provide any bonuses irrespective of transaction volume. Also, there are no additional bonuses either. However, traders are free to use the massive educational resource available for their benefit. This can help them understand Oanda well and practice Oanda forex trading profitably.
Oanda has a wide variety of tools available for research and trade. This is a feature rarely available on retail trading platforms. That is one reason Oanda has received the accolade of "highest customer satisfaction" many times.
However, utilising this resource to the fullest does require a fair degree of education and training. Educational resources and opportunities are available on Oanda. But these resources are fragmented and so, those studying need to located them individually. This has slightly hampered Oanda's otherwise positive rating for special features.
The analytical tools available at Oanda are instrumental for testing out strategies. These tools utilise well-known coding language to help in visualising market datasets such as COT reports.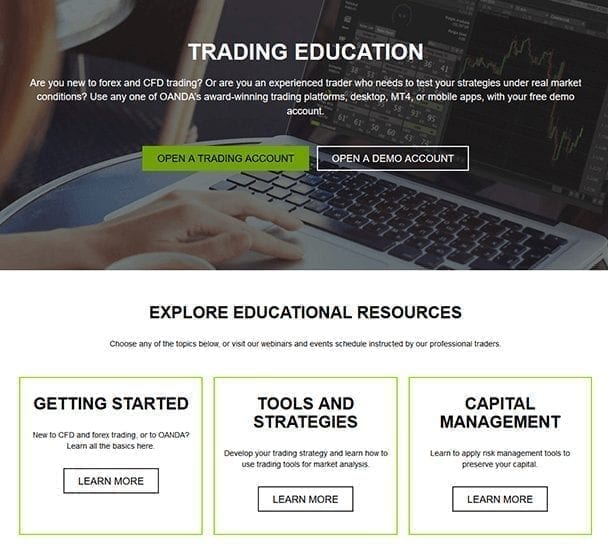 They allow for direct representation of economic news on statistical charts.
Usually, the charts facility on Oanda is accessed and used by seasoned traders.
They offer relevant resources for real-time testing, deployment, and management of trading strategies.
Go to Forex.com
Risk warning: Capital can be lost. Terms and conditions apply.
9. Regulation
9.) Regulation & Deposit Protection: Is Your Money Safe With Oanda
Oanda has some of the biggest regulatory authorities in the world overseeing it. These include the likes of US CFTC.
Unlike most other forex platforms which are based in Cyprus, Oanda has its headquarters in the US. As a global online brokerage, it is strictly regulated by the CFTC and as many as five additional authorities. In the UK, Oanda accounts receive protection from the FCA. This gives Oanda account holders default protection of up to 50,000 GBP. Currently, Oanda is privately held with its primary owners being Index Ventures and New Enterprise Associates. Both of them are venture capital firms.
Oanda is one of the very few forex companies with legal permission to service US residents. This is because it has CFTC regulation as well as the National Futures Association (NFA) membership. Oanda also has a rather long history of supporting emergent regulatory decisions and other limitations imposed. It is also recognised for protecting its investor's funds after the Swiss National Bank crisis. In the wake of the crisis, they automatically closed multiple positions. They also overlooked negative balances while not requoting trades on clients who had suffered losses.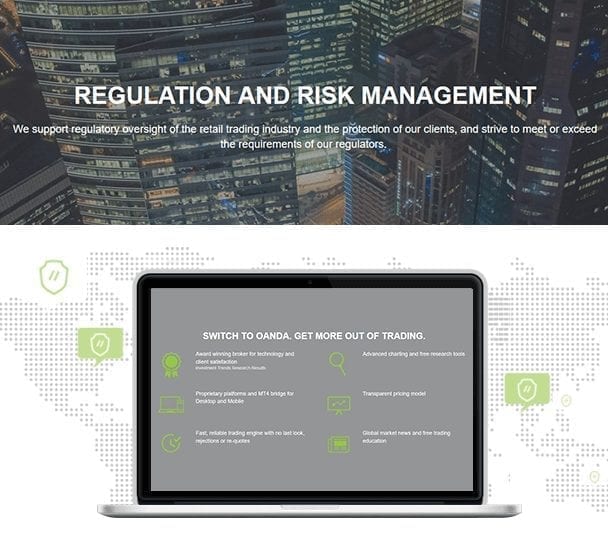 Oanda does not protect negative balance situations.
The Oanda Forex omitted negative balances during the SNB crisis.
Legal permission to service US residents
Go to Forex.com
Risk warning: Capital can be lost. Terms and conditions apply.
10. Awards
10.) Awards: How Many Awards and Accolades Have They Won
Oanda has been receiving awards since 2015. The latest award was given to it by FX awards in 2018 for the Best Retail FX platform. In 2017, Oanda received multiple awards from various forex related organisations. These included No.1 Forex Broker in Singapore, Best Mobile Platform, best Educational Material, Highest Overall Client Satisfaction, Best Mobile Platform/App, Best Platform Features, Best Value for Money and Best Educational Materials/Programs from Investment Trends. Oanda also won the Best Forex Trading Technology from UX Forex Awards that year.
Oanda was first established in 1995 and since then, has been a privately managed forex and CFD broker. It is particularly well-known for its distinct brand quality characterised by flawless trade execution and transactional transparency. This is thanks to the co-founders of the platform, Michael Stumm, and Richard Olsen. Stumm is a computer scientist and Olsen is an economist.
In 2016, Oanda won Investment Trends awards for No.1 Forex Broker in Singapore, Highest Overall Client Satisfaction in both Singapore and USA, Best Value for Money in the USA and Best Risk Management and Best Educational Material for Australia.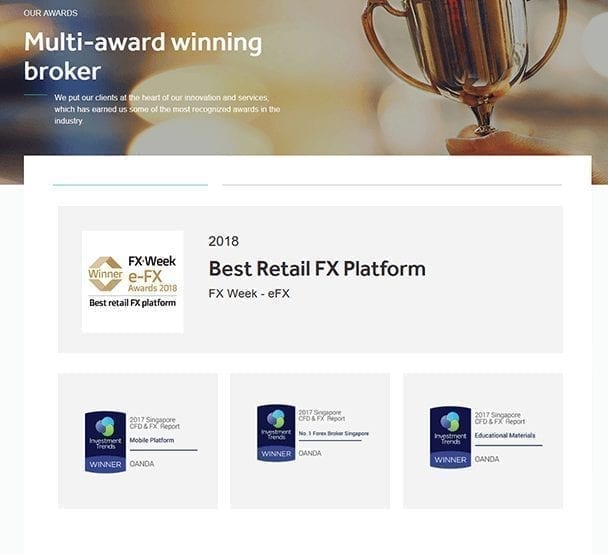 Received awards from Share Investor
Awards for Most Preferred Forex and CFD Provider in 2016
Client Satisfaction award in both Singapore and USA
Go to Forex.com
Risk warning: Capital can be lost. Terms and conditions apply.
Conclusion for Oanda Forex Trading – A Powerhouse of a Broker
Our Oanda Forex trading review 2018 showed that it is unique among all other industry rivals for having many regulatory compliances. Additionally, it offers standard FX charges, swift account opening, and responsive digital features.
All accounts will need to select one primary currency. Further, the account holder can make the additional sub-accounts number up to 19 for individual currencies. Currently, the primary and sub-account currency options are EUR, GBP, CHF, USD, CAD, AUD, JPY, HKD, and SGD.
Its trading platform is also rather sophisticated. Thus, it scores well above others FX trader like FXCM. The Oanda Forex is FCA regulated. This means European traders get a 50,000 GPB cover protection on their accounts with Oanda. Conversely, Oanda only deals in FX and CFDs. Plus, it is not listed on stock exchanges and has no banking parent. The Oanda customer support is also not very helpful. We believe Oanda Forex broker is best suited for price-sensitive FX traders. But it can also be successfully used by all kinds of Forex traders around the world for consistent profits.
offers competitive pricing
no minimum account balance
fully digital account opening
limited product portfolio
not listed on stock exchange
No bank parent
Test result
Broker

Go to Forex.com
Risk warning: Capital can be lost. Terms and conditions apply.