Key points:
4d Pharma shares have fallen 50% in 2022, yet it could still dilute investors.
The firm just filed a registration statement with the SEC to issue more ADSs.
Still, the firm has up-and-coming treatments that could transform its future.
The  4d Pharma PLC (LON: DDD) share price has fallen 50% in 2022, and investors should brace for further dilution if the company goes ahead and issues new American Depositary Shares.

Today, the live biotherapeutics company revealed that it had filed a registration statement on Form-3 to list additional ADSs in the United States worth $150 million.
The company did not issue any shares today. Still, it said that it could do so in future to raise funds for general corporate purposes, including funding clinical trials, capital expenditures, working capital and R&D costs.
Investors were largely unbothered by the statement since 4d Pharma did not issue any new shares today and confirmed that it would issue a prospectus statement each time it needed to issue new shares.
4d Pharma also warned investors that the statement filed with the US Securities and Exchange Commission (SEC) was yet to become effective and would expire three years after going into effect.
The company reassured investors that the filing of the statement did not pre-empt their statutory rights. The biotech firm also informed investors that each new ADS would represent eight ordinary shares listed on the London Stock Exchange.
Looking at 4d Pharma's share price, we can see that its share price has been falling since topping out in late February to March 2021 at a price of 150p to its current price of 26.6p.
The biotech firm has promising technology that could revolutionise the treatment of irritable bowel syndrome (IBS) and many other diseases, but none of its drugs has reached commercial stages.
It remains to be seen whether 4d Pharma shares shall rally higher if it releases breakthrough data from any of the clinical trials that are currently ongoing.
4d Pharma seems like a stock that should be trading at a much higher valuation than its current share price, but the broader markets disagree with this assessment.
This statement was true of 4d Pharma at the beginning of 2022 when its shares were trading at over 50p, but this did not stop the sellers from pushing its shares much lower.
Long term investors may choose to get in at current prices, but they should be ready for further dilution and lower prices, which could lead to a reverse stock split as the company seeks to boost its share price.
*This is not investment advice. Always do your due diligence before making investment decisions.
4d Pharma share price.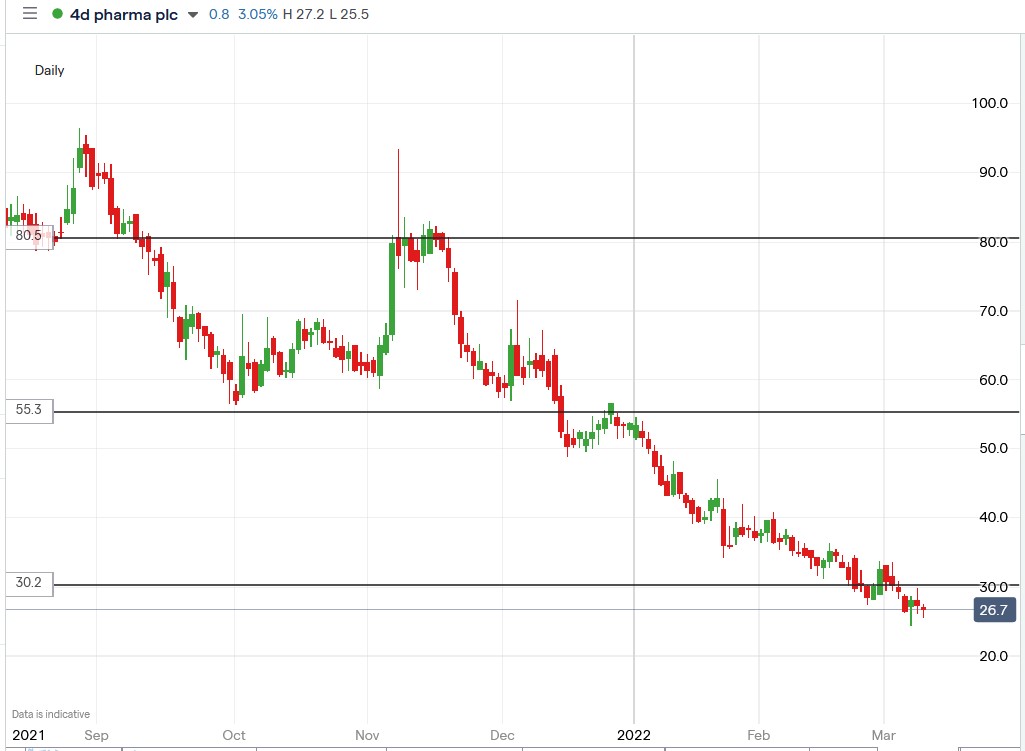 4d Pharma shares have fallen 50% in 2022 amid a broader selloff in biotech shares. Should you buy it?