Key points:
88 Energy shares crashed 29.7% despite being awarded a drilling permit.
Today's selloff is a typical reaction associated with the oil producer.
However, the company's shares are quite attractive at current prices.
The 88 Energy Ltd (LON: 88E) share price crashed 29.7% despite the energy company revealing that it had been awarded the drilling permit for its Merlin-2 appraisal well in Alaska.

The permit was awarded by the Bureau of Land Management (BLM) and covered the Merlin-2 well in the Peregrine project located in the North Slope of Alaska.
The oil company also revealed that it had completed the single-lane snow road leading to the Merlin-2 well and had already mobilised the Arctic Fox rig headed to the drilling location.
88 Energy reassured investors that it would spud the well in early March 2022 and was looking forward to drilling up to 8,000 feet while targeting to uncover oil reserves of up to 652 million barrels over the well's lifetime.
Ashley Gilbert, 88 Energy's Managing Director, commented: "Following a period of review, we are pleased to have the PTD in hand, and the mobilisation of the Arctic Fox rig commencing to the drilling location ahead of spud in early March 2022. We look forward with excitement to the drilling of the highly anticipated Merlin-2 appraisal well."
Today's selloff is not new to investors who have been following 88 Energy's share price behaviour in the past.
As I highlighted in my last article on the firm, the stock has a habit of selling off after releasing positive news.
88 Energy is on the right track, and if the drilling campaign is successful, the company could soon be selling millions of barrels of crude oil and worth much more than its current valuation.
Therefore, investors looking for an oil company with significant potential may find that 88 Energy meets their criteria making the stock very attractive to the right investors. Such investors should buy the shares on dips such as the one occasioned by today's selloff.
*This is not investment advice. Always do your due diligence before making investment decisions.
88 Energy share price.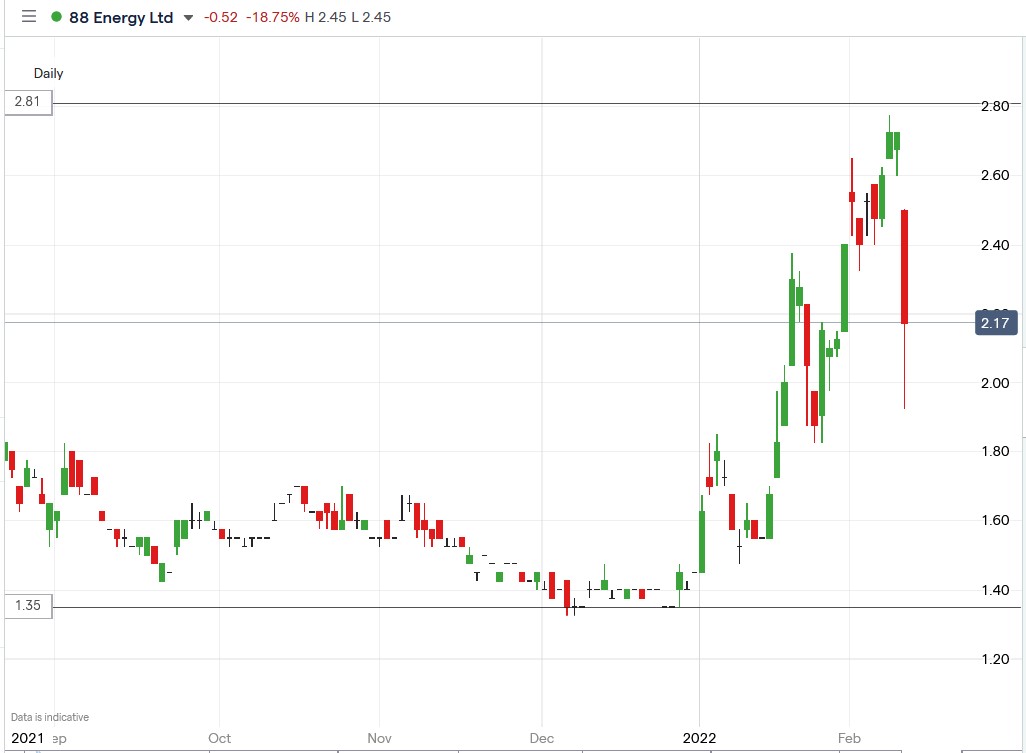 88 Energy share price crashed 29.67% to trade at 1.92p, falling from Wednesday's closing price of 2.73p.