Key points:
Algorand prices have fallen 76.5% in 2022 and maybe about to bottom.
The ALGO price could rebound if the fundamental situation changes.
However, the technical picture shows there is room for a further decline.
The Algorand crypto price has fallen by 76.5% this year amid a broader selloff in the crypto industry that started in November 2021. The crypto's losses were recently exacerbated by the TerraUSD (UST) collapse that erased billions in value.

However, many now think that the worst is over for the crypto industry, given that Bitcoin, the industry leader, has been trading sideways for a while now. Therefore, ALGO investors are asking, is a rally to the $1.50 critical level possible?
The answer is yes; such a rally could happen in the coming months if the crypto industry experiences a turnaround rally. However, for such a rally to occur, the ALGO price should hold above $0.37 in the coming days. A break below this level would bring the $0.20 support level into focus.
Algorand prides itself on being one of the fastest smart contracts platforms and markets itself as the blockchain that solves the scalability, verification and speed limitations in other leading blockchains such as Bitcoin and Ethereum.
The company behind Algorand employed a unique distribution during the exchange listing of its token on Binance, where the company used a Dutch auction to sell the coins. A dutch auction is different from a regular auction in that prices are called out in descending order instead of the usual ascending order.
Therefore, regular investors could participate in the Initial Exchange Offering (IEO). The platform uses a decentralised proof-of-stake consensus mechanism to verify transactions on the blockchain, and users are rewarded for verifying transactions.
The decline in Algorand's price is also attributed to the change in policy stance by the leading Central Banks from extremely dovish to hawkish led by the US Federal Reserve. The hawkish policies have seen central banks raise their benchmark lending rates and stop the crazy money printing witnessed in 2020 and 2021.
The lack of additional liquidity from the central banks combined with the higher rates has seen investors flee riskier assets such as cryptos into safer assets. Therefore, we could get a much bigger rally in ALGO prices if the fundamental factors change significantly.
*This is not investment advice. Always do your due diligence before making investment decisions.
Algorand crypto price.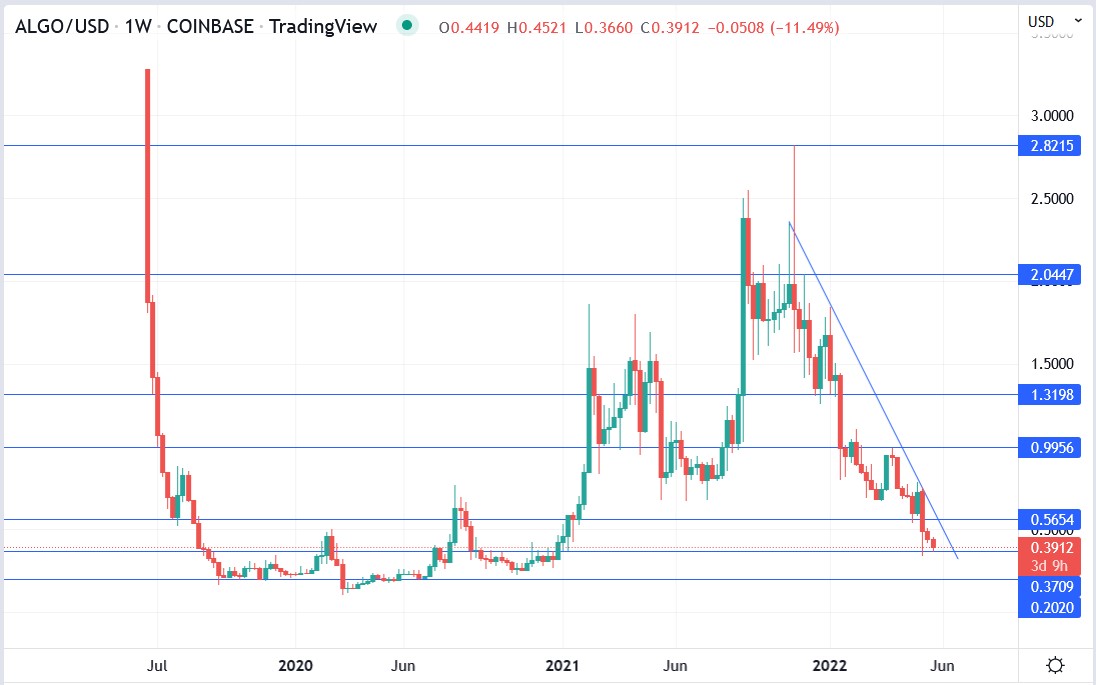 The Algorand crypto price has fallen 76.5% in 2022 and might have just bottomed.