Key points:
Amigo Loans shares plunged 10.7% after releasing its Q3 2021 results.
The shares fell despite Amigo's solid results, given its current situation.
Amigo's future remains uncertain as we await the court's decision.
The Amigo Holdings PLC (LON: AMGO) share price plunged 10.7% after the guarantor lender released the financial results for the nine months to 31 December 2021.

The lender revealed that its net loan book shrunk 56.2% to £180.7 million compared to £412.2 million in Q3 2020.
The company continued collecting loan repayments while new lending remained suspended, hence, the shrinking loan book.
Amigo's revenues fell 44.9% to £75.7 million compared to the £137.5 million generated in Q3 2020. The lender allocated £347.5 million for settling customer complaints, which is the total amount, but the new business scheme has a different allocation.
The company's collections were much better than initially modelled, but it had to raise its impairment coverage to 22.4% from 18.0% in Q3 2020.
The lender managed to eke out a statutory profit of £1.6 million for the nine months to December 2021 compared to the £81.3 million loss in Q3 2020.
Amigo Loans highlighted the proposed two new schemes: the New Business Scheme and its fall-back solution, the Wind-Down Scheme.
The company said it had allocated £97 million to repay redress creditors from its internal resources and an additional £15 million from the planned equity and capital raise, significantly diluting existing investors.
The guarantor lender intends to raise capital by issuing 19 new shares for each existing share. The lender intends to ask its creditors to vote on both schemes, which, if approved, will be submitted to the High Court.
If the High Court does not approve the new business scheme, Amigo has said that it will ask the court to approve its Wind-down scheme so that it can go into administration or another insolvency procedure.
The UK's Financial Conduct Authority has reserved its position on Amigo's New Business Scheme, which casts uncertainty on the entire proposal.
Gary Jennison, Amigo Loan's CEO, said: "As we head into a cost-of-living crisis for many households, with inflation at a 30-year high and forecast to move higher, the market needs a product that can serve the needs of customers in the non-standard sector. With flexible products that incorporate incentives, we can help customers through difficult times and on towards mainstream financial inclusion. I would like to thank all our employees who continue to support our business during this uncertain period and who share our vision for the future."
Adding:
"If we can secure the New Business Scheme and return to lending, I am confident we can move forward with a new business model that meets strong demand in the market. Amigo has the management expertise and is building the infrastructure, policies and procedures required to be a responsible and valuable contributor to the non-standard finance space."
*This is not investment advice. Always do your due diligence before making investment decisions.
Amigo share price.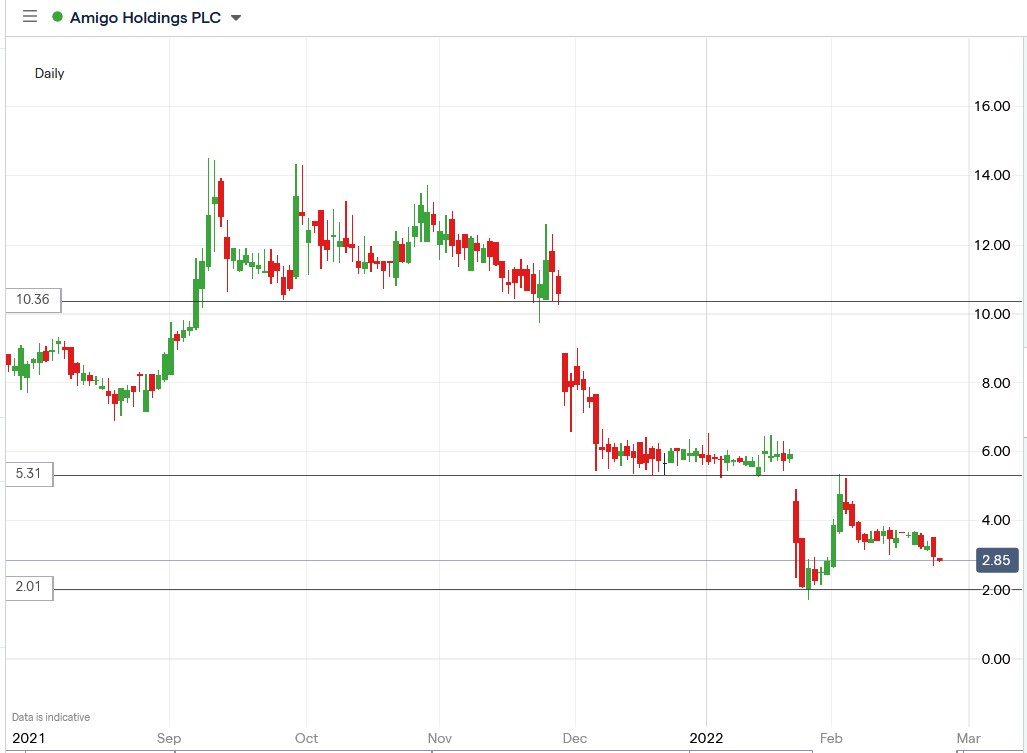 Amigo shares plunged 10.73% to trade at 2.66p, falling from Wednesday's closing price of 2.98p.