Key points:
Synairgen shares have fallen 87.5% in 2022. Is there hope for a rebound?
The short answer is yes. The shares could recover if the situation reverses.
However, the chances of another massive rally are pretty minimal.
The Synairgen plc (LON: SNG) share price has fallen 87.5% in 2022 after discontinuing its two SNG001 COVID-19 trials after the phase 3 clinical trial in hospitalised patients failed to meet its primary endpoints.

The biotech company recently released its annual report for the year to 31 December 2022 and is set to hold its annual general meeting (AGM) on 30 June 2022. The company will outline its strategy during the AGM to investors who saw the value of their shares crash in a single day after the firm released the results of its SPRINTER study.
Synairgen outlined its next steps within its annual report, which is to get further clinical evidence of the effectiveness of its SNG001 drug candidate against severe COVID-19 in patients with compromised respiratory function.
The company could also focus on developing SNG001 to treat other viral respiratory tract infections such as influenza, adenovirus, rhinovirus, RSV, para-influenza and coronaviruses. While the total addressable market of these other viruses is much smaller than for SARS-CoV-2, they could generate decent sales for Synarigen.
Therefore, investors are eagerly waiting for Synairgen's AGM to hear the management team's plans for the company after the massive setback triggered by the SPRINTER study's missing primary endpoints.
Meanwhile, Synairgen shares continue trading near their recent lows around the 22p level. Still, the price is ahead of the stock's all-time low of 5.58p hit in January 2020, before the COID-19 pandemic broke out, fueling a massive rally in the company's share price.
For those wondering whether SNG shares shall ever recover, the answer is that we cannot know for sure at this time. However, it will be hard for the stock to rally back to its former highs, which were triggered by optimism that SGN001 could become an approved treatment for COVID-19.
Therefore, unless another massive market for the company's drugs appears, it is safe to say that we may never see SNG shares trading at over 255p again.
*This is not investment advice. Always do your due diligence before making investment decisions.
Synairgen share price.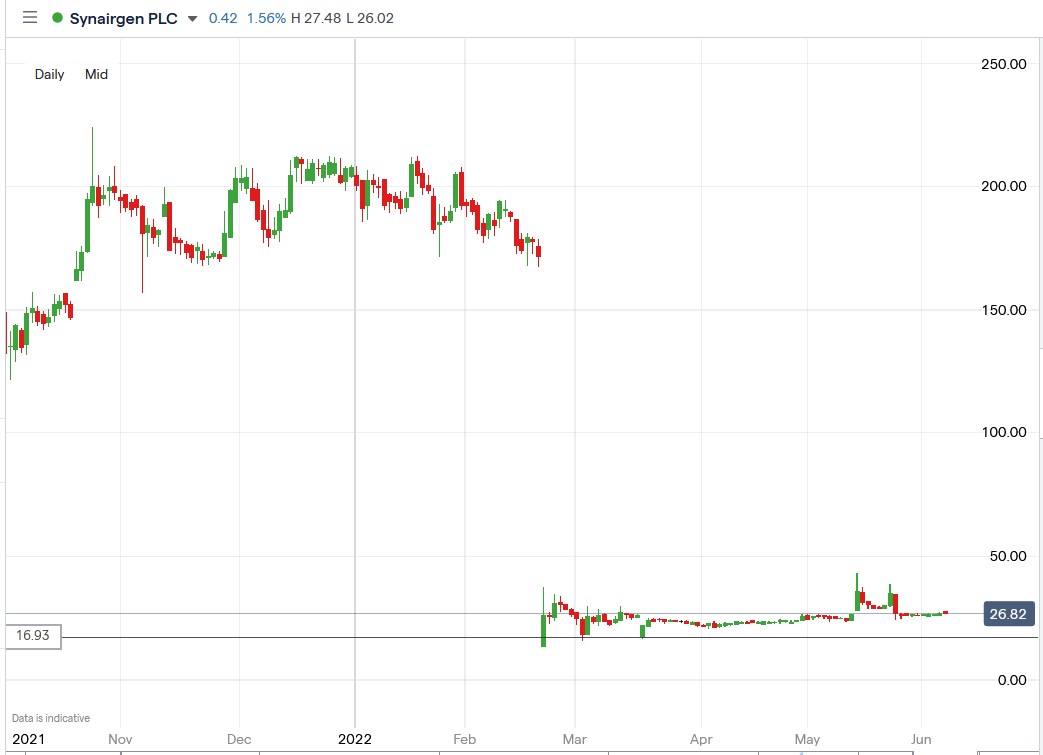 The Synairgen share price has fallen 87.49% in 2022. So, is there hope for the biotech firm?