Key points:
The Avalance crypto fell in April amid the border crypto selloff.
Avalanche is positioned as a leading competitor against Ethereum.
AVAX prices are currently in the middle of a range and could go either way.
The Avalanche platform is billed as a leading competitor to Ethereum and Bitcoin as a smart contracts platform. The platform boasts breakneck transaction speeds and low costs, unlike its main competitor Ethereum.

Avalanche allows developers to build fast, low-cost decentralised applications compatible with the Solidity programming language used on the Ethereum network.
Developers can launch Ethereum dApps that confirm transactions instantly and process thousands of transactions per second, which beats what's on offer from other leading blockchains.
Avalanche also allows developers to launch blockchains tailored to one's own needs by building a unique virtual machine with clear instructions on how the blockchain should operate.
The platform claims that it reaches transaction finality in two seconds compared to Ethereum, which takes six minutes and Bitcoin, which takes about sixty minutes to complete transactions.
Avalanche highlights the usefulness of its fast transaction speeds in supporting daily retail transactions and other business functions compared to the much slower leading blockchains that use a proof-of-work consensus mechanism.
The Avalanche network boasts a network throughput of over 4,500 transactions per second (tps) compared to Ethereum's 14 tps, but this is set to change after Ethereum shifts to a proof-of-stake consensus mechanism.
Avalanche has three inbuilt blockchains known as the Platform Chain (P-Chain), Exchange Chain (X-Chain) and Contract Chain (C-Chain). The P-Chain coordinates subnets and works with validators. The X-Chain is a decentralised platform that supports the trading of digital assets. Finally, the C-Chain facilitates the creation of smart contracts.
AVAX crypto price prediction.
The AVAX crypto price is currently trading below the $80.58 resistance level and fell for most April. Luckily, we have two weeks left in the month where we could get a decent rally higher.
If AVAX breaks above the $80.58 resistance level, the next significant level is at $96, representing a  20%+ rally from current levels. A break above the $96 level would bring the $110 level into play, but this is still a distance away from its current price levels.
From AVAX's current price level, the next support level is at $69.89, which, if broken, could bring the $59.88 support level into focus. AVAX is currently trading at $77, which means that both the first resistance and support levels are within reach.
Therefore, we cannot say whether the token will rally higher or keep falling until it breaches one of the critical levels outlined herein.
*This is not
AVAX crypto price.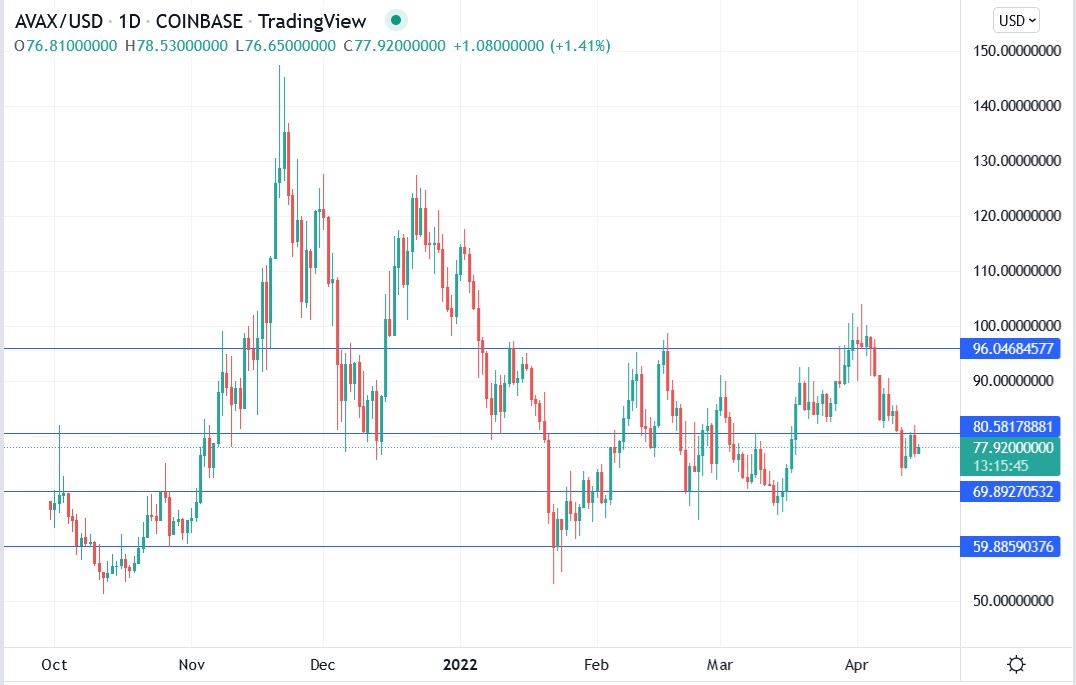 AVAX crypto price has fallen 29% this year, and many wonder if they should buy it now.