Key points:
Baidu's stock price edged 3.82% after launching its first quantum computer.
The internet company has performed well this year as other tech firms fell.
Investors cheered today's announcement, as evidenced by the rally.
The Baidu Inc (NASDAQ: BIDU) stock price edged higher premarket after the Chinese tech giant revealed its first supercomputing quantum computer. The company has established itself as a leading tech company due to its cloud computing, AI and self-driving technology efforts.

Today's announcement marks a significant step forward for Baidu as the competition among global tech companies heats up in the supercomputing segment, which is expected to be the next frontier regarding computing power.
Also read: The Best Cheap Tech Stocks Under $10.
Baidu's supercomputing quantum computer is the first one in the world to have an all-platform quantum hardware-software integration solution allowing users to access multiple quantum chips via mobile devices, PC and cloud applications.
The cutting-edge computer was introduced at Quantum Create 2022, a quantum developer conference in Beijing. The internet company, which doubles up as China's largest search engine, is looking to create a way to industrialise quantum computing technology.
Other global tech companies such as Google, Microsoft, and Amazon are working on their versions of quantum computing chips and computers due to the ever-increasing need for more computing power across most organisations.
Companies that will be the first to make quantum computing power available to the masses at an affordable cost will likely emerge as market leaders while earning significant profits, given that the cost of creating or installing a quantum supercomputing infrastructure is prohibitive for most organisations.
Therefore, companies that install such systems will be looking to sell access to the systems so that they can make a return on their investment. The only organisations that may want to restrict access to such systems are government agencies and networks that are crucial to national security.
Baidu is listed on the Nasdaq, and investors who want to own its shares can do so by buying its ADRs. However, investors should consider the risk of Baidu being delisted from the Nasdaq exchange as US regulators ask for greater scrutiny over the finances of Chinese companies.
The Chinese tech company has performed well this year and is trading almost breakeven for the year, while many other tech companies have witnessed massive declines.
*This is not investment advice. Always do your due diligence before making investment decisions.
Baidu stock price.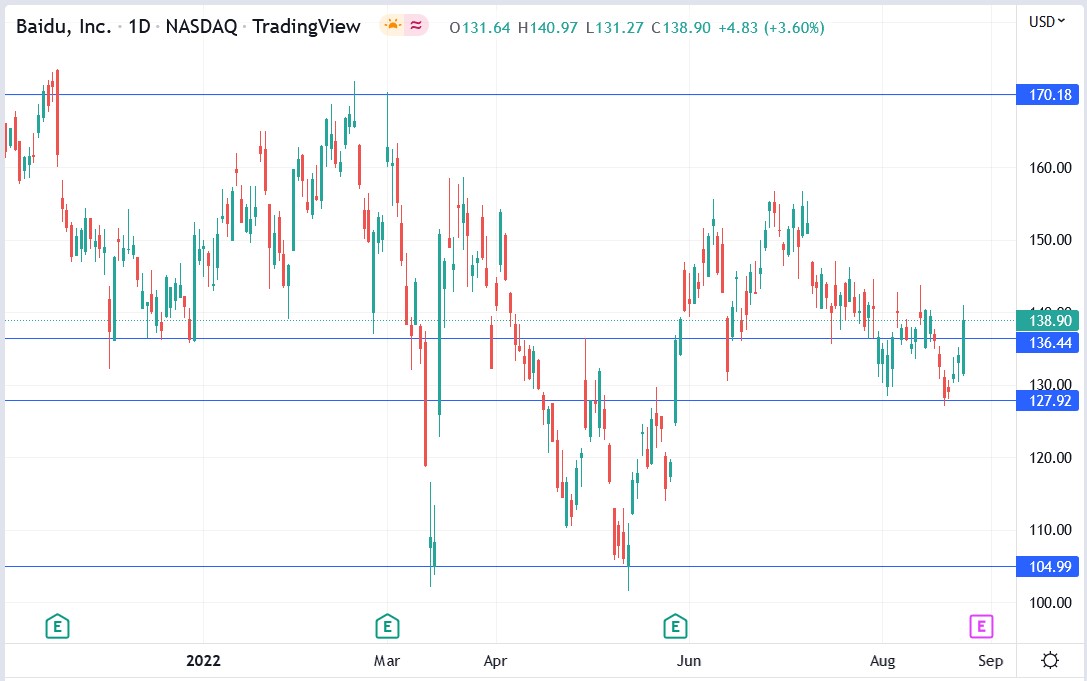 Baidu stock price rallied 3.82% to trade at $144.20, rising from Wednesday's closing price of $138.90.