Key points:
The Beazley share price rallied 13.9% after releasing its half-year results.
The specialist insurance firm performed much better than its UK peers.
Beazely prospects look promising, making its shares attractive.
The Beazley PLC (LON: BEZ) share price rallied 13.9/% after the insurance firm released its financial results and operations update for the six months to 30 June 2022. The company's combined ratio was the best half-year combined ratio reported since 2015.

The firm generated a pretax profit of $22.3 million compared to last year's $167.3 million figure from gross underwritten premiums of $2,554.9 million, representing a 26% increase from last year's $2,035.3 million worth of premiums.
Also read: The Best Financial Stocks To Buy Right Now.
Investors cheered the results, as evidenced by the rally in Beazely shares. The company is an outlier in the insurance industry as many other insurance firms are struggling with compressed margins as the value of claims outpaces the underwritten premiums.
Many British insurance firms have adjusted their premiums pricing models to reflect the impact of inflation. However, it seems that Beazley was immune to the pressures other insurance companies faced since it offers specialist insurance products.
Beazely sells insurance policies tailored to each client's needs, making it easier for the company to factor in issues such as rising prices and inflation into each insurance policy since each one is crafted to meet the customers' unique needs.
As a specialist insurance provider, Beazely has a significant advantage over other insurance companies that provide standardised insurance products such as car and health insurance.
Adrian Cox, Beazley's Chief Executive Officer, said: "We have maintained the momentum of the second half of 2021 with gross premiums increasing by 26% alongside better than expected claims experience. A challenging investment environment has impacted profit; however, I'm delighted that we have achieved our best combined ratio at a half year since 2015."
So, should you buy Beazely shares? The best move here is to wait for a pullback before buying the shares, especially if you missed today's rally. Chasing stocks higher is never a good idea since pullbacks typically follow sharp rallies.
*This is not investment advice. Always do your due diligence before making investment decisions.
Beazely share price.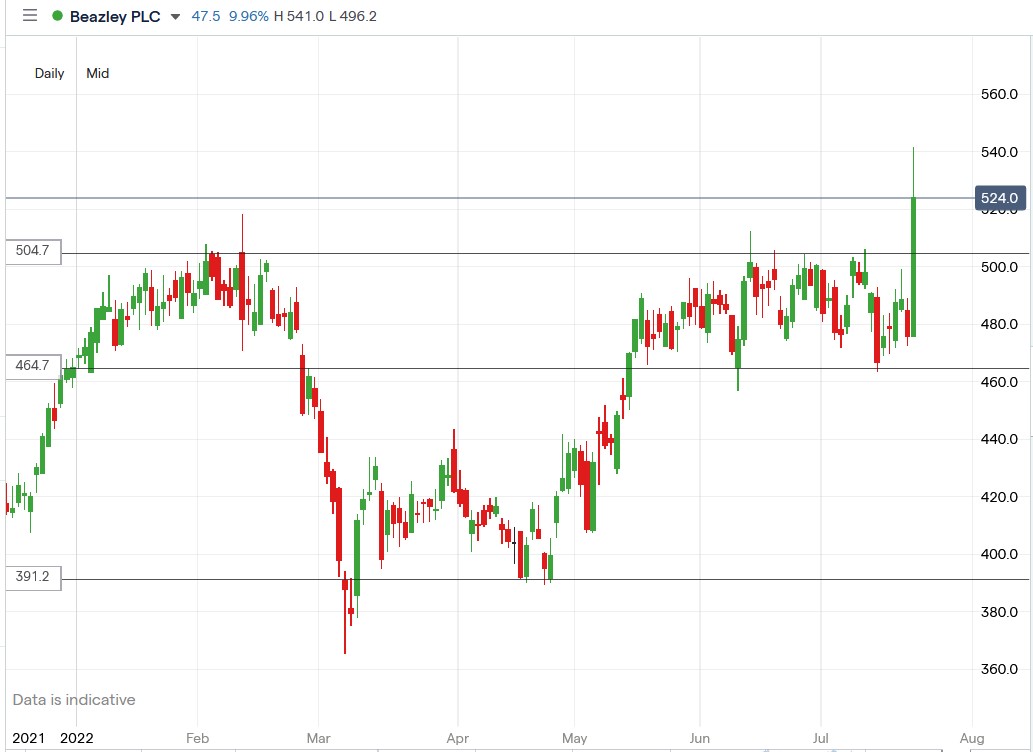 The Beazley share price surged 13.87% to trade at 541.8p, rising from Thursday's closing price of 475.8p.