Key points:
Biogen (BIIB) stock price rallied 53.4% on Alzheimer's drug trial results.
The large-scale global trial of Lecanemab met its primary endpoints.
So, should you buy Biogen stock? Read on to find out.
The Biogen Inc (NASDAQ: BIIB) stock price rallied 53.4% after revealing that a global confirmatory study of its Alzheimer's drug known as lecanemab had shown that it could slow down the disease's progression.

Lecanemab is the first drug to show a significant improvement in slowing down the progression of the cognitive effects of Alzheimer's in an 18-month large-scale clinical trial. The drug reduced the pace of cognitive decline in people with early symptoms of the disease by 27% during 18 months compared to a placebo, meeting the trial's primary goal.
Also read: Five Best Pharmaceutical Stocks To Watch In 2022.
The developed in partnership with Japan's Eisai Co. Ltd. is an antibody that targets the buildup of amyloid in the brain of patients with the disease. It achieved all the primary and secondary goals of the worldwide study that recruited 1,795 patients "with highly statistically significant results."
Biogen shares roared higher on the news after its previous Alzheimer's drug, Aduhelm, failed to meet its primary endpoints despite targeting amyloid proteins, just like Lecanemab. Today's success will reignite the scientific debate about the impact of amyloid proteins in causing Alzheimer's disease.
Investors cheered the news, as evidenced by the rally in BIIB shares, given the growing market for Alzheimer's drugs as the percentage of older adults in society rises as people live longer, increasing the number of people diagnosed with Alzheimer's.
Today's announcement marks a significant breakthrough for scientists battling for decades to stop the inevitable decline caused by the disease. However, the drug's efficiency is still up for debate since, while it slows down Alzheimer's progression, it does not restore mental capacity, nor does it entirely stop the disease.
Scientists have warned that while the drug slowed the progression, the magnitude of the delay was minimal. However, they now hope the effects shall be durable and improve if given more time. Other companies working on Alzheimer's drugs include Roche Holding AG and Eli Lilly &Co. Both saw their share price surge higher today, boosted by Biogen's results.
So, should you buy Biogen shares? Unfortunately, the short answer is no. Given today's massive rally, I would wait for a pullback before buying.
*This is not investment advice.
Biogen stock price.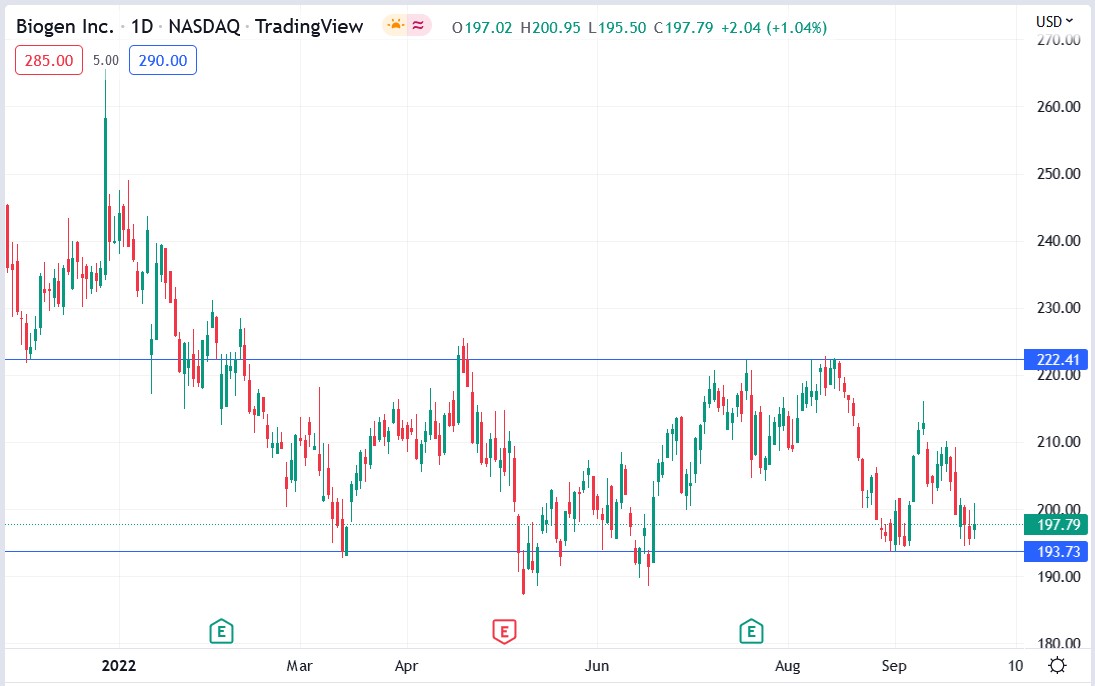 The Biogen stock price rallied 53.44% to trade at $303.50, rising from Tuesday's closing price of $197.79.