Key points:
Braveheart shares surged 11.3% after issuing an update about Paraytec.
Investors cheered the progress made by the firm on multiple fronts.
So, should you buy BRH shares? Read on to find out.
The Braveheart Investment Group plc (LON: BRH) share price surged 11.3% after issuing an operations update about its portfolio company, Paraytec. The first highlight was regarding the clinical studying taking place at the Sheffield Teaching Hospital NHS Trust.

The company revealed that Paraytec would start recruiting study participants in the next two weeks. The study's initial phase targets the recruitment of 100 participants, 50 of whom have COVID-19 and the other 50 being negative.
Also read: 12 Best Shares To Buy As A Beginner.
The participants will provide swabs that will be analysed by Paraytec's CX300 instrument, with the analysis results being compared with those generated by polymerase chain reaction (PCR) testing devices. In addition, some of the samples will be compared to live SARS-CoV-2 virus laboratory specimens.
Investors cheered the progress made on the above study, as evidenced by the rally in Braveheart shares. But, there was more in today's announcement, including an update on the sepsis test project, which targets surface proteins in Pseudomonas aeruginosa, Escherichia coli and Staphylococcus aureus.
Paraytec has already identified samples of the bacteria and has created unique antibodies that will be used to attach fluorophore markers. The results of this combination will be tested in the CAT3 Laboratory, where the firm is building its first multiwavelength CX300 instrument.
Braveheart reported that Paraytec had identified a further application of its technology in the analysis of Virus-Like Particles (VLPs), which are gaining popularity as a treatment delivery channel within the gene therapy industry.
The company is also considering launching a testing service based on its CX300 instruments, which are being assembled and certified for sale to laboratories and research partners for medical and industrial applications.
Overall, investors were pleased with today's announcements, as seen in the rally in Braveheart shares. However, BRH shares have fallen 61.5% this year but could have bottomed since it has been trading sideways since mid-June.
So, should you buy BRH shares? The shares look attractive at current prices, and I would consider buying them. However, a break below the 10.6p support level would invalidate the bullish thesis.
*This is not investment advice. Always do your due diligence before making investment decisions.
Braveheart share price.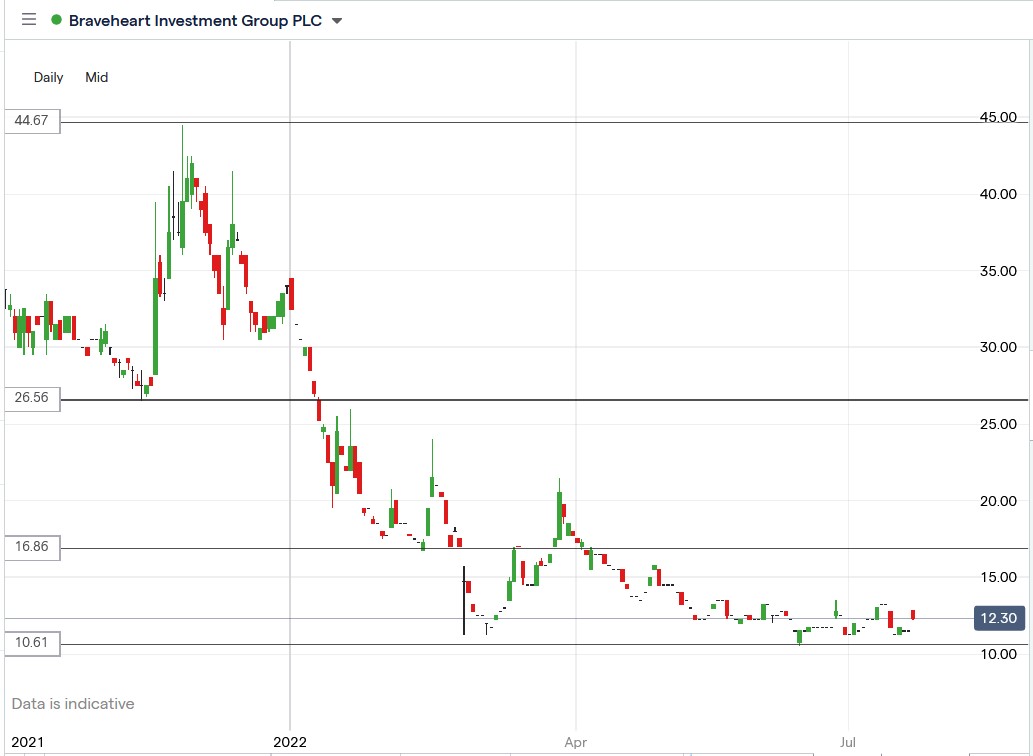 The Braveheart share price spiked 11.3% higher to trade at 12.80p, rising from Wednesday's closing price of 11.50p.