Shares of Carnival plc (LON: CCL) are back above the crucial support level shown in the chart below. Should investors prepare for further gains?
The truth is that nobody can predict the future with a high degree of certainty, but the recent rally above previous support now turned resistance is a good sign for bullish investors.
Still, Carnival faces significant obstacles in the form of the rapidly spreading delta variant of the coronavirus that threatens to shut down international travel once more.

The cruise ship operator has accumulated a significant debt load of up to $20 billion at the end of Q2 and will have to spend a significant amount of its revenues in paying down the debt in future despite most of its lenders allowing for repayment extensions.
As short-term traders, we are interested in profiting from price movements in the form of trends that last from a few days to weeks, which is why Carnival shares seem attractive now.
However, despite the cruise ship operators shares trading above support, I would like to see evidence that price could go higher in the form of a strong bullish daily candle. Only then would I open a new position in the company.
Meanwhile, investors should monitor the stock to see how it performs in the future.
*This is not investment advice.
Carnival share price.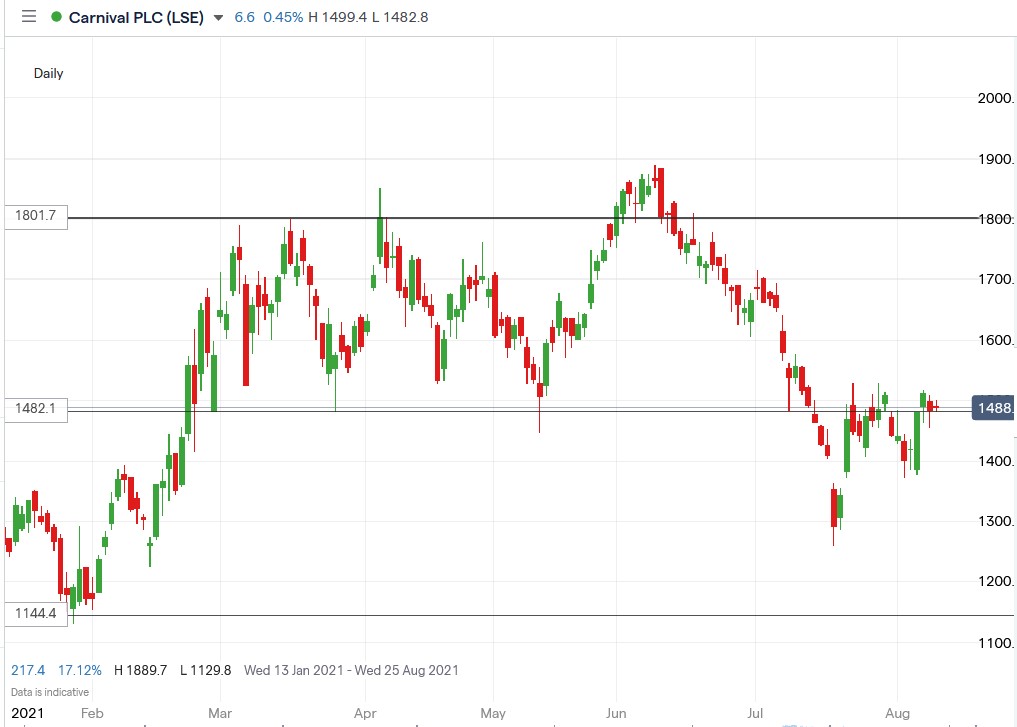 Carnival shares are up 5.94% over the past week and are now back above previous resistance turned support.
Is Now a Good Time to Invest In Carnival Shares?
Travel stocks, including Carnival shares, have been severely impacted by the coronavirus pandemic and subsequent travel restrictions. Hotels, airlines, cruises, and car rental companies have all been affected, but could now be a good time to buy travel stocks at a discount? Are Carnival shares included on our list of the best travel stocks to buy? Here's what our analyst had to say…