Key points:
Cineworld's share price has broken below a crucial support level.
The stock is headed towards its all-time lows (October 2020 lows)
There's still hope for the movie theatre operator if its creditors are lenient.
The Cineworld Group plc (LON: CINE) share price just broke below a crucial support level that has been in place since November 2020, setting the stage for further declines. The movie theatre chain is in a precarious situation as it struggles to meet various financial obligations.

The company recently announced that it was seeking to postpone its $170 million payment to disgruntled Regal Cinemas shareholders after acquiring the US movie chain in 2017. However, the request is yet to be granted, and if the affected shareholders decline the extension request, Cineworld would have to pay before the 30th June deadline.
Paying off its Regal shareholders could leave the company with minimal liquidity, affecting its daily operations.
Cineworld's current predicament results from its over-reliance on debt-funded acquisitions raising its debt burden to a colossal $8.9 billion at the end of December 2021. For example, the company spent $3.6 billion to acquire Regal Cinemas, most of which was in debt, which it is now struggling to repay.
The company also took on massive debt to fund its operations during the coronavirus lockdowns of 2020 and 2021, which it has to repay. Furthermore, the recent damages award of C$1.23 billion ($960 million) by Canada's Superior Court has put the company at risk of bankruptcy if the Appeals court upholds the award.
Luckily, Cineworld still has a ray of hope since its largest creditors are willing to give it time to shore up its finances before repaying some of its current debts. However, the short-term creditors could quickly drive the company into bankruptcy.
Cineworld's daily price chart indicates that the next support level is at its October 2020 lows of 17.92p, which doubles its all-time lows. As a result, Cineworld shareholders are also likely to face further dilution.
As a result, I wouldn't buy Cineworld shares at current prices. However, a strong rally above 27.50p could trigger more gains presenting an excellent buy setup.
*This is not investment advice. Always do your due diligence before making investment decisions.
Cineworld share price.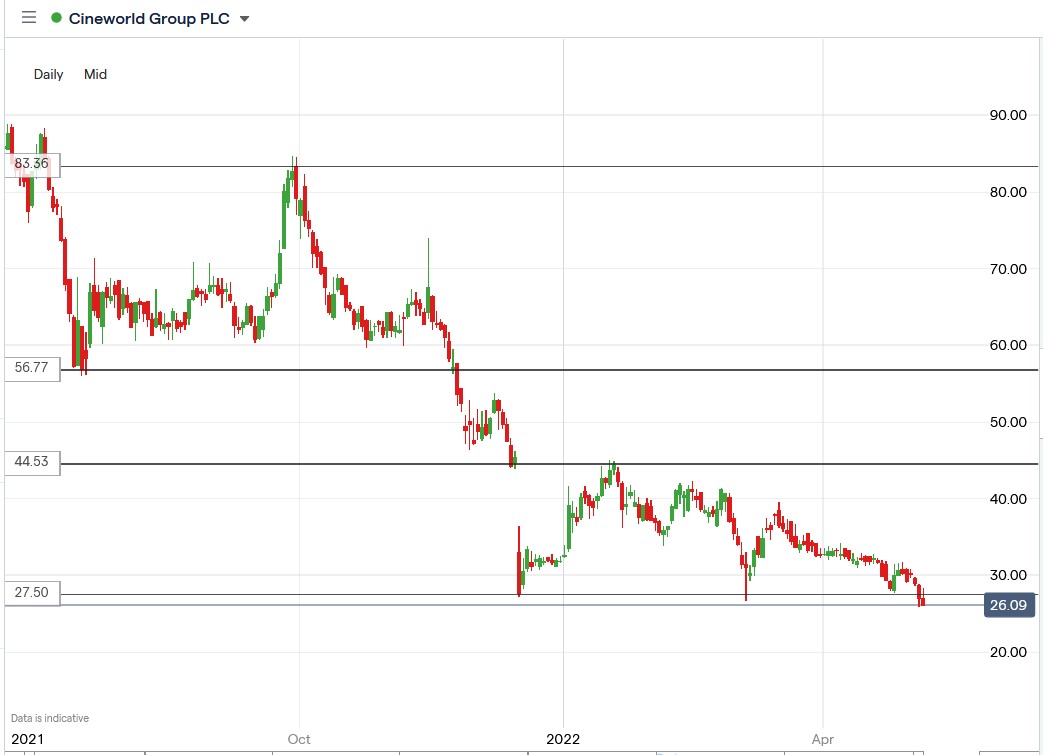 Cineworld's share price has broken below the 27.50p support level and is headed towards its all-time lows of 17.92p.