Key points:
The Eqtec share price has fallen 56.2% in 2022. Can it recover?
Yes, Eqtec shares can recover if market fundamentals improve.
Read on to see if you should buy Eqtec shares now.
The EQTEC PLC (LON: EQT) share price has fallen 56.2% in 2022 despite announcing multiple positive milestones. For example, earlier today, the waste gasification company announced that it had secured an extension to the share purchase agreement (SPA) signed between its subsidiary Deeside WTV Limited and Logik Developments Limited to 31 August 2022.

The company also revealed that it was in the final stages of discussions to appoint Black and Veatch, a global engineering firm, to design ad construct the powertrain FEED (front end engineering design), which comes after the EQTEC gasification plant.
Eqtec's Deeside project is expected to handle up to 182,000 tonnes of waste, converting it into 9.9 MWe using its Advanced Gasification Technology and a 2MW anaerobic digestion facility.
The sustainable energy company's share price has fallen along with the broader markets as investors rotated out of growth stocks into value stocks that tend to do better in uncertain market conditions.
Eqtec has another waste-to-energy project known as Southport Hybrid Energy Park, Merseyside, UK. The project is expected to handle about 80,000 tonnes of waste, which it will convert into 9MWe for export to the national electricity transmission system. The project also included a 2MW battery electric storage facility.
The Southport project is operated as a partnership between Eqtec's subsidiary Southport WTV Limited and Rotunda Group Limited's subsidiary, Shankley Biogas Limited. The project is also expected to generate six million cubic metres of biomethane annually for sale to the national gas transmission system.
Overall, Eqtec's prospects are pretty promising, yet the company's share price does not reflect the same following this year's downtrend. Nevertheless, the company is now worth £44.57 million and looks quite attractive from an investment perspective.
However, I would like a solid bounce before buying Eqtec shares since global stock markets remain under significant pressure due to record-high inflation triggered by high crude oil and food prices.
*This is not investment advice. Always do your due diligence before making investment decisions.
Eqtec share price.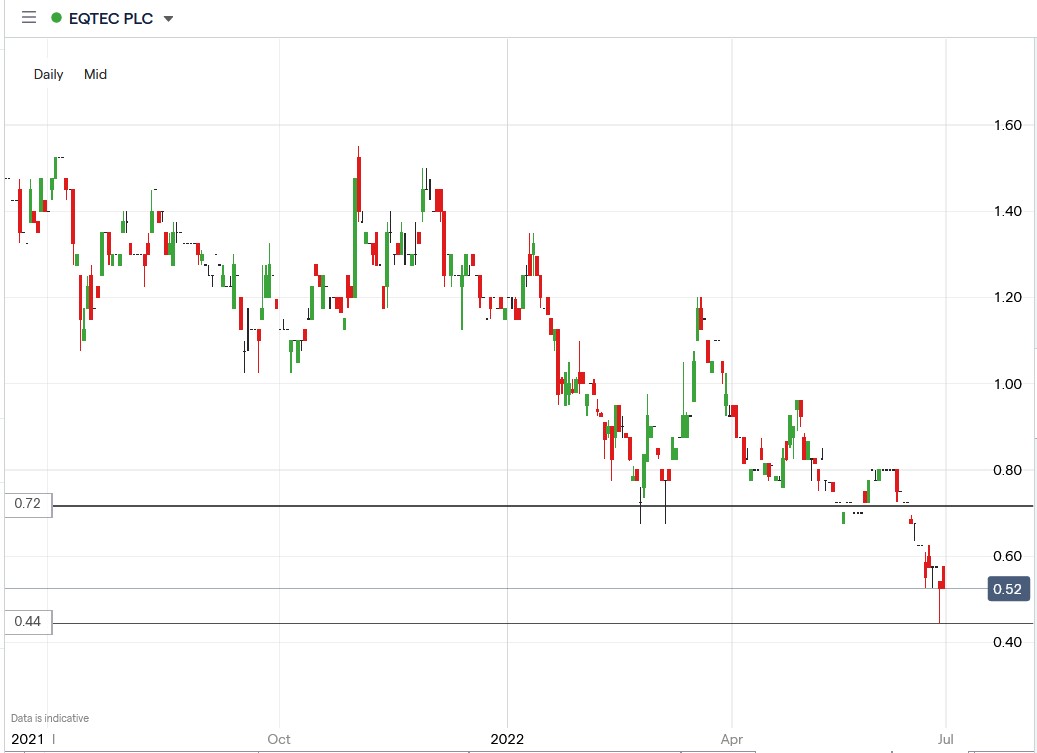 The Eqtec share price has fallen 56.2% in 2022 but has just bounced off a long-term support level.