Key points:
Open Orphan shares rallied 6.67% on Omicorn human challenge
Investors cheered the contract award, as evidenced by the rally.
Should you buy ORPH shares at current prices. Read on to find out.
The Open Orphan PLC (LON: ORPH) share price rallied 6.67% after its subsidiary hVIVO signed a contract with Vaxart Inc to develop the first Omicron human challenge model in the world. The deal will see Open Orphan, a new SARS-CoV-2 (COVID-19) challenge agent, using the Omicron variant before conducting a characterisation study.

The specialist contract research organisation (CRO) will complete the manufacturing of the challenge agent in Q4 2022 under the Good Manufacturing Practice (GMP), followed by a characterisation study. After that, the firm will seek the relevant regulatory approvals to start the Omicron human challenge trial in 2023.
Investors cheered the announcement, cementing Open Orphan's position as a human challenge trials industry leader. The company has won multiple contracts this year, yet its share price is down 48.39% since the year started.
Earlier this month, the company won a £14.7 million contract for an influenza characterisation study, followed by a human challenge trial. The firm then won a £7.2 million RSV human challenge trial contract, yet its total market capitalisation is £80.51 million.
I believe Open Orphan shares have fallen along with the broader stock market, and the company seems undervalued at current prices. However, nothing is standing between Open Orphan and more contracts in the year's second half, which means its shares could rally higher.
Yamin Khan, Open Orphan's CEO, said: "With our leading end-to-end human challenge expertise, we are delighted to be developing the world's first Omicron human challenge model and to welcome Vaxart as the first client of this programme."
ORPH shares are currently trading at a long-term support level. The shares could fall further to the 8.0p support zone but could also rally higher, recouping some of their recent losses. I would buy at current prices but would have a stop-loss order around the 8p support level.
Alternatively, investors could wait for the price to drop to the 8p support level before buying or bounce firmly off the 11.7p level before buying.
*This is not investment advice. Always do your due diligence before making investment decisions.
The Open Orphan share price.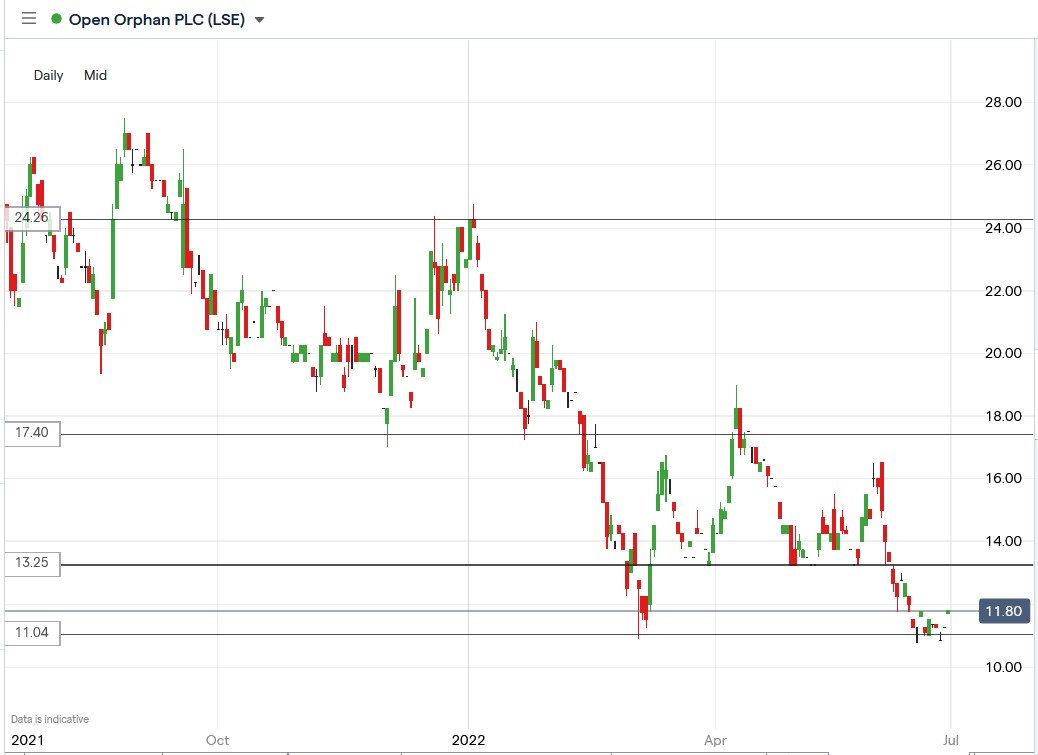 The Open Orphan share price surged 6.67% to trade at 12.00p, rising from Wednesday's closing price of 11.25p.