Key points:
Deepverge shares surged 12.8% after winning a US government contract.
The firm will participate in a 3-year innovative radiation detection program.
 DVRG shares later gave up most of their gains. Here's why.
The Deepverge PLC (LON: DVRG) share price surged 12.8% after it won a US government contract worth $810,000 to develop new methods of evaluating radiation exposure in civilians and military personnel.

The 3-year contract starts immediately, and Deepverge's Labskin division will be part of a consortium of firms hired by the Intelligence Advanced Research Projects Activity (IARPA), part of the US Office of the Director of National Intelligence.
Also read: The Best Undervalued Stocks To Watch In 2022.
Investors cheered the announcement, as demonstrated by the rally in Deepverge shares, but the move higher was shortlived as sellers stepped in, pushing DVRG shares towards the opening price and erasing all the gains.
Labskin will collaborate with other experts, including professors from the Georgia Institute of Technology, the University of Columbia in New York, computer scientists and researchers from ARETE Associates, a defence contractor, and scientists from the American Type Culture Collection (ATCC).
Deepverge's contribution will be via the development of a simple, non-invasive skin swab test to collect samples from the skin surface that will be fed to machine learning algorithms to detect and measure the impact of radiation exposure on the skin microbiome.
The project's primary goal is to create a new biodosimetry standard that could be used to ensure the safety of civilian and military populations living or working near ionizing radiation sources such as nuclear vessels, nuclear plants and ammunition, among others.
David Caballero-Lima, Labskin's Chief Scientist, commented: "This is a unique opportunity to revolutionize the way we test for radiation exposure. Labskin and Skin Trust Club are at the forefront of an increasing number of cutting-edge technologies that are changing our world. This technique can also be applied to detect the impact of pollution or a variety of chemicals on the environment. This type of testing could also be used to detect exposure in complex ecological systems such as the soil, crops or sediments."
Being selected to participate in such a crucial project is a significant win for Deepverge, which has now effectively penetrated the defence contracting industry. Moreover, the company could easily win other contracts if it executes the current contract efficaciously.
*This is not investment advice.
Deepverge share price.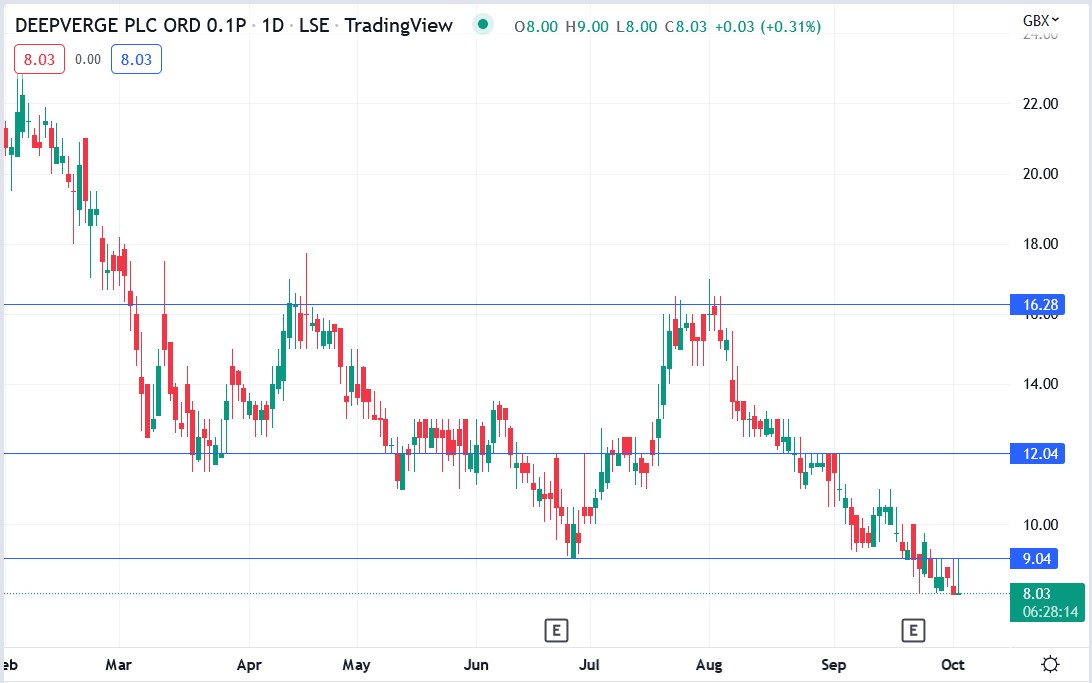 The Deepverge share price surged 12.85% to trade at 9.04p, from yesterday's closing price of 8.01p.