Shares of Dev Clever Holdings PLC (LON: DEV) surged 13% as institutional investors increased their stakes, bringing its total gains so far this year to 138%.
Dev Clever recently announced that Sitius Limited had conditionally agreed to acquire a material interest in the company. Sitius will acquire its stake by participating in the previously arranged equity subscription agreements between Dev Clever and One Nine Two Pte, which was set to raise £10 million.
Sitius will also participate in fundraising agreed between Dev Clever and Intrinsic Capital Jersey Limited (ICJL) to raise £10 million.
Dev Clever shares have risen drastically this year, driven by the significant interest from institutional investors such as Sitius in acquiring a piece of the company, but is this sustainable? How long can the institutions prop up the company's shares before the focus shifts to its actual performance?
The software and technology group specialises in using cloud-based virtual reality (VR) and gamification technologies to deliver rich customer experiences in the education and commercial sectors.
Dev Clever's educational division offers career guidance and recruitment solutions to secondary schools, colleges, universities, employers and apprenticeship providers. The company's primary goal is to bridge the global skills gap between hard to reach students and recruiting organisations.
The company is looking to capitalise on the expected massive growth of EdTech globally from $85.8 billion in 2020 to $181.3 billion by 2025.
Dev Clever currently has a partnership with India's National Independent Schools Alliance ("NISA") and Veative Labs ("Veative") to roll out its Launchyourcareer programme as the platform-of-choice to deliver a minimum standard of career guidance across its schools.
While the company's future looks very promising, I'd like to see the financial outcomes of its programmes, such as the NISA partnership and its worldwide partnership with Lenovo to pre-install its VICTAR VR application on all Lenovo VR Classroom devices.
Dev Clever share price.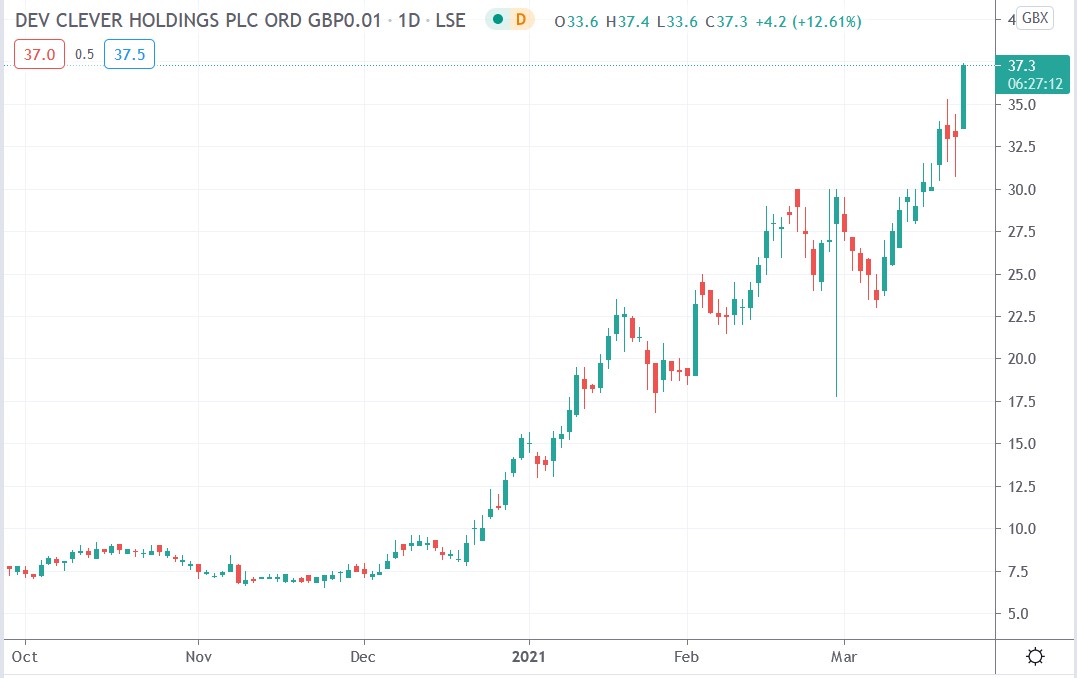 Dev Clever shares rallied 12.99% to trade at 37.4p after rising from Friday's closing price of 33.1p.