Shares of Empire Metals Ltd (LON: EEE) after the latest drilling results uncovered a new 'Twin Shafts' lode at its Eclipse Gold Project in Western Australia.

The mining and exploration company released the results for the Reverse Circulation (RC) drilling campaign completed in April, which confirmed the existence of several parallel veins in addition to the central Eclipse vein.
Investors cheered the move, which brings Empire Metals closer to defining the entire exploration potential of the Eclipse Gold Project. However, a lot still needs to be done before the project is ready to start producing gold.
Some of the drill results Empire Metals reported include 5m intercepts 3.54 g/t Au from 126m downhole at Jack's Dream, followed by 6m intercepts of 2.39 g/t Au from 50m downhole at Jack's Dream.
Other results include 4m intercepts of 4.78 g/t Au from 66m downhole at Twin Shaft and 2m intercepts of 3.65 g/t Au from 53m downhole at Eclipse.
Shaun Bunn, Empire Metals Managing Director, said: "The results from the most recent drilling campaign at Eclipse are most encouraging, confirming the presence of additional mineralised zones. A new lode, referred to as the Twin Shafts, has also been identified. The lodes at Eclipse and Twin Shafts are sub-parallel veins spanning a lateral distance of 120m. The mineralisation at Jack's Dream has now been intercepted at depth, 126m downhole, and continues to remain open at depth and to the south-east, towards the Eclipse orebody."
The company added that the exploration work done up to date continues to bear fruit as the mineralisation footprint at Eclipse starts gainings scale.
Empire Metals promised to continue evaluating the mineralisation at Twin Shafts and Jack's Dream while expecting the first results from the initial soil programme at its recently acquired Central Menzies project.
Empire Metals shares are trading above a crucial long-term support level identified in previous articles, which could provide a decent trade setup for bullish traders.
Traders who jump in should target the 3.0p resistance zone and look for an entry close to the support level at 2.35p. Always use a stop-loss order to limit your potential downside in case the trade does not work out.
*This is not investment advice.
Empire Metals share price.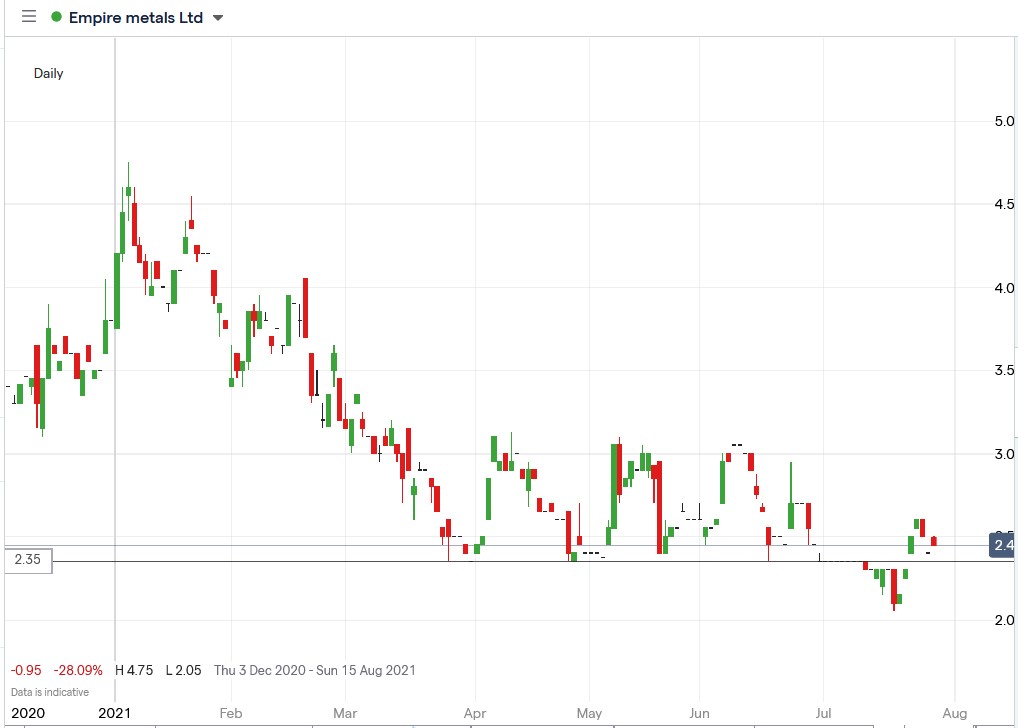 Empire Metals shares rallied 7.81% to trade at 2.59p, rising from Tuesday's closing price of 2.40p.