Key points:
Open Orphan shares plunged 10.6% despite upbeat FY 2021 results.
The biotech firm reported an EBITDA full-year profit for the first time.
However, investors were largely unimpressed by its results.
The Open Orphan PLC (LON: ORPH) share price plunged by 10.6% after releasing its financial results for the 2021 fiscal/calendar year. OPRH shares fell despite the biotech company reporting a full-year EBITDA profit for the first time.

Reading through the full-year report, nothing stands out as a negative factor that could have triggered today's decline, which means that the drop in ORPH shares was primarily driven by negative investor sentiment.
While Open Orphan reported a full-year EBITDA profit, it still recorded a final loss of 0.01p per share, significantly improving from the 1.80p loss per share recorded in 2020. It seems like investors were expecting a bigger profit than reported by the company.
Investors were unmoved by the company's impressive £9 million gain in EBITDA to hit a record £2.9 million compared to the EBITDA loss of £6.1 million recorded in 2020. Today's selloff in Open Orphan shares is a classic buy the rumour, sell the news event where the biotech firm's shares sold off after releasing a positive earnings report.
Open Orphan shares have struggled for most of 2022 and are down 35.33% since January despite making multiple positive announcements, including signing a £14.7 million contract characterisation and challenge trial.
The company has won a £7.3 million influenza challenge trial and a £5 million RSV challenge trial contract this year, highlighted in the report. Another key highlight of the report was the appointment of Yamin 'Mo' Khan as CEO this year, but investors were already familiar with all these milestones.
Many of the critical highlights of Open Orphan's annual results had already been made public when they occurred. Hence, the only surprises in the report were the financial details that had not been released in the past, which explains the selloff.
So, should you buy Open Orphan shares? The answer depends on your investment timeline and goals. ORPH shares look attractive since they are trading near a long term support level.
*This is not investment advice. Always do your due diligence before making investment decisions.
Open Orphan share price.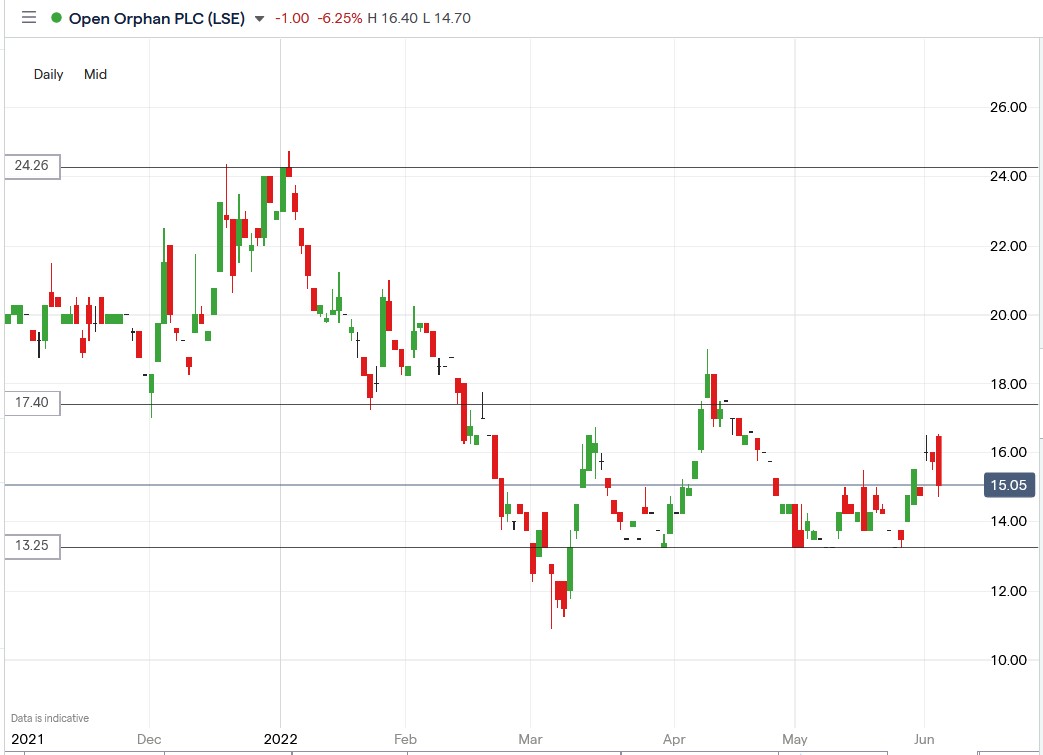 The Open Orphan share price plunged 10.64% to trade at 14.70p, falling from its opening price of 16.45p.