Key points:
Sareum shares surged 16.1%, leaving many wondering what triggered the move.
The company's shares rallied higher after hitting a long term support zone.
The firm plans a 50:1 reverse stock split to boost its share price.
The Sareum Holdings Plc (LON: SAR) share price surged 16.1% despite the firm not making any significant announcements today, which caught many investors by surprise.

Whenever there is no apparent fundamental reason behind a stock's rally or decline, we must turn to the technical reasons why the stock is behaving in a specific manner.
Luckily, the daily chart below clearly explains why Sareum shares rallied higher today. The company's shares bounced off a major support zone that has been in place since May 2021, which was not surprising.
In most cases, we find that support and resistance zones that have held for multiple months are never broken on the first attempt and that it takes multiple attempts to break such long term levels.
Investors following Sareum's stock price should have noticed how the support level was tested back in November 2021, resulting in a significant pullback and rally higher before the current downtrend resumed.
Therefore, such investors would have been well-positioned to profit from today's rally after Sareum shares closed right at the support level during yesterday's session.
Switching back to the fundamentals, Sareum's last announcement was regarding the consolidation of its ordinary shares and the calling of an extraordinary general meeting to approve the move.
Sareum intends to issue one new share for every 50 current shares in a 50:1 reverse stock split to shore up its share price and make the stock more attractive to investors.
The biotech company's current share price of 3.53p might not attract institutional investors who have limits on the minimum value of the shares they buy. For example, most institutions would not buy shares that trade below 1 pound.
After the share consolidation scheduled for 28 February 2022, Sareum's shares will be trading at £1.76, crossing the crucial £1 mark.
Investors looking to acquire Sareum shares may find the current prices quite attractive. However, I would wait for the reverse stock split before buying any shares because, in most cases, the share price tends to fall after such a split.
*This is not investment advice. Always do your due diligence before making investment decisions.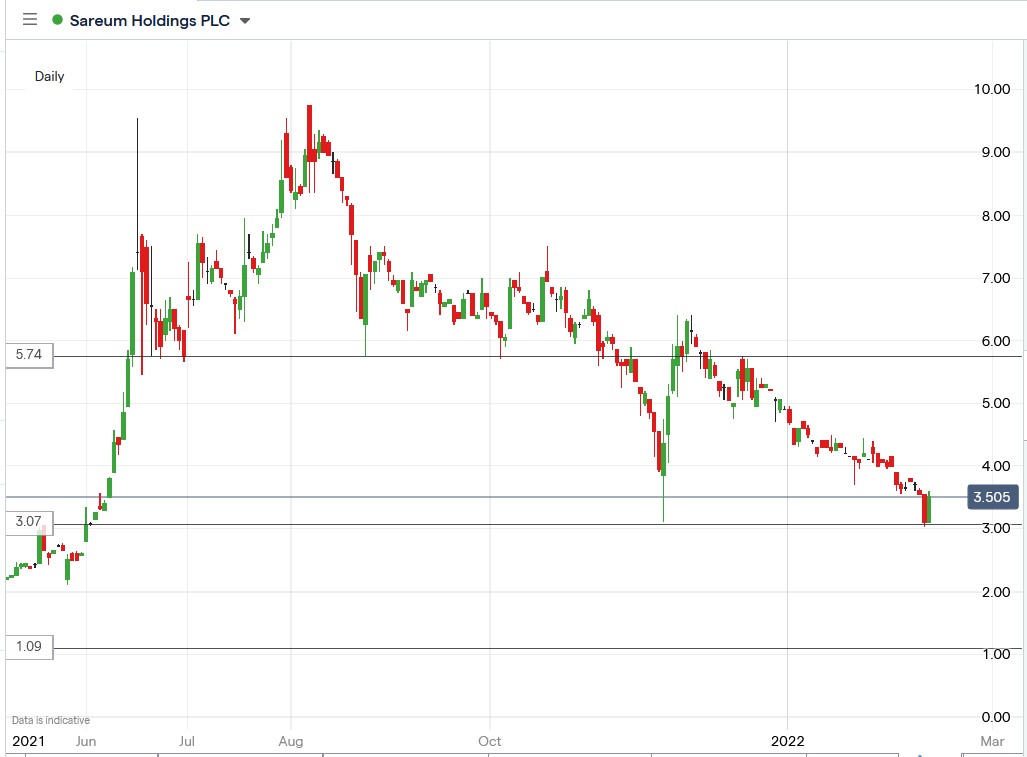 Sareum shares surged 16.13% to trade at 3.60p, rising from Monday's closing price of 3.10p, despite lack of news.