Key points:
The Boohoo share price has rallied higher in the past two days.
The move higher is fueled by positive investor sentiment and fundamentals.
So, should you buy Boohoo shares? Read on to find out.
The Boohoo Group PLC (LON: BOO) share price rallied 10.72% earlier today but had retraced some of its earlier gains at writing. Today's rally follows yesterday's 8.91% rally as buyers bought the fast-fashion company's shares.

First, the positive momentum in Boohoo's share price could be attributed to the company's efforts to transform its public image following the Leicester sweatshop labour scandal of 2020 that tarnished the fashion company's image.
Also read: The Best Clothing Stocks To Buy.
Since then, Boohoo has taken measures to distance itself from suppliers who operate sub-par manufacturing facilities and has taken significant control over its supply chain to ensure that suppliers meet the criteria set by the company.
Boohoo has launched a set of manufacturing best practices and opened its flagship manufacturing facility in Leicester, open to the public to shore up its public image, but its shares are yet to recover.
Investors are still concerned about the environmental impact of fast-fashion products worn a few times before being discarded, leading to significant global pollution, given that the materials used to make such items are not biodegradable.
While such concerns continue to bother investors, demand for Boohoo's products is yet to slow down, given the current squeeze on consumers' disposable incomes, which makes Boohoo's fashion items extremely attractive to young shoppers with lower incomes.
Furthermore, questions about the sustainability of fast fashion have spread to other companies after the UK's Competition and Markets Authority (CMA) launched an investigation into Boohoo, ASOS and Asda.
Boohoo may benefit from the additional scrutiny on other brands, given its effort to reposition itself as a company with transparent supply chains. Some of its global competitors, such as Shein, are now being scrutinised due to the opaqueness of their supply chains.
Therefore, Boohoo is well-positioned to capitalise on its improving pubic image going forward. The fast fashion firm is also investing heavily in its distribution network, building a massive US hub and several UK warehouses.
So, should you buy Boohoo shares? The shares look pretty attractive at current prices, making them an ideal investment.
*This is not investment advice. Always do your due diligence before making investment decisions.
Boohoo share price.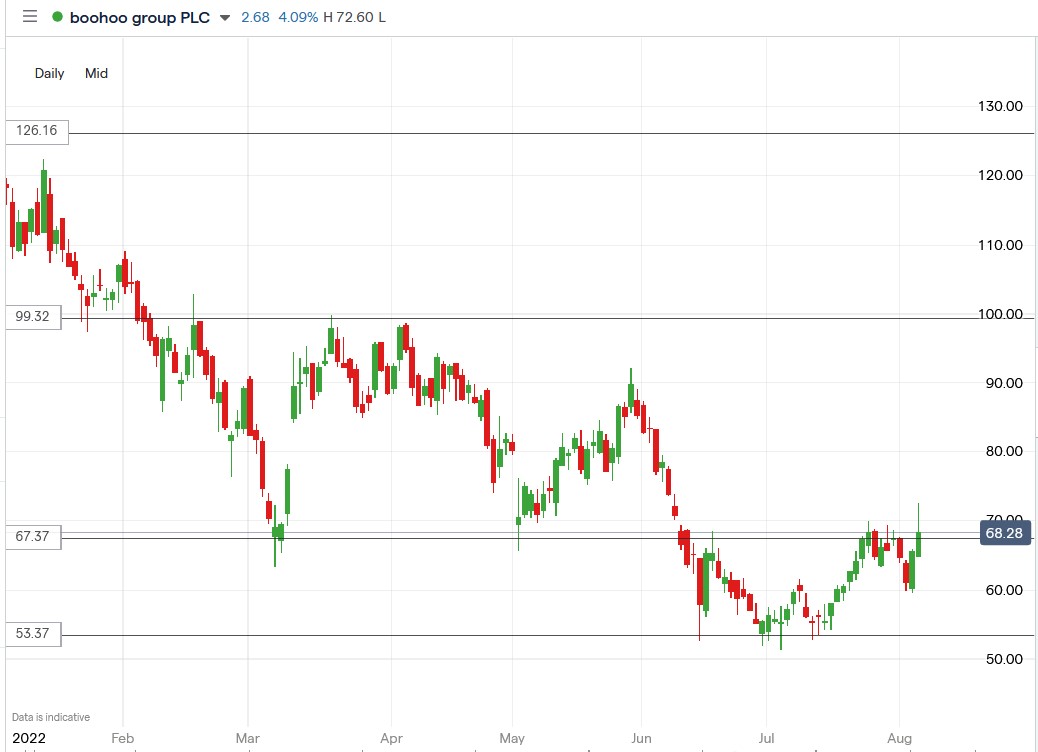 The Boohoo share price rallied 10.72% higher to trade at 72.53p, rising from Wednesday's closing price of 65.51p.