Key points:
The Grom Social stock price soared 55.4% premarket as buyers stepped up.
Investors were reacting to the company's CEO interview from Monday.
GROM is competing against giants in the Kids' entertainment segment.
The Grom Social Enterprises Inc (NASDAQ: GROM) stock price soared 55.4% during premarket trading in a delayed response to its CEO's interview by the Traders News Service.

During his interview, Grom Social Enterprises CEO, Darren N Marks, said that his vision for the group was to boost the capacity of each of their operating divisions, resulting in better returns for investors and growing the company.
Marks also talked about potential acquisitions partnerships, among other growth opportunities that the company could explore to expand its portfolio.
If you are wondering what business Grom Social does, it is a company focused on providing safe social networking for children.
The company operates the gromsocial.com site that allows children to watch TV shows curated by the firm. The children can also create their videos, connect and share them with other children and keep up with trending news.
Grom Social Enterprises' Curiosity Ink Media recently partnered with Maz Jobrani, a prolific creator of original multiplatform family entertainment, including shows such as Superior Donuts, Pandemic Warrior, and Back to School with Moz Jabrani.
Therefore, investor interest in the company has been high since the partnership was announced. So today's rally was not surprising as investors bought GROM shares, hoping it will keep rising as more people become aware of its services and start using them.
GROM has a solid slate of content that should appeal to children. Still, there are no guarantees that parents and children will embrace its services, ensuring generating revenues for the company over time.
Furthermore, one of the most significant issues with such services is stackability. Many new services tend to attract consumers initially but then lose them as time progresses if the service is not as engaging as initially.
Companies such as Grom Social Enterprises compete with similar services from large media companies such as Disney, which have massive catalogues of kids' content and budgets stretching into billions.
Other media companies such as Netflix and other streaming services also have sections entirely dedicated to children's content, which GROM is competing against. Interestingly, the company is also competing against's Alphabet's YouTube Kids service.
Therefore, only time will tell if GROM will successfully carve a niche for its services in this competitive market segment.
*This is not investment advice. Always do your due diligence before making investment decisions.
Grom Social stock price.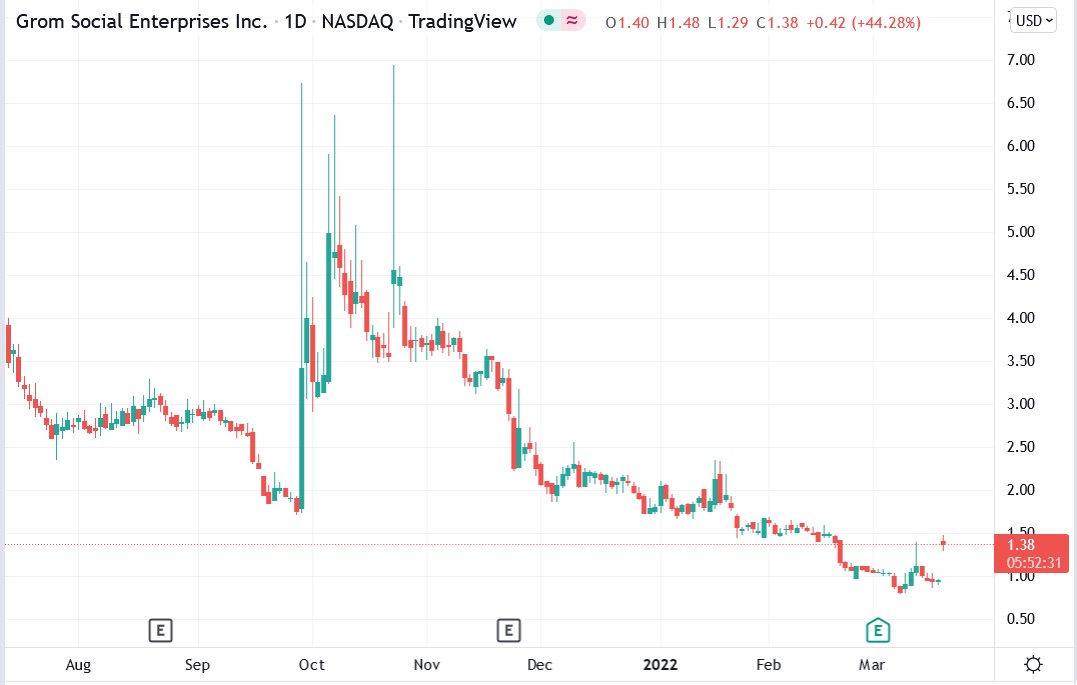 Grom Social stock price surged 55.39% to trade at $1.48, rising from Thursday's closing price of $0.95.