Key points:
LAIX stock price soared 1,115.9% after a 14 to 1 reverse stock split.
The stock split only affected the American ADSs, not the Chinese shares.
The move lifted LAIX's share price to $5, beating the $1 listing requirement.
The LAIX Inc (NYSE: LAIX) stock price surged 1115.9% after a fourteen for one reverse stock split implemented by the company came into effect earlier today.

The AI company that develops and distributes services and products that popularise the English language in China had announced plans to affect a fourteen for one reverse split of its American Depositary Shares (ADSs) in late February.
LAIX shares had been trading below $1 since 28 October 2021, and the company was about to breach the six months set by the New York Stock Exchange for shares to trade back above $1.
There was little hope that LAIX's ADSs would make their way above the $1 mark without the company's helo in the form of a reverse stock split. Luckily, the company went for a significant stock split that has moved its share price to the $5 level.
Hence, LAIX now has more room to play before it can worry once more about breaking below the $1 mark in future. The company specified that the reverse stock split would only affect its American Depositary Shares, while its Class A common shares would not be affected.
LAIX's Class A ordinary shares par value of $0.001 will keep trading at their current prices since they are not listed in the United States, while the changes will only affect its ADSs. The company will not issue any new Class A shares, nor will it cancel them.
Many will not be happy to learn that the company will not be issuing any fractional shares to investors whose shares are not exactly divisible by fourteen. Instead, it will collect all the outstanding shares and sell them based on the same ratio. The proceeds of the sale will then be credited to the accounts of each of the affected investors.
LAIX also said that it does not guarantee that the new ADSs will be trading at 14 times their previous value after the reverse split since the shares will be traded live and will be subject to the market forces of demand and supply.
LAIX is one of the few English language tutoring companies left in China after the Chinese government implemented strict rules that led to many companies closing their operations, citing a hostile business environment.
*This is not investment advice. Always do your due diligence before making investment decisions.
LAIX stock price.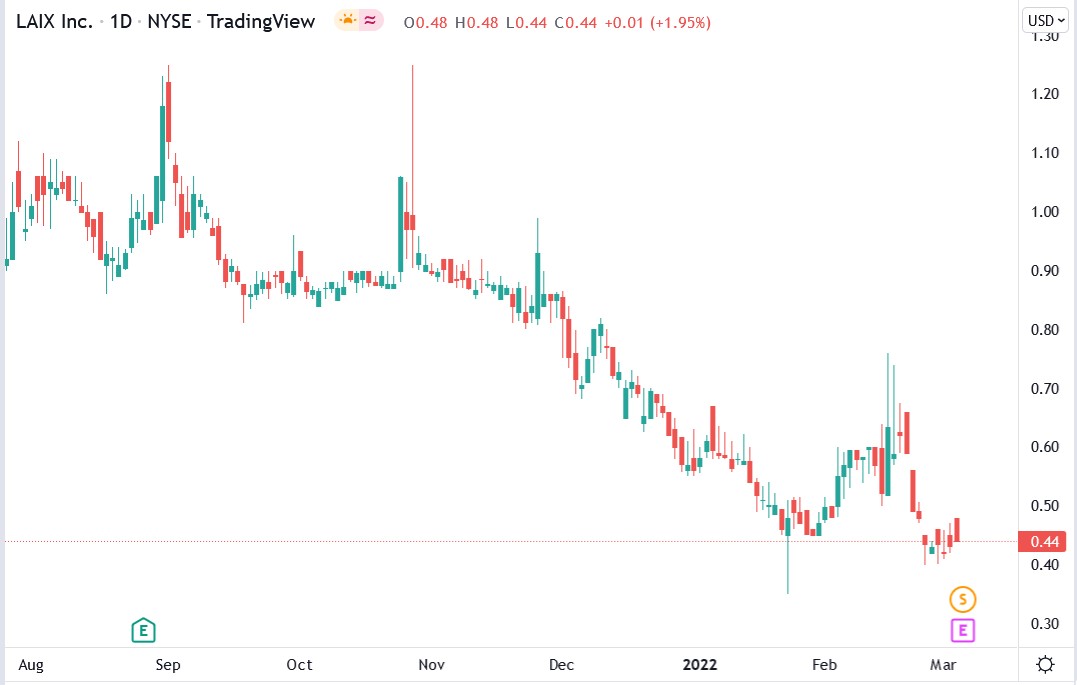 LAIX stock price surged 1,115.90% to trade at $5.35 during premarket trading, rising from Thursday's closing price of $0.44.