Shares of Iconic Labs PLC (LON:  ICON) were temporarily suspended from trading on the London Stock Exchange after the appointment of joint administrators over the company following an unsatisfied demand for payment from a secured creditor.
Today's announcement is yet another major setback for the company, which has had many ups and downs this year, starting with the resignation of its previous management team after a fallout with majority shareholder OTT Ventures.
I recently covered Iconic Labs after its CEO outlined its new strategy split into three business divisions. Its current media and publishing business and its latest ventures to acquire security, data and information, technology, and AI businesses.

Iconic Labs had the full backing of the European High Growth Securitization Fund (EHGOF), which had committed to funding the company to the tune of £50 million once shareholders approved the company's new business plan during an AGM on June 15, 2021.
However, the AGM will no longer be happening after Antony Batty and Hugh Jesseman were appointed as joint administrators of the company on Friday evening and took over today.
From a business perspective, it makes no sense for a creditor to push a company on the cusp of unlocking up to £50 million in new funding in a week into administration.
Most institutional creditors would choose to wait for such a company to unlock the new funding before taking forceful measures to recover a loan.
Since we are not aware of precisely what happened with the secured creditor, we can only hope that Iconic Labs will emerge from administration by settling the outstanding debts with the secured creditor.
It is times like this that investors must remember the old saying that nothing is guaranteed in the markets. There is a significant chance that the company could have settled the payment demand if made after unlocking the funding from EHGOF.
*This is not investment advice.
Iconic Labs share price.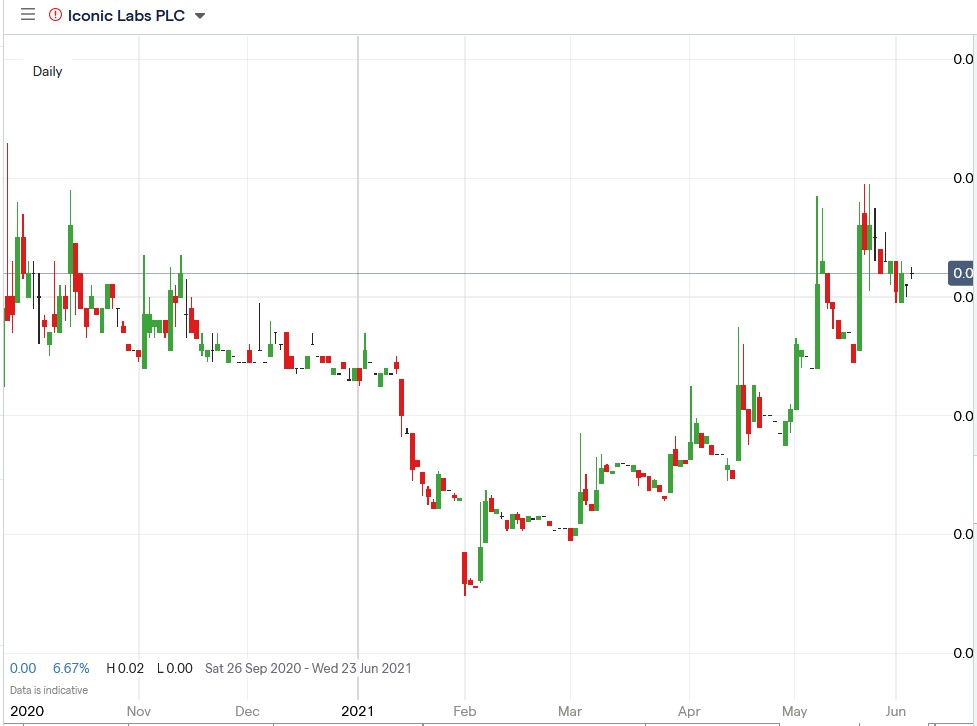 Iconic Labs were suspended from trading earlier today after administrators took over the company.