Key points:
INL shares are down 25% this morning on a trading update
Banking covenants are being tested, there's a strategic review to come
Significant losses mean the Inland Homes share buyback programme is suspended
Inland Homes (LON: INL) shares are down 25% on the announcement of a trading update and strategic review. It might be difficult to quite comprehend this but a housebuilder is managing to lose money in a roaring housing market. This beginning to make sense when we see the reasons why they're doing so. Part of it is the simple cost inflation going on everywhere, but the major factor seems to be the planning system itself. Yea, even though Inland specialises in brownfield sites in the SE, this remarkably not fit for purpose planning system still screws things up.

As ever with corporate announcements it's necessary to read past the first few paragraphs of verbiage. INL tells us that really, they're great, lots of demand for what they do and things are just copacetic. Then: "two major schemes are currently experiencing previously unforeseen planning delays" Revenue is recognised at the legal completion date, planning delays obviously delay that so contracts are moving into the next accounting period. Further: "the Group is expected to make an operating loss of approximately £29.3 million for the year ending 30 September 2022 and a loss before taxation of approximately £37.1 million."
Net asset value is still said to be three times the current share price but there's a whiff of caution about that. That's the value of the land bank and projects at varied stages of the planning process. Given the difficulties over timing those valuations could be a little fragile. As a result of all of this Inland Homes is stopping the share buyback process they'd previously announced.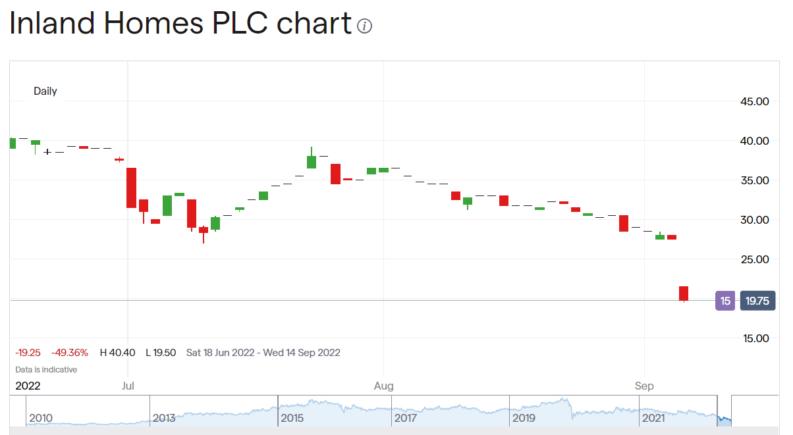 Also Read: Asset Groups To Invest In During Inflation
There's more about how it's all only technical difficulties but then we get this: "the Group would breach the interest cover covenant with one of its lenders" OK, that's in a subsidiary, whose borrowings are backed by the Group, but still. Being in breach of banking covenants is not a good look.
All of which has led to Inland Homes calling in Lazard to conduct a strategic review of the group to see what can be done. From which we should probably take two lessons.
One is that British housebuilding is a strange, strange, market. There's roaring demand, building is hugely below population changes and necessary replacement levels, yet the planning system is so shafted that people can lose money in it. Something's seriously wrong here – so we perhaps shouldn't be viewing the builders or other actors in the system through the normal economic lenses. Whether politics will ever get around to changing this absurd state of affairs is another thing.
More specifically about INL we've got to take this seriously too. As they say " With the anticipated losses for the financial year the Group is a going concern but" That a corporate announcement reassures us that the company is still a "going concern" is not all that reassuring. Because why the reassurance? But perhaps more than that this announcement says they're halting the INL share buyback scheme. But they were still buying in Inland shares yesterday. That is, this all seems to have taken them rather by surprise – and that's really just not a good look for corporate management.