Key points:
The Invesco QQQ stock has fallen 29.9% in 2022, just like the Nasdaq.
QQQ tracks the Nasdaq's performance and can be traded, unlike the index.
So should you buy qqq stock? Read on to find out.
The Invesco QQQ Trust Series 1 (NASDAQ: QQQ) stock price has fallen 29.9% this year, mimicking the Nasdaq 100 index's drop over the same period. However, now that half of this year is gone, should you buy QQQ stock in anticipation of a future rally? Read on to find out what could be coming next.

The Invesco QQQ Trust ETF tracks the performance of the tech-heavy NASDAQ 100 index, which is why if you compare the QQQ stock chart and the Nasdaq 100 index chart, you will see that they are almost identical. Since QQQ is not an inverse or leveraged ETF, its performance is almost a replica of the Nasdaq 100's performance.
For those wondering whether it is the right time to buy qqq stock. The short answer is no, not yet. The Nasdaq index still shows weakness as investors brace for another rate hike this month. In addition, investors are concerned that the rising interest rates will continue hurting the tech and growth stocks that populate the Nasdaq 100 index.
Therefore, tech stocks and the Nasdaq index will remain under pressure until the US Federal Reserve shifts its monetary policy stance from extremely hawkish to dovish, indicating a slow down in its rate hiking cycle.
There is also the issue of the record-high inflation that has left many consumers with less disposable income. As a result, many are now cutting back on unnecessary expenditures as food and energy costs take up a significant percentage of their income.
Lastly, we are seeing many companies pausing hiring activities in anticipation of much more challenging times ahead, which could lead to higher unemployment figures in the United States, further compounding the already challenging business environment.
The crypto sector has also been hit hard as cryptos crashed with stocks once the Federal Reserve started withdrawing liquidity from the markets. Therefore, until the underlying economic and macro factors change, we cannot say that the worst is over for the Nasdaq and, in conjunction, the qqq stock.
*This is not investment advice. Always do your due diligence before making investment decisions.
QQQ stock price.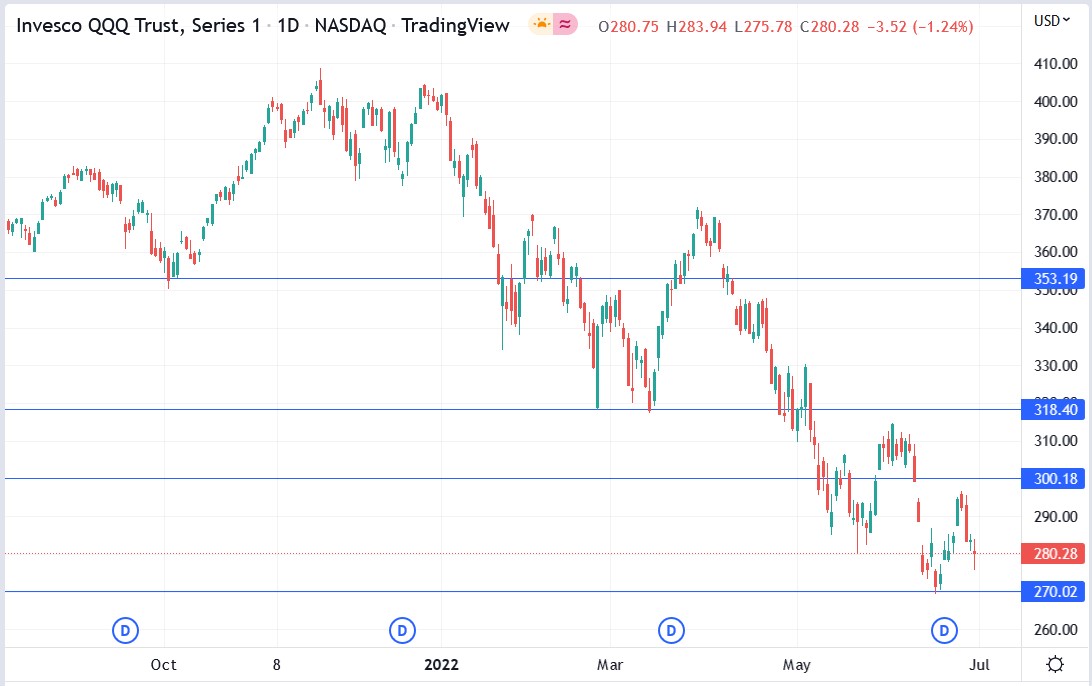 The QQQ stock price has fallen 29.87% in 2022, which is a massive drop for an ETF that tracks a leading stock index.