Key points:
Insurance underwriting profits are under pressure from inflation
Premiums were set before the inflation became apparent
How badly will this affect Berkshire Hathaway's insurance profits?
Something we should recall when considering Warren Buffett's Berkshire Hathaway (NYSE: BRK.A) (NYSE: BRK.B) stock. Yes, it's a vast business, no the performance of the insurance business does not determine the success or failure of the whole. And yet at the heart of Berkshire Hathaway is an insurance business. It's exactly this which has given Buffett that float to invest over the years and build the vast positions in the stocks of other companies that Berkshire Hathaway has. This means that insurance company profits are not wholly determinant of the BRK stock price but they certainly do have an influence.
We've also got evidence from the English market that inflation is eating into those insurance company profits. The basic problem being that this current burst of inflation was unexpected. Therefore prices for premiums were set without thinking that the inflation would arrive. But as and when the claims arrive then the prices for rectification of whatever the damage was are higher than thought when the premiums were first set.
This is specifically a problem in auto insurance. For premiums are set for 12 months at a time, all claims will be paid out in a similar 12 month period. A burst of inflation – with no inflation adjustment mechanism built into the contract, as there isn't – will thereby mean that repair costs can climb well above forecast. While premiums haven't changed, having been set that time ago.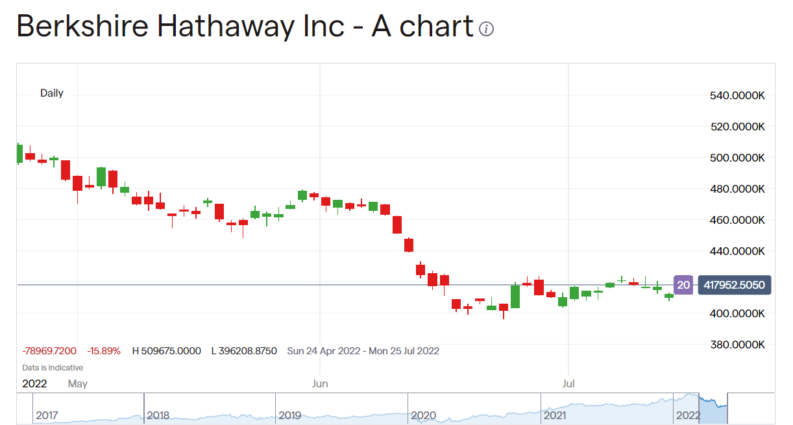 Also read: What Has Warren Buffett Invested In Before And What Should He Invest In Now? .
In this past week we've seen this twice now in the English insurance market. At the end of last week it was Sabre Insurance (LON: SBRE) which dropped 27% on the news. Today we've Direct Line (LON: DLG) which is down 12% and change. The reason is exactly this burst of inflation.
As both companies explain it the price of repairing a car has risen substantially – perhaps 12%. But those bills come in many months after the premium was set at the beginning of the insured period. So, the premiums did not have the inflation built into them. This has meant that the loss ratio has climbed considerably. And the combined operating ratio (that's overheads of running the business, plus the relationship of claims to premiums) looks to climb to the 98% sort of level as DLG says. That is, there's pretty much no underwriting profit left – even as there might be one from the investment of the premiums.
Berkshire Hathaway is very much too large for it's stock price to be determined by the profitability or not of the insurance business now. But it is still true that there's a substantial influence there. Plus, some goodly part of that insurance business – Geico for example – is in exactly this area where costs have soared – autos.
Clearly, for a company of this size, car insurance profits and inflation won't be determinant of Berkshire Hathaway's stock price. But it's entirely possible that there will be an influence here. Which means we should consider this – how badly will inflation undermine the insurance underwriting profits?