Shares of Kistos PLC (LON: KIST) rallied 8.26% despite the investment company announcing plans to raise €52.5 million via a discounted share placement to fund the purchase of Tulip Oil Netherlands BV for €222.75 million.

The investment company's shares had been suspended from trading on Londo's AIM on March 12 after announcing its intention to acquire Tulip Oil in a reverse takeover that would see it transition from an investing to a trading company.
Kistos shares resumed trading yesterday and were accompanied by the equity raise announcement, but they are still trading way above 155p due to the pent up demand for the shares that were suspended for over a month.
The company is set to pay €60 million in cash and issue shares worth €15.75 million to Tulip Oil Holding BV as part of the payment. The firm will then refinance Tulip's existing bonds worth €87 million, with Tulip Oil Netherlands issuing bonds worth €60 million to Tulip Oil Holdings to complete the transaction.
Kistos listed on the AIM in December 2020 and has seen its shares rise over 80% to its current trading price of 183p. Investors will be watching to see how the investment company onboards Tulip Oil and manages it going forward.
The company's focus is solely on the energy sector, which builds investor confidence in the acquisition. History is full of acquisitions going wrong where the acquiring company did not know how to run the acquired firm to exploit its full potential leading to massive losses.
Andrew Austin, Kistos Chairman, said: "This represents the culmination of many months of work and is, in my view, a hugely exciting development for stakeholders in Kistos. 'The portfolio of assets that we have acquired include profitable and cash generative producing assets, plus exploration and appraisal assets from which we are looking to deliver significant upside for our shareholders."
Kistos share price.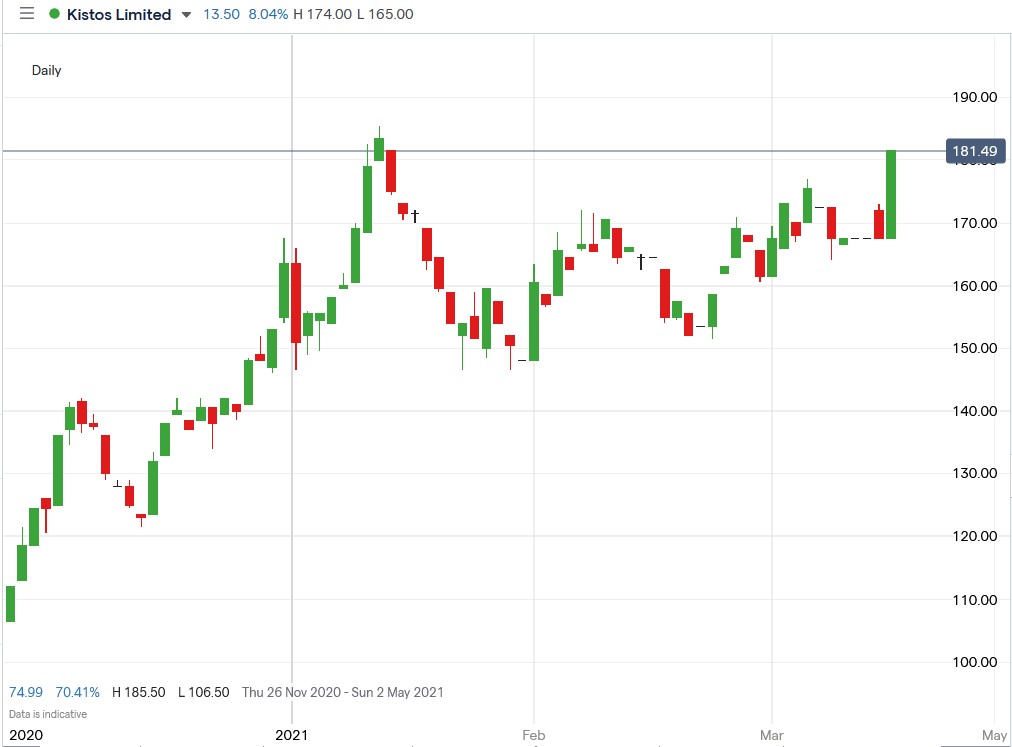 Kistos shares rallied 8.36% to trade at 181.51p, having risen from Wednesday's closing price of 167.50p.
Should you invest in Kistos shares?
Kistos shares are traded on the London stock exchange's AIM market (the alternative investment market), which is the submarket specifically for smaller companies. AIM stocks are attractive to investors as they have tax advantages and smaller companies have the potential to benefit from rapid growth. But are Kistos shares the best buy? Our stock market analysts regularly review the market and share their picks for high growth companies