Key points:
Kohl's stock price plunged 19.2% after abandoning takeover talks.
The retailer said that the poor market conditions were to blame.
So, what comes next for Kohls? Read on to find out.
The Kohl's Corporation (NYSE: KSS) stock price plunged 19.2% after the department store chain ended takeover talks with Franchise Group. The retailer cited the deteriorating market conditions that could have seen it get a much lower bid than the initial $60 per share offer from the Franchise group.

Investors were disappointed that after all the recent hype, Kohl's was not ready to be acquired by another firm with more financial resources that could boost its share price and inject new life into the ageing department store.
The company has fought takeover attempts in the past, but it seemed that the board was finally ready to entertain a serious offer and accept it, taking the retailer private, which has not happened yet.
A week ago, rumours emerged that Franchise Group was thinking of lowering its bid from the initial $60 to $50, reflecting the significant drop in Kohl's shares that were trading at $35 yesterday and are now trading at $29.
However, this is not the end of the road for a potential acquisition of Kohl's, given how cheap its stock price is and the many hurdles facing the US retail sector. Consumers are cutting back on discretionary spending as necessities such as food, rent, and transport costs soar, leaving them with little disposable income.
It remains to be seen how Kohl's will perform going forward as potential bidders adopt a wait-and-see approach given the challenging operating conditions most retailers face. Some bidders are waiting for Kohl's to fall into financial distress so they can buy it cheaply and make the changes needed to turn the retailer's fortunes.
Meanwhile, some could make a case for a rebound in Kohl's stock price. Still, such a move will have to be driven by a fundamental improvement in the company's operations or another serious offer, which could fuel investor optimism toward the retailer.
*This is not investment advice. Always do your due diligence before making investment decisions.
Kohl's stock price.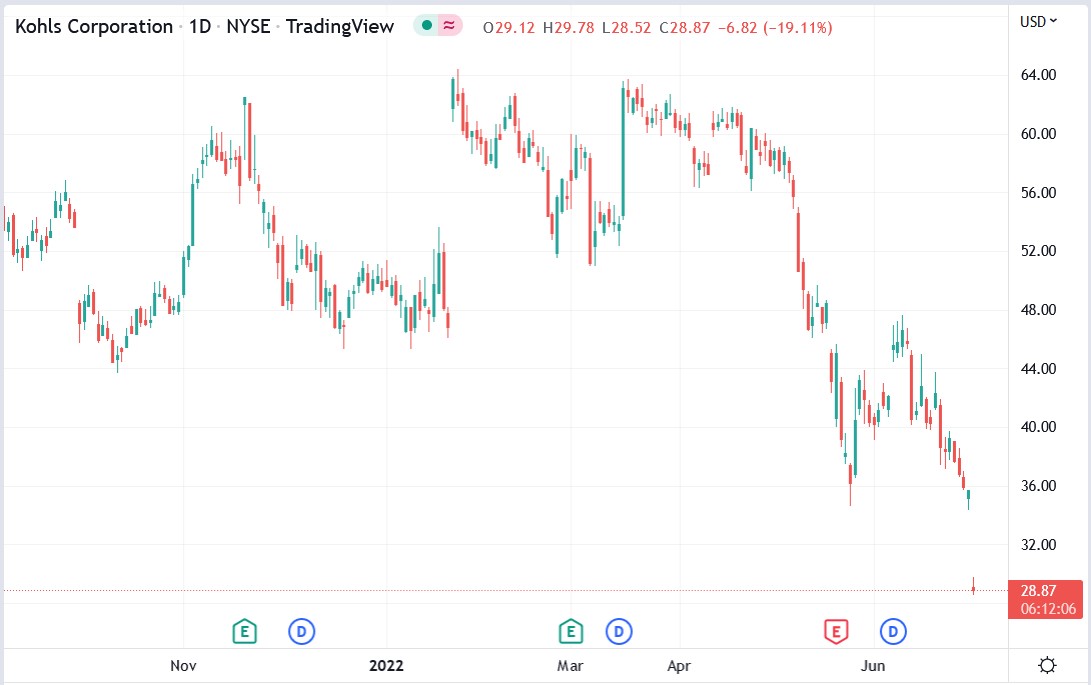 Kohl's stock price plunged 19.19% to trade at $28.84, falling from Thursday's closing price of $35.69.