Key points:
The Taiwan Semiconductor (TSM) stock price has fallen 32.6% in 2022.
Samsung recently announced that it has started producing 3-nm chips.
TSMC's future performance is uncertain; hence, I would stay away.
The Taiwan Semiconductor Mfg. Co. Ltd. (NYSE: TSM) stock price has fallen 32.6% in 2022 and was trading lower today during the premarket session after Samsung Electronics revealed that it had started manufacturing 3-nm chips at scale ahead of TSMC.

The two companies are locked in a race to be the first to reduce the size of their microchips since smaller microprocessors tend to be more powerful and energy-efficient than larger ones. For Samsung, starting mass production of 3-nm chips is a double win since it can produce better products than its arch-rival Apple inc, which relies on TSMC chips.
However, Samsung's lead may not last long, given that TSMC had also confirmed that it would start mass-producing 3-nm chips in the second half of 2022. Hence, we could get an announcement to that effect pretty soon.
Interestingly, Taiwan Semiconductors has revealed that it expects to start producing 2-nm chips in 2025, just two and half years from today and is the first company to make this bold claim. It is not easy for chip designers and fabricators to lower the size of chips, which is why it has taken decades of innovation to get here.
Unlike TSMC, a pure microprocessor designer and fabricator, Samsung is also a leading global manufacturer of consumer electronics goods such as smartphones,  televisions, washing machines and fridges, which have higher profit margins than microchips.
By using smaller chips, Samsung will outmanoeuvre other consumer electronics manufacturers such as LG, Apple Inc and Sony, competing to be the most preferred brand among consumers globally. Therefore, Samsung's win against TSMC could catapult it to the lead if the smaller chips translate into better consumer electronics.
Meanwhile, TSM shares have fallen 32.6% in 2022 as investors factor in less demand for electronic goods from consumers battling record-high inflation that has shrunk their disposable incomes.
So should you buy TSM stock? Unfortunately, the answer is no, not yet. The semiconductor manufacturer's stock price is still falling, and I would stay away until we get a solid bounce backed by positive fundamental catalysts.
*This is not investment advice. Always do your due diligence before making investment decisions.
TSM stock price.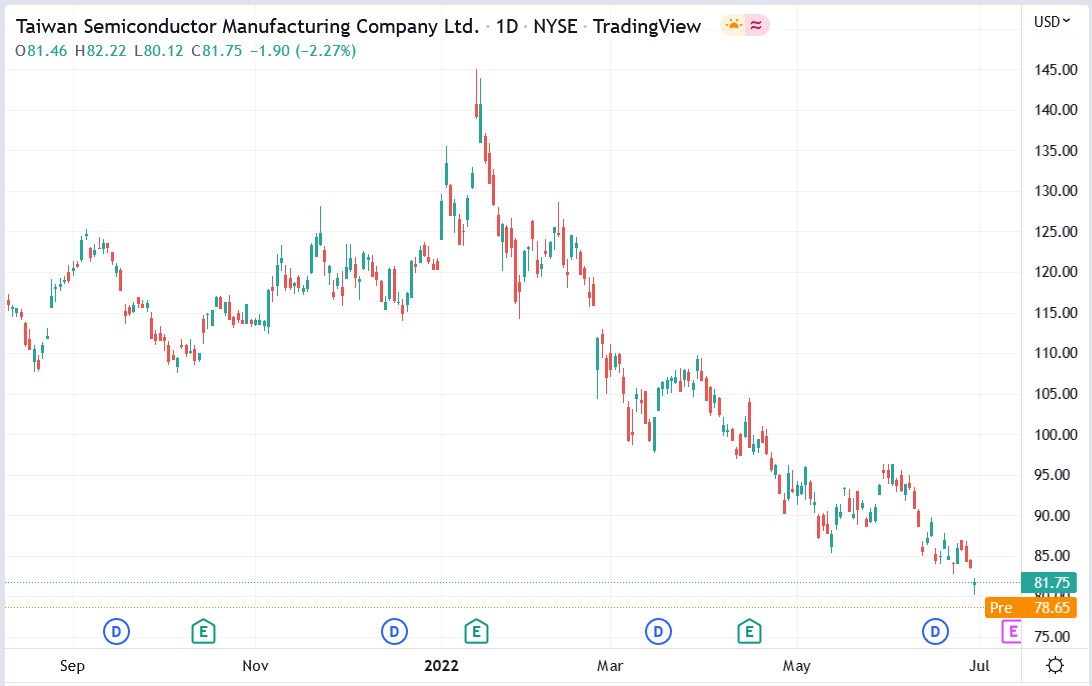 The TSM stock price was down 3.79% during premarket trading as investors reacted to today's developments.