Key points:
Made.com's strategic review isn't producing many options
Looking for a buyer is about the best idea they've got
MADE is therefore worth that trade sale price minus debt – which is how much?
Made.com (LON: MADE) could be described as giving up and going home. Although we tend to prefer rather less colloquial descriptions for a business that can't seem to find a way out of its corner and so it's looking around for a buyer. Another way of describing this, our third attempt, is that the business just hasn't worked out and that's that.

Made.com's IPO was only in June of last year and the peak share price was around the £2 mark. That makes today's 4.7 p (down 18% again on the day at pixel time) down some 97.5%. That's not a good result for investors of course. But also of course for us as traders we want to know what happens next. For it's the future that determines profits, not that past.
It can't be said that that future looks all that good for MADE. As their release today says: "As a consequence of the factors described below, combined with the unexpected events of the past two weeks in the UK compounding the deterioration of trade and the current financial position of the Group impacting its trading stance, the continued uncertainty means that Board has concluded that it is appropriate to withdraw its full-year guidance." And that guidance was already well down on previous estimates.
The problems are claimed to come in two parts. One is the varied logistics problems faced by everyone as lockdown ended. The other increasingly difficult trading positions as interest rates rise and the UK likely advances into a recession. But that's not really, wholly and entirely, what's the issue here. Or somewhere between possibly and probably isn't.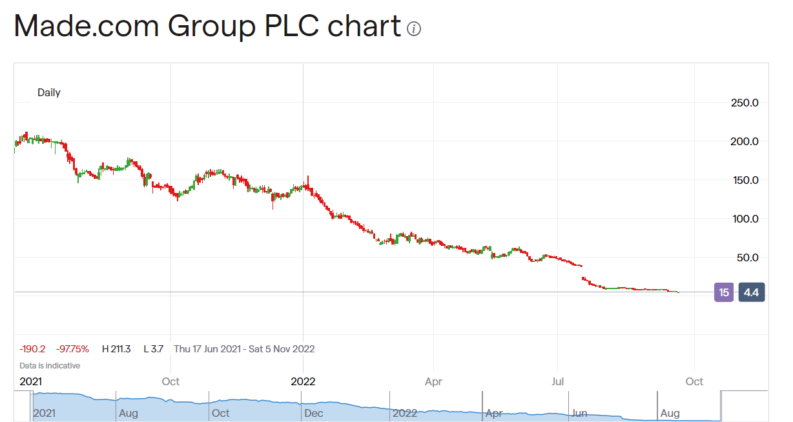 Also Read: How To Buy Amazon Shares
As we've said before about Made.com the real problem is that everyone misread a cyclical change for a structural one.
Online retail has been eating bricks and mortar at a steady rate for a couple of decades now. In the 201x's, at about 1% of the total retail market per year as listed by ONS figures. This leapt in lockdown – obviously enough. From perhaps 16% of the market to at some points 30% of it. This made many online retailers look very good, obviously, and some like Made.com came to market on the back of that.
But here's the thing. Is this a permanent leap – a structural change – in the market or a cyclical one? No one actually knew and the high prices of many online retailers seemed to be making the assumption that it was a permanent leap.
That actually turned out not to be true. Online as a share of total retail is still marching ahead, sure, but that leap during lockdown has near entirely been given up. It was a cyclical change, not structural, we're about – around -ish you understand – back to trend as if lockdown didn't happen. So, those new market entrants flattered by the leap now are not. Also, those who based their plans on the leap being permanent are now being found out.
Made.com is not trying to sell itself as part of the strategic review they're undertaking. They don't think they can raise new capital, not at the current corporate valuation or share price. The value of MADE shares is thus whatever they think they can achieve in a sale. What do we think that might be?