Key points:
Ocado reported a trading update for Q3
The cost of living crisis impacted weighed on spending
Ocado shares are down 57% this year
Demand metrics don't yet point to a turnaroud
Ocado (LON: OCDO) posted a third-quarter trading update Tuesday, September 13, which resulted in its share price falling over 13% at the open (down 12% at the time of writing).

While sales rose 2.7% year-over-year to £532 million, Ocado told investors that inflation and the cost of living crisis are weighing on consumer spending, with the average basket down by 6% to £116. "While customers and orders have grown, consumers are shopping smaller baskets and seeking value-for-money items as they respond to inflationary pressures," they stated.
Ocado's average selling price increased by 5% year-over-year, which is the net of a 7% inflationary increase in food price and offset by a 2% decrease related to customers choosing lower-priced alternative products.
In addition, cost headwinds (predominantly for energy and dry ice) will likely weigh on profitability in the fourth quarter. As a result, Ocado expects the accelerating trading down and smaller baskets, particularly over the last few weeks, to result in a small sales decline in FY22 and close to break-even EBITDA.
Before today's trading update, Ocado shares were trading positively in September, hitting a high of almost 800p on Monday. However, it is now once again at its lows, down 57% in 2022. Here's what I will be watching for signs of a potential turnaround in spending:
Inflation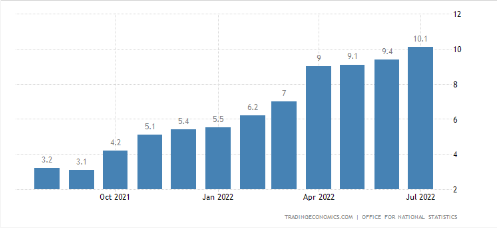 Asset Groups To Invest In During Inflation?
Inflation is obviously the main issue for Ocado at the moment, with consumers opting for cheaper alternatives and reducing the number of goods they buy.
Energy prices are the primary issue. However, Nat Gas and Oil prices have fallen in recent weeks, and there is hope the new UK Prime Minister, Lizz Truss, will be able to set out a strategy to ease the pressure on households. So far, Truss has revealed plans to freeze energy bills at an average of £2,500 a year for two years.
UK inflation data for August is released tomorrow and is forecast to come in at 10.6%, above the 10.1% previously reported. If over the next few months, inflation begins to ease, we may see spending pick up.
Web Traffic
The slowdown for Ocado was evident in the last few months due to inflation. But we can also couple that with website traffic data. According to Semrush, the number of visitors to the Ocado website are currently at 1.88 million, down significantly from the June 2021 high of 3.4 million.
Given that customers schedule deliveries through Ocado's website (and app), web traffic is something I will be keeping an eye on as a sign of a turnaround in demand.
One thing to note is that there is a discrepancy here. Despite the reported fall in web traffic, Ocado said active customer numbers grew 23% year-on-year to 946,000, driving an increase in average orders per week of 10.7%. Even so, web traffic is still a key metric to watch.
Retail Sales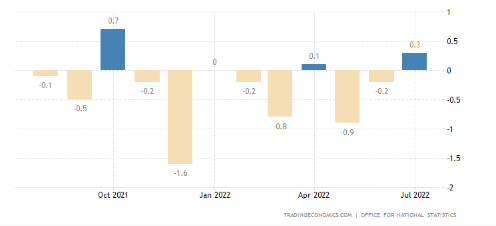 Retail sales in the UK rose unexpectedly by 0.3% in July compared to the previous month, with food store sales increasing 0.1%.
Retail sales data for August is expected to be released this Friday, September 16, and is forecast to come in at -0.4%. A decline would not be a surprise, but looking forward, if we begin to see an uptick in retail sales and food store sales, it may signal that it's time to start looking at Ocado shares again.
Bottom Line
Like other retail stocks, Ocado has been hit by soaring inflation and, as a result, a tightening in consumer spending. But, for me, the signs are not yet there for a turnaround (famous last words).
Inflation and retail sales will be the key metrics to watch for over the next few months. If they improve (inflation easing and retail sales rise), we should see demand for Ocado's products and services improve, with traffic to its website increasing. At that point, I will be watching for a reversal of the current downtrend.