Key points:
Cineworld shares rallied 22.5% despite filing for chapter 11 bankruptcy.
Investors cheered the move that will offer the company some financial relief.
However, can Cineworld shares rally higher? Read on to find out.
The Cineworld Group plc (LON: CINE) share price rallied 22.5% despite the movie theatre operator filing for Chapter 11 bankruptcy protection in the US Bankruptcy Court for the Southern District of Texas. Investors cheered the move that will allow Cineworld to reorganise its finances through a court-guided process to emerge stronger.

Cineworld said that the bankruptcy process would significantly reduce its debt burden while strengthening its balance sheet and providing it with the financial strength to pursue its strategy within the global cinema industry. The company expects to emerge from bankruptcy protection in Q1 2023.
Also read: The Best Undervalued Stocks To Watch In 2022.
Luckily for investors, Cineworld confirmed that it does not expect the bankruptcy protection process to result in delisting its shares from the Londo Stock Exchange (LSE) since it expects to resume normal operations soon.
The company expects to file a reorganisation plan with the courts expeditiously as it expresses confidence that its operations' financial restructuring was in its and its stakeholders' best interests.
However, Cineworld warned investors that the process would result in the significant dilution of existing shareholders. It was unavoidable as its creditors would likely convert some of the outstanding debt into equity as part of the financial reorganisation.
Unfortunately, common shareholders usually suffer the most when a company files for chapter 11 bankruptcy since they are usually the last to be paid after the secured and unsecured creditors, the holders of preferred shares and the government.
Investors showed their approval of the bankruptcy process, as evidenced by the rally in Cineworld shares today. However, the question in most investors' minds is, will Cineworld share keep rising? The short answer is nobody knows since the company is in uncharted territory for now.
Still, Cineworld shares are trading above a crucial support zone, which could trigger a rally if it continues to hold in the coming days and weeks.
*This is not investment advice.
Cineworld share price.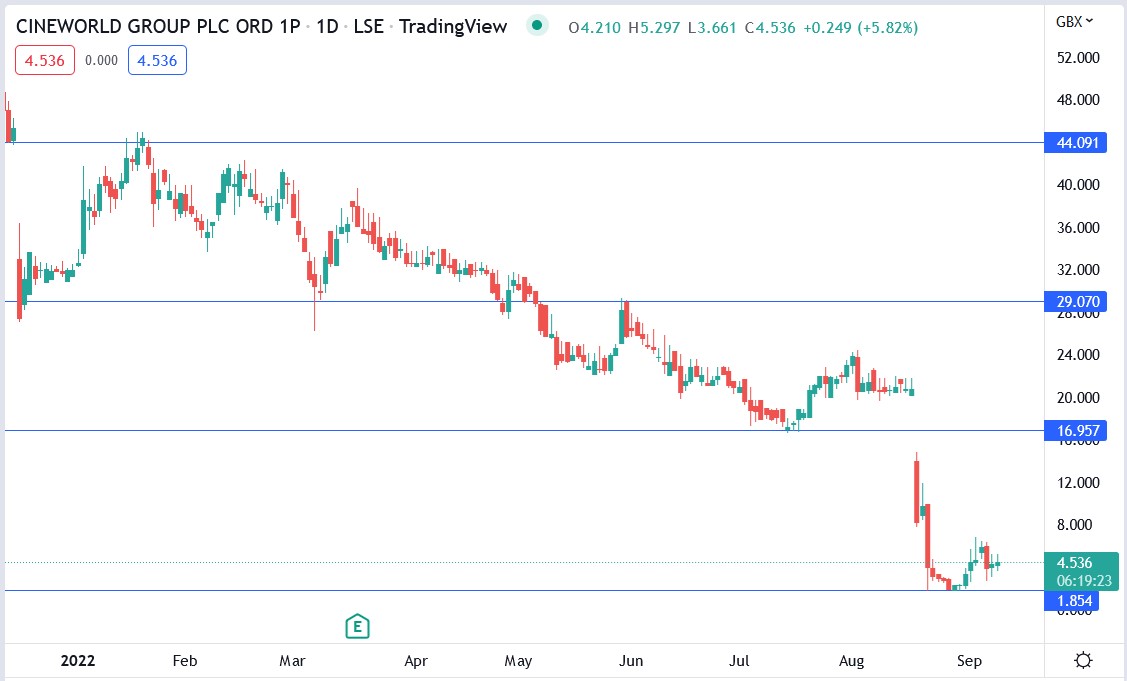 The Cineworld share price rallied 22.48% to trade at 5.252p, rising from Wednesday's closing price of 4.288p.