Key points:
Orosur Mining shares soared 49.7% on the Colombian operations update.
The firm discovered high-grade gold deposits at the Pepas prospect.
 So, what comes next for OMI shares and should you buy them?
The Orosur Mining Inc (LON: OMI) share price soared 49.67% after issuing an update about its Colombian operations. The company revealed that it had encountered extremely high-grade gold deposits during the diamond drilling at the Pepas prospect in the Northern part of the Anzá Project.

The mining and exploration company had drilled three holes labelled PEP001, PEP002, and PEP003. The best assay results came from the PEP001 drill hole, which returned a high-grade gold intersection of 150.90m @ 3.00g/t Au (from the surface). The same drill hole had another high-grade gold intercept of 102.40m @ 3.73g/t Au.
Also read: The Five Best Gold And Gold Mining Stocks To Buy Now.
Orosur Mining reminded investors that drilling activities had commenced in April 2022 and had drilled nine holes at the Pepas prospect. However, it encountered harsh drilling conditions at three holes related to major rock structures. Hence, it had to abandon the affected holes.
Investors cheered today's announcement, as evidenced by the rally in OMI shares. However, the company is still far from starting commercial mining of the gold deposits identified through the drilling process.
Luckily for investors, Orosur Mining's current business model is based around discovery, with the company looking to discover tangible gold resources. Once such resources have been identified, the company will likely partner with an established mining company to exploit the discovered resources.
Orosur Mining also informed investors that its joint venture partner Minera Monte Águila (MMA) had exceeded its US$4 million spending obligation for the year ended 6th September 2022 per the exploration agreement signed by the two companies.
The company also noted that MMA had completed its Minimum Phase 1 Earn-In Work Requirement. The two firms will then form a joint venture in which MMA will own 51% of the project and be the project manager, while Orosur Mining will own the remaining 49%.
So, should you buy Orosur Mining shares? It is never a good idea to chase a stock higher; hence, I would wait for a pullback before jumping in.
*This is not investment advice.
Orosur Mining share price.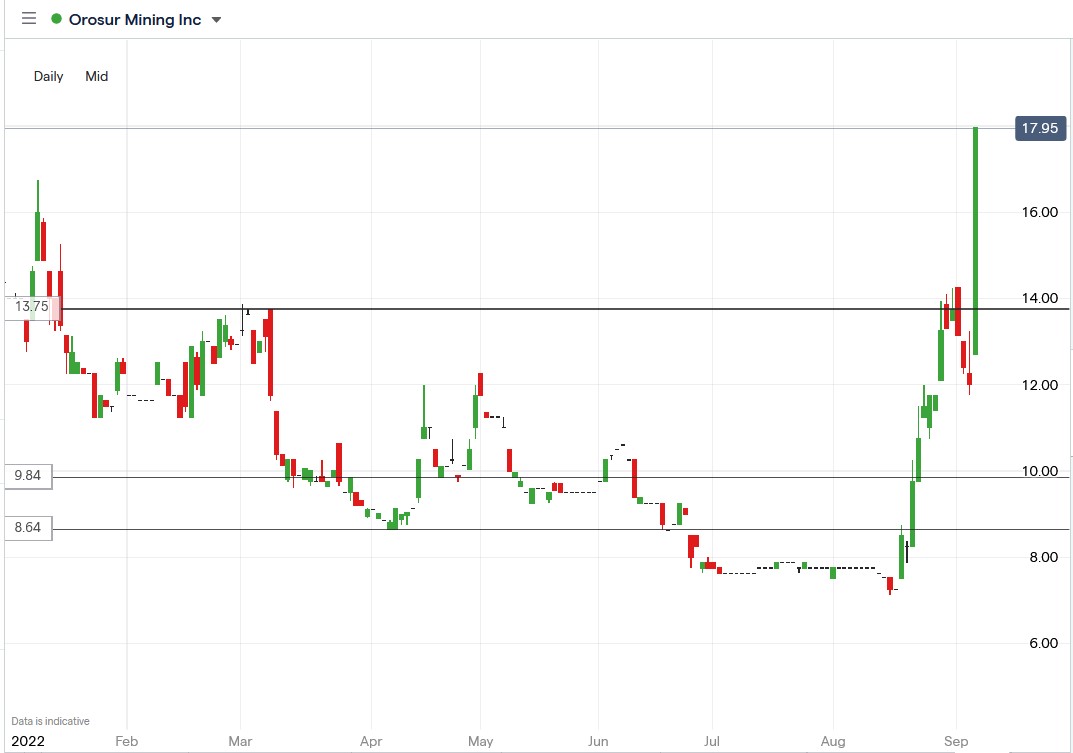 The Orosur Mining share price soared 49.67% to trade at 17.96p, rising from Monday's closing price of 12.00p.