Key points:
Polestar (PSNY) stock has risen 17.3% in two weeks on positive reviews.
The EV manufacturer just released prices for its upcoming SUVs.
The company's vehicles are being compared to Porsches.
The Polestar Automotive Holding Uk Plc (NASDAQ: PSNY) stock price has risen by 17.3% in two weeks, primarily driven by positive reviews from users and owners of its electric cars. The company's cars are being compared to Porsche cars, which are renowned for their quality ad driving dynamics within the auto industry.

The company went public on June 24, 2022, via a merger with a Special Purpose Acquisition Company (SPAC) known as Gores Guggenheim (GGPI). For those wondering why Polestar EVs have such a high-quality build, you won't be surprised to learn that Polestar was formed as a collaboration between Volvo and its parent company Geely.
Also read: The Best Electric Car Stocks To Buy.
Volvo is renowned globally for manufacturing some of the safest cars with very high safety ratings from industry regulators and consumers. Therefore, it is not surprising that Polestar cars have received significant acclaim from car reviewers, users and fans worldwide.
Polestar just released the prices of its upcoming Polestar 3 SUVs that will start at $75,000 and top out at $110,000 when they debut in the US. Furthermore, the same prices apply to the EU, where the vehicles will start at €75,000 and go up to €110,000.
The EV company raised $850 million in funding during its stock market debut, which should provide it with a decent runway before raising cash again. However, we should not forget the significant competition emerging in the EV sector as new companies pop up everywhere.
It's too early to tell which EV companies will become market leaders in future. Still, some like NIO, LiAuto and BND are ramping up production and have acquired a significant market share in their home countries and abroad. As a result, these EV companies are leading the market and are excellently catching up to Tesla in terms of deliveries.
Polestar is still far from the industry leaders, but it is not the only one. In addition, many other EV companies are just starting up, which makes competition in the sector pretty stiff.
So, should you buy PSNY stock? The answer depends on your preferences. It's too early to tell if the company will be successful.
*This is not investment advice. Always do your due diligence before making investment decisions?
PSNY stock price.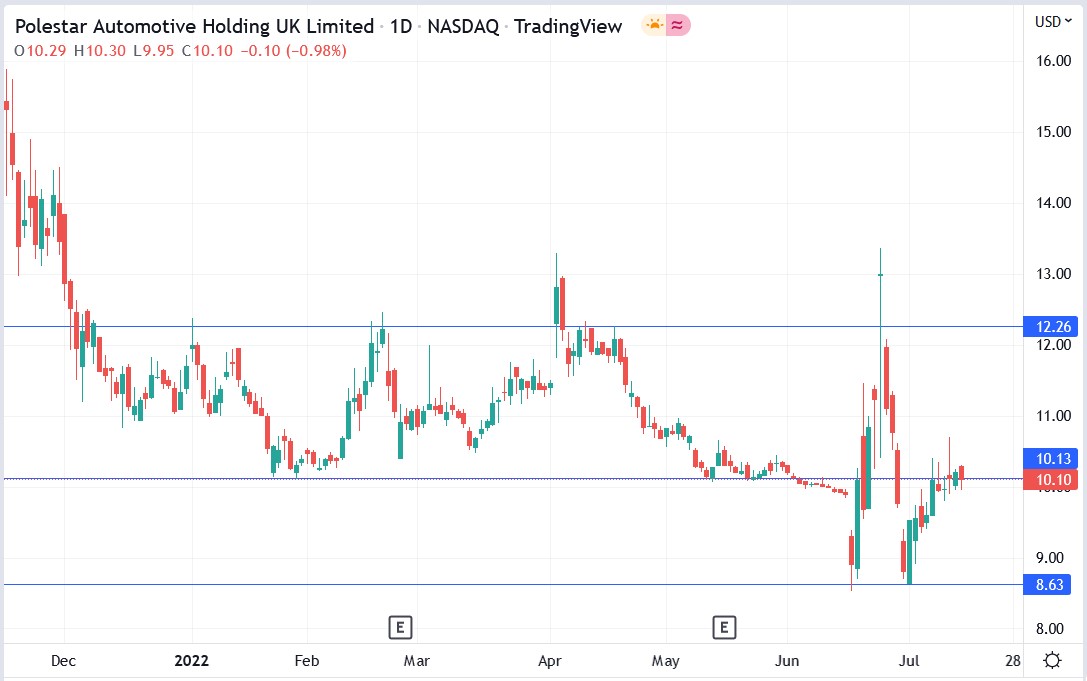 The PSNY stock price has risen 17.30% from its July 1 low of $8.61 to its current price of $10.10.