Key points:
Sareum shares rallied 18.2% without any news releases from the firm.
As a result, investors were left wondering what triggered the move.
Read on to find out what we think fueled the move higher.
The Sareum Holdings Plc (LON: SAR) share price rallied by 18.2% despite the biotech company not making any new announcements today, leaving many investors wondering what comes next?

Luckily, this is not the first time we have gotten an inexplicable rally in Sareum shares. Such rallies can be traced back to some technical reasons in many cases.
Looking at the daily chart below, we can see that today's move occurred from a support level that has held for almost one month since 9 March 2022. The level has been tested multiple times and remained resilient, indicating that buyers were willing to defend it.
Today's rally is a victory for buyers as they finally take control of Sareum's share price and push it higher, which could trigger a new rally phase. This is because the buyers have finally outnumbered the sellers leading to the rally.
In my last article on Sareum, I mentioned that the firm was planning to consolidate its shares in a 50-for-1 reverse stock split, seeing its shares trade at 176p after the move. I also told investors to exercise patience and buy the shares after the consolidation since the new shares tend to fall before bottoming, which happened in Sareum's case.
Investors had the opportunity to buy at the 115.80p support level, which had been in place for almost one month before today's rally. Those who bought then are sitting on decent profits at the moment.
For those wondering what happens next, SAR shares have to break above the 152.3p resistance level before the bullish trend can continue. However, a break could happen in the next few days, indicating that the current rally has significant momentum.
On the other hand, a failure to break above the 152.3p level soon will likely lead to SAR shares falling back to trade near the current support level giving investors another chance to buy the shares cheaply.
Given that technical factors mainly fueled the latest rally, I would like to see the company make a fundamental announcement to back up the rally,w which could translate into a significant uptrend.
Therefore, investors should look out for any bullish news from the company to support the rally. However, negative news could have the opposite effect on SAR shares and could fuel a downtrend, maybe even leading to a break below the 115.8p support level.
*This is not investment advice. Always do your due diligence before making investment decisions.
Sareum share price.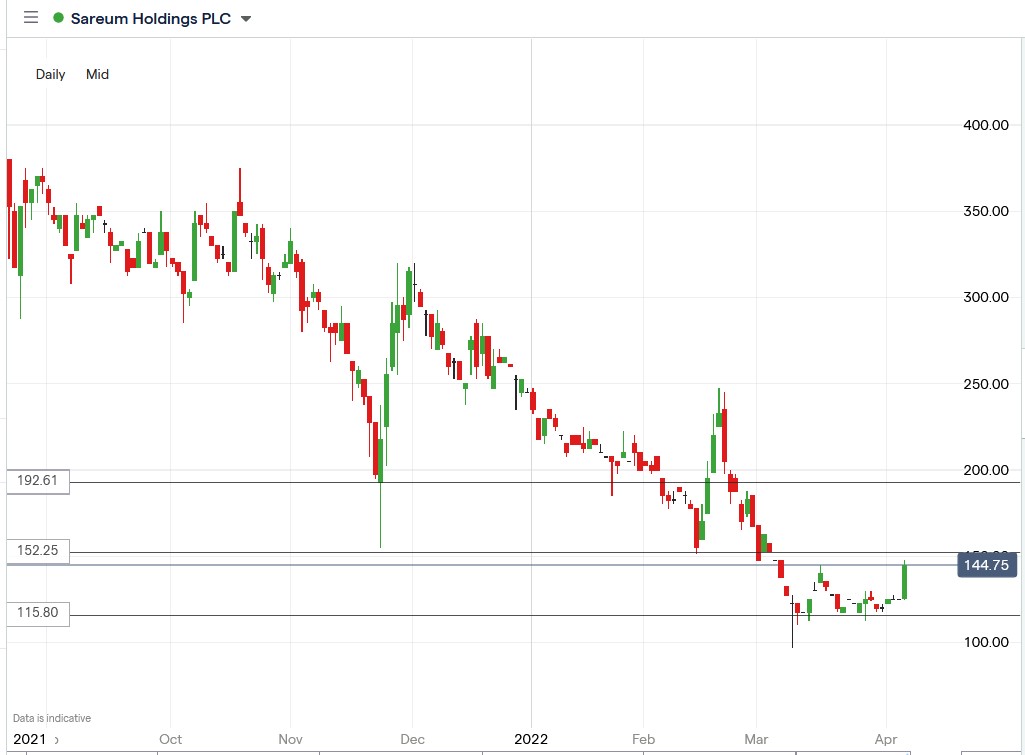 Sareum shares rallied 18.2% to trade at 147.75p, rising from Tuesday's closing price of 125.00p.