Key points:
SMT shares have fallen 19.6% in 2022, but many have recently bottomed.
The ETF, which holds high growth stocks, has fallen amid a broad selloff.
SMT shares look attractive at current prices, especially for long term investors.
The Scottish Mortgage Investment Trust PLC (LON: SMT) share price has fallen 19.6% in 2022 but appear to have bottomed a few days ago, as shown on the daily chart below. So should you buy the ETF?

The ETF seems to have bottomed, given that it has been trading sideways since the last week of January, but we are not out of the woods yet. The US Federal Reserve is expected to raise interest rates in March, triggering another selloff in technology stocks.
However, we could have a scenario where markets rally since they have already priced in multiple rate hikes in 2022 amid record-high inflation in the United States.
Looking at the ETFs fundamentals, there is a lot to like, including the long term nature of its investment. The ETF prides itself on unlocking maximum shareholder value over five years instead of chasing short-term gains.
Therefore, looking at the next five years in the stock market, I expect tech stocks to have recovered and increased in value. We live in an age where every aspect of our lives will become dependent on emerging technologies.
The Scottish Mortgage Investment Trust holds companies such as Moderna, famous for manufacturing the mRNA-based COVID-19 vaccine. Other significant holdings include Tesla, Nvidia, Alibaba, and Tencent.
The company also owns stakes in private companies such as SpaceX and could be looking at a hefty payout once the company goes public. In addition, all the companies held by the ETF are in high-growth industries, leading to outsized returns for investors.
SMT also has a solid management team led by James Anderson, Tom Slater and Lawrence Burns. Unfortunately, James Anderson will be stepping down in April 2022, leaving Tom Slater and Lawrence Burns in charge of the investment fund.
The fund is constantly looking for stocks with significant potential that could generate significant returns for shareholders over many years, which tend to be growth stocks. James Anderson has set the right precedent over the past 20+ years since he started managing the fund in 2000.
Luckily for investors, Tom Slater has been co-managing the fund in the last few years, which means there will be some continuity once Anderson steps down.
I would buy SMT shares at current prices, given the recent selloff as a long term investment. Of course, we cannot rule out a further pullback in future, but we are almost guaranteed that the shares will recover and head higher in the next five years.
*This is not investment advice. Always do your due diligence before making investment decisions.
SMT share price.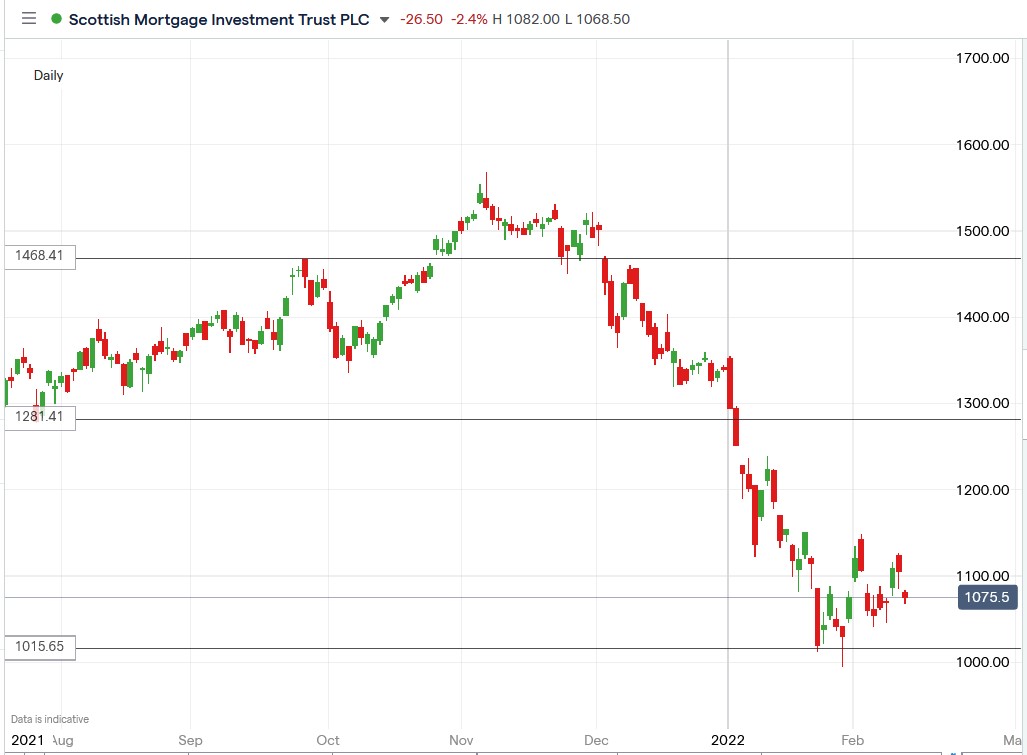 SMT shares have fallen 19.6% in 2022 but appear to have bottomed. So should you buy the ETF?