Shares of British public services company Serco Group plc (LON: SRP) surged 9.44% after acquiring US-based defence contractor Whitney, Bradley & Brown (WBB) for $295 million.
The deal gives Serco access to contracts from the US Army, Air Force, Space Force, and other specialised units, including the Missile Defense Agency, Space and Missile Defense Command, and the Secretary of Defense's Office among other top security organs.
WBB has 1,000 employees, 80% of whom have security clearances, and boasts of over 200 subject matter experts, who will help Serco improve its capabilities in advanced data analytics, AI & Machine Learning, Organisation design, wargaming, and natural language processing among others.
Serco also noted that WBB is expected to generate $230million (£168m) in revenues this year resulting in $29 million (£21m) in underlying profits increasing Serco's North American defence revenues to $1.1 billion.
Today's acquisition mimics the 2019 acquisition of the Naval Systems Business Unit of Alion, which increased Serco's US Navy Business by 70%.
Rupert Soames, Serco Group's CEO, explained: "Growing the scale, reach and capability of Serco in the largest defence market in the world is one of our strategic objectives, and the acquisition of WBB significantly advances that strategy. WBB takes our North American defence revenues to around $1.1bn and gives us credible positions in other parts of the market."
Adding:
"It creates a powerful platform for future growth and brings us impressive new capabilities in areas such as Advanced Data Analytics, AI & Machine Learning and Precision Navigation and Timing, along with a team of renowned Subject Matter Experts covering a wide range of disciplines that can be deployed across our business."
Serco Group share price.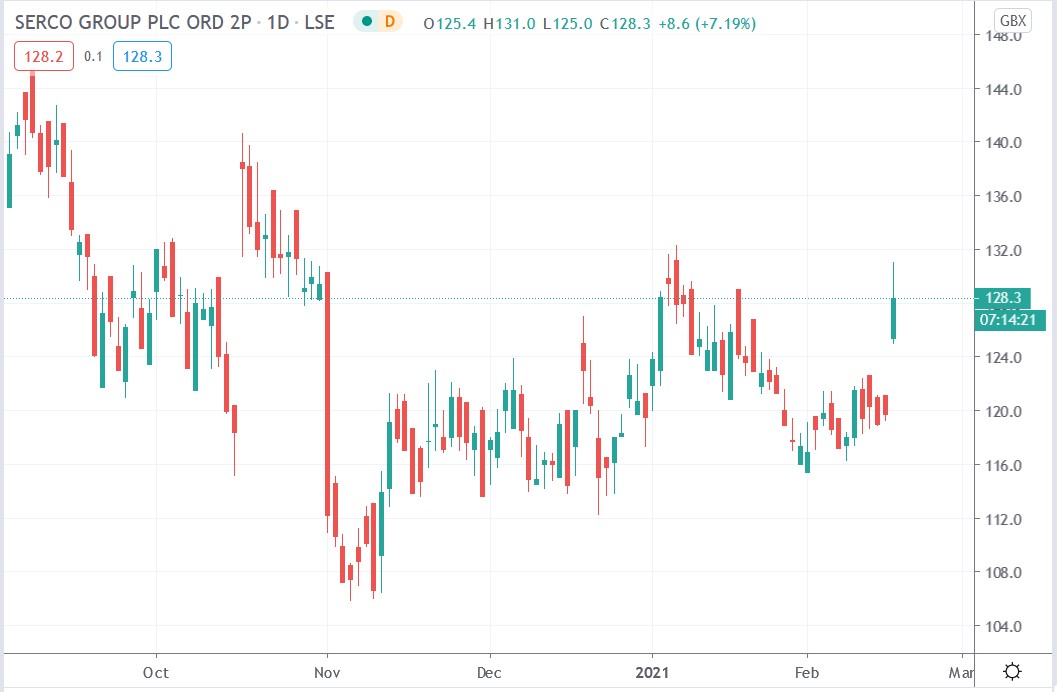 Serco shares rallied 9.44% higher to trade at 131p having risen from Monday's closing price of 119.7p.