Key points:
Solana's price has risen 49.66% and seems ready to pull back.
Investors looking to buy SOL tokens should wait for the pullback.
The SOLUSD pair is currently trading in the middle of a range.
The Solana price has risen 49.66% in the past month, and many crypto fans and investors are wondering what comes next for the sixth largest crypto in the world.

Solana has positioned itself as a leading competitor to Ethereum, boasting lower costs and faster transaction times than Ethereum. In addition, the blockchain platform offers smart contract functionality similar to Ethereum, and its token SOL is much cheaper than ETH.
The platform has gained popularity among investors given that it had a total value locked of $35 billion, with Ethereum trailing by slightly over $1 billion at $33.7 billion. However, the percentage of ETH locked was just over 7%, while the SOL tokens locked were about 74% of all available tokens.
Solana investors prefer to stake their SOL tokens in the hope that their value shall rise as opposed to Ethereum investors who are not keen to take their ETH.
The SOL/USD daily chart below shows that Solana prices have risen sharply since March 14, 2022, with barely any pullbacks as buyers stepped in and pushed prices higher.
The rally also coincided with the rally in other leading cryptocurrencies such as Bitcoin and Ethereum. Still, the move is now showing signs of fatigue, indicating that we could be in for a pullback anytime now.
However, will the Solana price keep rising once the pullback is done, or will we see a reversal as the price heads back to the March lows? The short answer is that anything can happen in the highly volatile crypto markets, but the odds favour the continuation of the bull run.
Solana is currently trading at $134, with the next resistance level being at the $151 level, after which the $173 level comes into play. On the downside, Solana could fall back and retest the $120-$122 support level, which should hold for the bullish trend to remain intact.
We shall stick to a simple price action analysis instead of boring you with countless indicators and their impact on Solana's price. This is because all indicators are ultimately derived from an assets price action, which we have used to arrive at our conclusions.
The $133 level is interesting since it offers some resistance but is not as significant as the levels above and below it since it did not hold firm in past scenarios.
Investors eager to buy SOL tokens now could do so, but they must be aware that they are taking on significant risk, given that the price is in the middle of a range. The best entry point is around the $122 support level, which could be retested before moving higher.
*This is not investment advice. Always do your due diligence before making investment decisions.
Solana price prediction.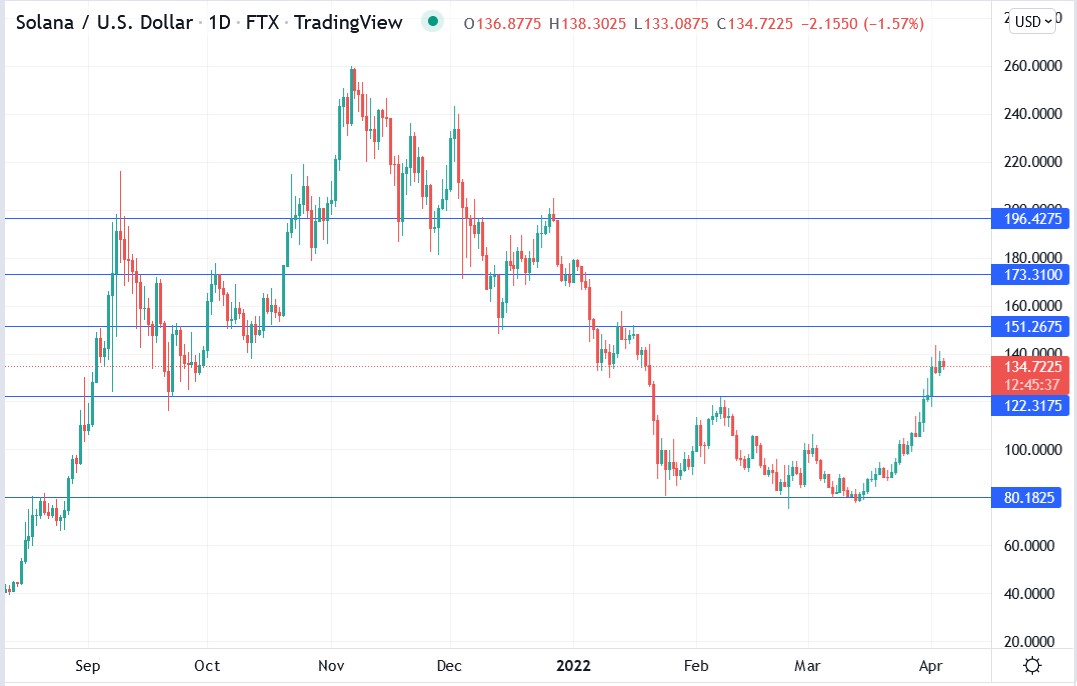 Solana daily price chart showing the relevant support and resistance levels.